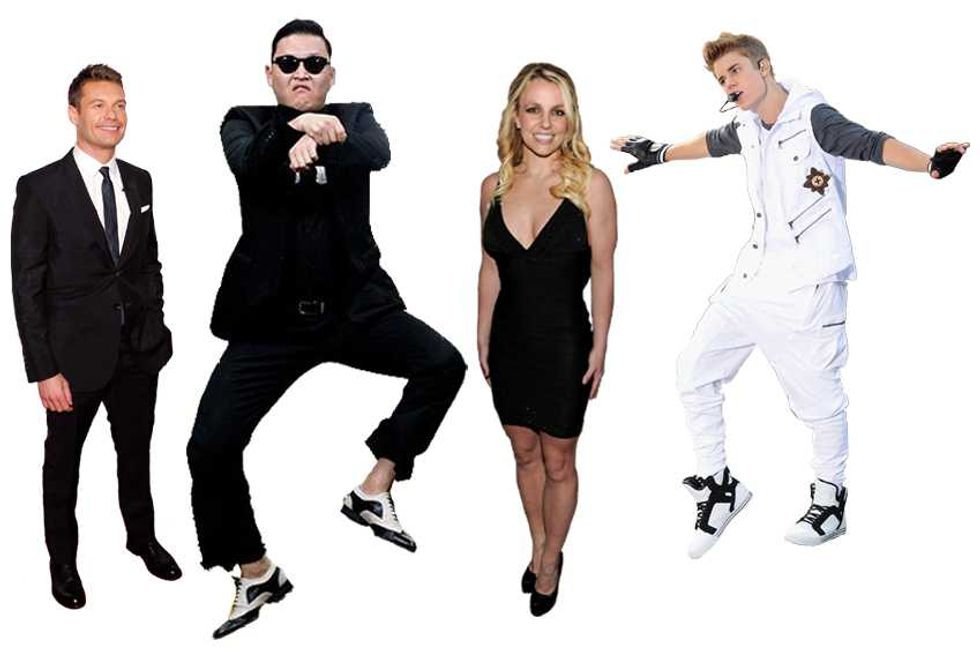 The day in music as told by tweets. It's not often music news is literally out-of-this-world. When it was announced today that  a will.i.am song will enjoy its debut live from Mars, it certainly piqued our Curiosity (SWWDT...?). Meanwhile, some of the biggest musical tweeters have been inquiring about how to get into (the non-literal-out-of-this-world) Gangnam Style. Opa!
Send your funny music-related tweets to @HiMyNameSam. They could be in our next Tweetcap!
Vote for PSY in this week's Pop-Off!
PSWhy Not?
I am LOVING this video - so fun! Thinking that I should possibly learn the choreography. Anybody wanna teach me?!haha britspears.me/159zje

— Britney Spears (@britneyspears) August 28, 2012
im ready, we goin gangnam style or what? RT @justinbieber: @ryanseacrest see u soon buddy

— Ryan Seacrest (@RyanSeacrest) August 28, 2012
While They're Stanning for PSY...
When I realized I was shaking Anna Chlumsky's hand last night I froze. I watched My Girl everyday when I was younger! Totally had a moment!

— Jordin Sparks (@JordinSparks) August 28, 2012
While You're Stanning for Ed...
Watching YouTube videos of people covering my tunes, I love that so many talented people wanted to sing these songs. Thank you x

— Ed Sheeran (@edsheeran) August 28, 2012
We Always Wondered Why She Looked So Familiar...
someone seriously just said "DO U KNOW WHO U LOOK LIKE" so I kinda rolled my eyes and said "WHO" they said "AN ANIME CHARACTER!" haha omg!

— Miley Ray Cyrus (@MileyCyrus) August 27, 2012
The Men Of Bieber's Life
@jeremybieber welcome back. bum knee and all

— Justin Bieber (@justinbieber) August 28, 2012
@justinbieber @la_reid fun times fellas

— Scooter Braun (@scooterbraun) August 28, 2012
Still unpacking all these clothes. Ahhh this sucks. Times when I need a girlfriend to help. Lol...

— Kenny Hamilton (@KennyHamilton) August 28, 2012
Twitter Fail
To say thanks, we will drop a new video when we get to 1 million #GetRizzleKicksTo1Million

— Rizzle Kicks (@RizzleKicks) August 28, 2012
And for the record, this hashtag malarky is our manager. We're quite happy to progress naturally past a million followers haha

— Rizzle Kicks (@RizzleKicks) August 28, 2012
Wait, our manager very rarely tweets on here. It was just Harley. Sorry this was discussed publicly. That hashtag's awesome.

— Rizzle Kicks (@RizzleKicks) August 28, 2012
And Speaking of Self-Promotion
https://twitter.com/RitaOra/status/240435853158121473
How Weird Al Seas It
Sure dolphins are smart, but they're mostly just FISH smart.

— Al Yankovic (@alyankovic)

August 28, 2012
Aubrey's Advice
Never see a therapist u are attracted 2...you will never tell them the truth.

— Aubrey O'Day (@AubreyODay) August 28, 2012
The Only Sure Sign You've Made it
I Just Ate A Bowl Of Waffle Crisp And Realized I Can Buy A Shit Load Of Them, Life Is So Awesome. — Tyler, The Creator (@fucktyler) August 28, 2012
Lambien
Ambien induced twitter party ! May short lived and skirt surrealism. — Adam Lambert (@adamlambert) August 28, 2012
And, Finally, Your Daily Affirmation c/o Lil B:
POWER TO THE WOMEN AND GIRLS WORLD WIDE!!! LOVE THE EARTH AND HUMANS! - Lil B

— Lil B From The Pack (@LILBTHEBASEDGOD) August 28, 2012