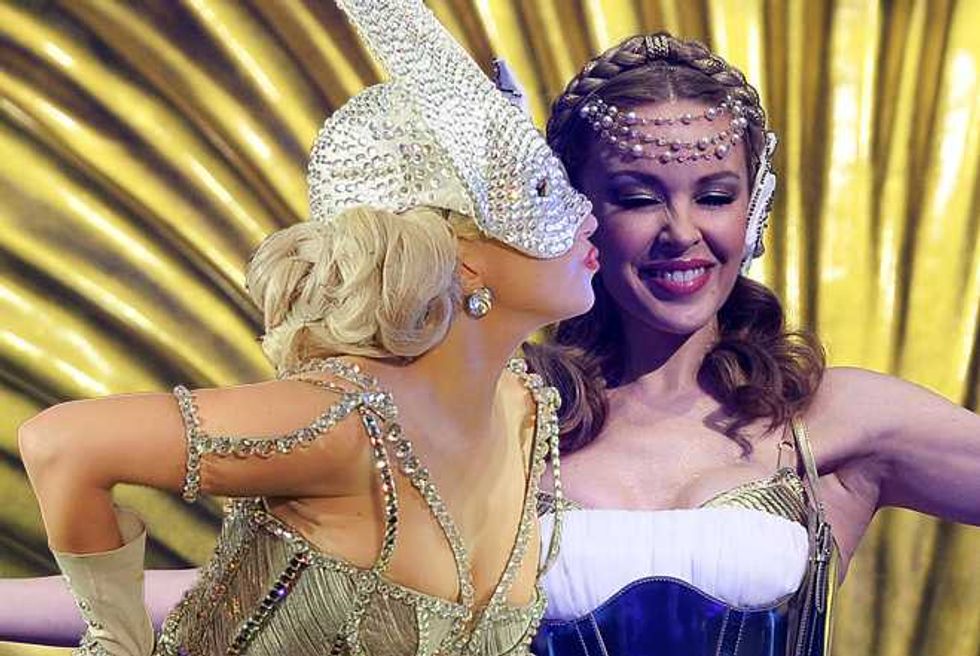 The day in music as told by tweets. Twitter was simply bursting today with unabashed expressions of girl power (and we certainly have an idea of who's to blame). After a veritable freakout, it's safe to say Lady Gaga is a Kylie stan.
As for the boys, it's all video games and football and gettin' high. Why, oh why can't they evolve at the pace of music's X chromosomers?
Gurl Powah
Gaga on Kylie Minogue
"@ladygaga: And this is how it looks up!! (I know this is boring) but fun! littlemonsters.com/image/503291a8…" NOPE. One thing ur hair ISN'T #boring

— kylie minogue (@kylieminogue) August 20, 2012
getting majorly flogged by queens of the ball, just arrived at venue HAD NO CLUE KYLIE TWEETED ME, BEING SMACKED BY MY AUSSIE SEAMSTRESS

— Lady Gaga (@ladygaga) August 21, 2012
@Kylieminogue if it wasn't for ure tour, i wouldnt have had to pay so much to build this MASSIVE stage. Thanku for being a supportive female

— Lady Gaga (@ladygaga) August 21, 2012
Missy Elliott on Chilli
"@missyelliott: @officialchilli chilllllllllly where u been sis??? Miss ya! I'm gonna call u in a few"( my sis from another mother!)

— Chilli (@officialchilli) August 21, 2012
Courtney Love on Samantha Ronson
oh n dude @samantharonson I had the best time with u last week. my god this girl is a genius!! I knew that but really, youre something else

— Courtney Love Cobain (@Courtney) August 21, 2012
Example on Carly Rae Jepsen
Been to 7 radio stations so far today. I've requested Call Me Maybe at every one of them #anthem

— example (@example) August 21, 2012
Boys Will Be Boys ...
Woke up about to do some P90x... oh wait theres 80s spiderman cartoons on? Nevermind gonna eat cap n crunch and watch that. — Pete Wentz(@petewentz) August 21, 2012
Siva killin' some bad guys. twitter.com/JayTheWanted/s… — Jay McGuiness (@JayTheWanted) August 21, 2012
soo tired! watchin the football...gona head t bed after it ! been a busy couple of days doin photoshoots!! — Niall Horan (@NiallOfficial) August 21, 2012
I NEED AN INTERN... *criteria* NEEDS TO KNOW HOW TO BAG UP DRUGS and NOT SAY MANY WORDS. Hollal at me — WIPE ME DOWN.(@ActionBronson) August 21, 2012
@actionbronson love the mindset — Higashi Miyagi (@KILLHodgy) August 21, 2012
And Girls Will Still Be Girls...
Starting my first cooking class... OH MY GOD I'M LEARNING TO BE A HUMAN! — Katy Perry (@katyperry) August 21, 2012
you should've learned how to bake — Miley Ray Cyrus (@MileyCyrus) August 21, 2012
One Direction Gets Uber Coy
guys, can't wait to let u all know the news. Only a few dayssss to wait

— Liam Payne (@Real_Liam_Payne) August 21, 2012
just got some cool news for you guys!! :) x

— zaynmalik1D (@zaynmalik) August 21, 2012
And If You Were Looking to Feel All Warm and Fuzzy...
'If you're reading this congratulations, youre alive, if thats not something to smile about, then I dont know what is.'

— Kelly Osbourne (@MissKellyO) August 21, 2012
"All your dreams can come true if you have the courage to pursue them." - Walt Disney

— Ludacris (@Ludacris) August 21, 2012
AHHH LOOK AT YOU!! (LIL B POINTING) YOU LOOK AMAZING TODAY AND YOUR AN AMAZING PERSON!! IM SO HAPPY YOUR ALIVE TO READ THIS I LOVE U - Lil B

— Lil B From The Pack (@LILBTHEBASEDGOD) August 21, 2012
If ur a young hustler on the come up, u must have confidence that ur hard work, dedication and faith is going to pay off.

— Russell Simmons (@UncleRUSH) August 21, 2012