MUSIC
Brown's fifth studio album, executive-produced by Q-Tip, keeps his oddball persona intact set against a new and challenging sonic foundation.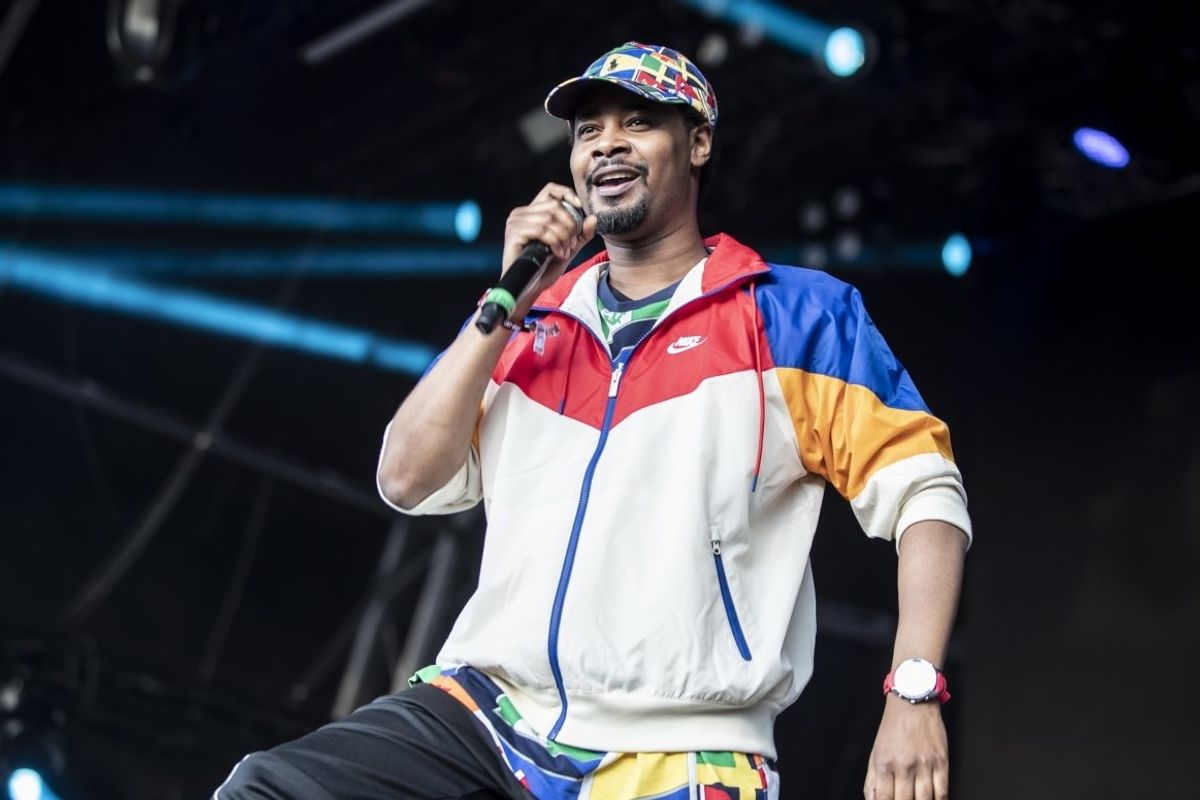 Xavi Torrent/WireImage
It's dizzying enough to watch Danny Brown come down from the lunacy of Atrocity Exhibition. But its starling to watch him land on the deeply different uknowhatimsayin¿.
Three years have passed since the Detroit rapper's 2016 spastic opus, an engaging and enticingly spiky summation of Brown as an artist, from his choice of producers and collaborators down to his own oddball inventiveness. The genre-crushing punk-rap that Danny Brown aligns himself with is aesthetically exhausting, but his raw power as a performer makes it an enthralling show.
So the idea of the guy who made Atrocity Exhibition making an album with the legendary Q-Tip might come as a bit of a surprise. Q-Tip is the executive producer of uknowhatimsayin¿, credited with producing three songs himself on the album liner notes alongside Jpegmafia, Flying Lotus, and Thundercat, experimental jazz outfit Standing on the Corner, and Danny Brown-mainstay Paul White. This new studio line-up would be an excitingly jarring group on their own, but with Danny Brown at the helm, it's a straight-up mystery what this album's going to sound like before you start it.
As it turns out, uknowhatimsayin¿ is both the sparsest and most cerebral Danny Brown project to come out yet. The lyrics circle familiar themes for Brown: violence, drugs, and some of the more bizarre sex stories put to record: the character of Danny Brown—the one he's been building for years—remains consistent from past projects. But his yelping flow and caustic bars are planted in more sanguine soundscapes, resulting in the chamber-pop waltz-iness in "Theme Song" or the muted wind-up punch of "Belly of the Beast."
Danny Brown - Dirty Laundry www.youtube.com
Brown sounds a bit like a bull in a china shop around all this delicacy, and his jagged persona flexes against the constraints: "High Tide, Gain off the Arm and Hammer / Swim towards the current, system try to drown me / stain your record like Clorox 'n' darks," he raps on "Dirty Laundry" a grimy and jokey confessional track over a foreboding, nearly-haunting instrumental. But the extra room gives Brown a chance to experiment. The album's highlights come when Brown's storytelling and wordplay feel comfortable enough to take up space. "Best Life" and album closer "Combat" sound like Brown truly improvising, letting the album taking shape around him rather than melting into the noise-rap he's known for.
Danny Brown is still weird as hell, but he's also an arresting performer willing to take risks. It's the production and his bars that do most of the heavy lifting here, so
uknowhatimsayin¿
comes off like Brown's referendum on himself, a chance to turn inward and challenge his own abilities. The manic howl of his past projects has been tamped down in favor of a more laid-back, contemplative sound, probably in no small part due to Q-Tip's presence. It's a slower project, but that deliberate pace lets Brown's rhymes breathe, spotlighting his technical ability rather than just his prodigious energy. Danny Brown is still disarmingly off-kilter, the result of the experiment is uneven, but the experiment is enough on its own.