MUSIC
We take a look at the music video for "Ain't It Funny"
xdannyxbrownxVEVO
"And all these hoes laughing like something funny"
No, that ain't Detroit's own Danny Brown on the mike dishing nimble nightmares of sex, drugs and rock n'roll but it might as well be. It's Danielle Bregoli, known to most as the Cash Me Outside-girl. While Brown struggles in critically-beloved purgatory and the fourteen-year-old-Dr. Phil star is awash in money, they're symbiotic figures of twentieth centiry American life. Bregoli is the child star after Keeping Up with the Kardashians, Brown is the rapper after Pitchfork, complete with Paul White's dank gothy jazz and references so on-the-mark they carry Vampire Weekend-anxiety. They are both artists who've found strange audiences for their intensely idiosyncratic work. Bregoli just wanted to steal a car and found herself a reality TV star, Brown just wanted take Eminem's place on Detroit's proverbial throne and found himself beloved by white people who felt too cool for Kanye.
Last night, Brown dropped his latest music video, for the Atrocity Exhibition-cut "Ain't It Funny," one of the thicker slices of clanging retro synth noise and would sound like it should be on a '90s classic like Downward Spiral, if that wasn't already the name of another Danny Brown song.
The video is, similarly a thinkpiece machine of cacophonic imagery and guest star curios directed by Jonah Hill, an actor who went from being some kind of walking joke that Die Antwood would rap about to an Oscar-winning person who has his own thing coming out later this year. Whatever. The video takes the form of a sitcom from the '70s or '80s that, like The Cosby Show or Growing Pains (Joanna Kerns, Growing Pains-matriarch also stars) took place in some vaguely defined past. in the video's end, Brown is stabbed by a large medical suppository.
Jonah Hill fills this concept with a hell of a lot of content: there's this Too Many Cooks-thing going on in the beginning and, at some point, Brown pisses off Gus Van Sant by pissing on some family photographs. A "dark sitcom satire," some would say and have said.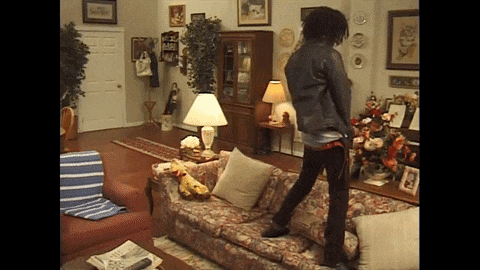 But, while I don't know about Hill, Brown doesn't really appear interested in shitty viral content from 2014. A Too Many Cooks-parody wouldn't be funny because CNN already did it two years ago and, before Trump made CNN the last defenders of our Democracy, CNN was mostly known for being lame as hell. The nostalgic dress-up in "Ain't It Funny" is, itself, a joke: "Ain't it Funny" is broadcast on the "The Religious Values Network," one of the characters is identified as "This Fucking Kid." There is too much anger here for Brown be making the same kind of joke as something like Drunk History or Hamilton. Ditto the low-budget slasher tropes that Hill throws in around the end of the video. That's just hip.
What sells "Ain't That Funny" is Brown's pure, dry rage. Waking up in bed next to "Daughter" (Lauren Avery, an Instagram-famous heiress), "Uncle Brown" hugs a branded forty while she toss the post-coital revelation that "physical attention from older men makes me feel validated." Its deeply whatever, a silky metaphor for the edginess of Brown's own drug-and-pills oeuvre in a world where Future and Migos drop number-one albums every other week.
But it's also not deeply whatever, Brown uses the box of Jonah Hill's trashy aesthetic cues (the sitcom jokes, the slasher trash) to explore what that lifestyle means in the context of its overproduction and oversaturation in the larger culture, about an audience so starved for authenticity that conventionally viewed things like 'drug problems' become motifs to sell number-one hits. Your mother pretending to cook dope in her crock pot, essentially.
It's about being a pop star, having a feature with Kendrick and appearing on psudo-underground posse cuts with A$AP Rocky. Ultimately, as Father John Misty told, ahem, Pitchfork, last month: "If you think that pop stars are anything other than prisoners, then you are fucking kidding yourself… They are crying for help."
Or maybe not.
"Ain't It Funny," is about Cash Me Outside. Where yesterday's era of reality stars were funny exaggerations of boring people and the best were savvy masters of monetizing basicness, Danielle Bregoli became famous after appearing on Dr. Phil under the headline "I Want To Give Up My Car-Stealing, Knife-Wielding, Twerking 13-Year-Old Daughter Who Tried To Frame Me For A Crime." But that's not what went viral, that's daytime television. What went viral was Bregoli's threat, a violent fuck-you, rendered in an idiosyncratic-yet-communicable language. We ate that up because it insulted us but we want to be insulted by someone we can step on.
Its that dichotomy that Brown toys with: the customer is always going to be superior to their product. But also wants something real, whether its purple-drank era Future or the violently nonsensical "Cash Me Outside" But how long can someone like Bregoli self-flagellate and people still believe it? There's a reason why Eminem has to struggle to talk about all the violent things he wants to do in order to get anyone to care in 2017. The violence in "Ain't It Funny" is about when Bregoli finally combusts with her audience, an image that Danny Brown imagines as intensely and comically violent. Because it probably will be, right?
"The audience applauded her when she called them a group of 'hos,'" our Chief Meme Officer reported at the time. Ain't that funny?

---
"Ain't It Funny" will be released a a Record Store Day-picture 12" disc next month