"I still can't help but fall back into wanting it," says the synth-pop singer about a former flame.
Her shadowy curves race through his mind. He's stuck in first gear--and finds himself falling for her all over again, even if it is just her ghost. "He kind of looks like me but I'm way less stable," Danny Padilla warbles on his hazy new single "Too Bad," in which peels back the layers of his sanity (not completely unfounded). "I've fallen in my dreams again, been masochistic to my hopeless head," he later considers, brutally but honestly. "'Too Bad' is a song about realizing that after multiple years of being broken up with this person, you're still hung up on them. Though this relationship was so unbelievably bad for both parties involved and I wholeheartedly recognize I'm better without it, I still can't help but fall back into wanting it," he shares in a press statement.
"I find myself choosing heart over brain like so many times before. Even worse, I'm mad at myself for still feeling so attached to the physical aspect of my ex-girlfriend more than anything else. She's unbelievably beautiful, and after two years, I still haven't been able to take her off of that golden chariot she's on in my head," he adds. From the crunch of piano to the lusty and lush production, Padilla's latest offering is sultry and rich. "I even hold your hand on the way down even though you know you touch like Midas. Hallelujah. I get in trouble for your body. I can't have the only one I need, tell my friends that you let me be, yeah. Now, I'm sipping sanity like I do until I'm screaming all around the room, till the shadow even moves like you," he chronicles.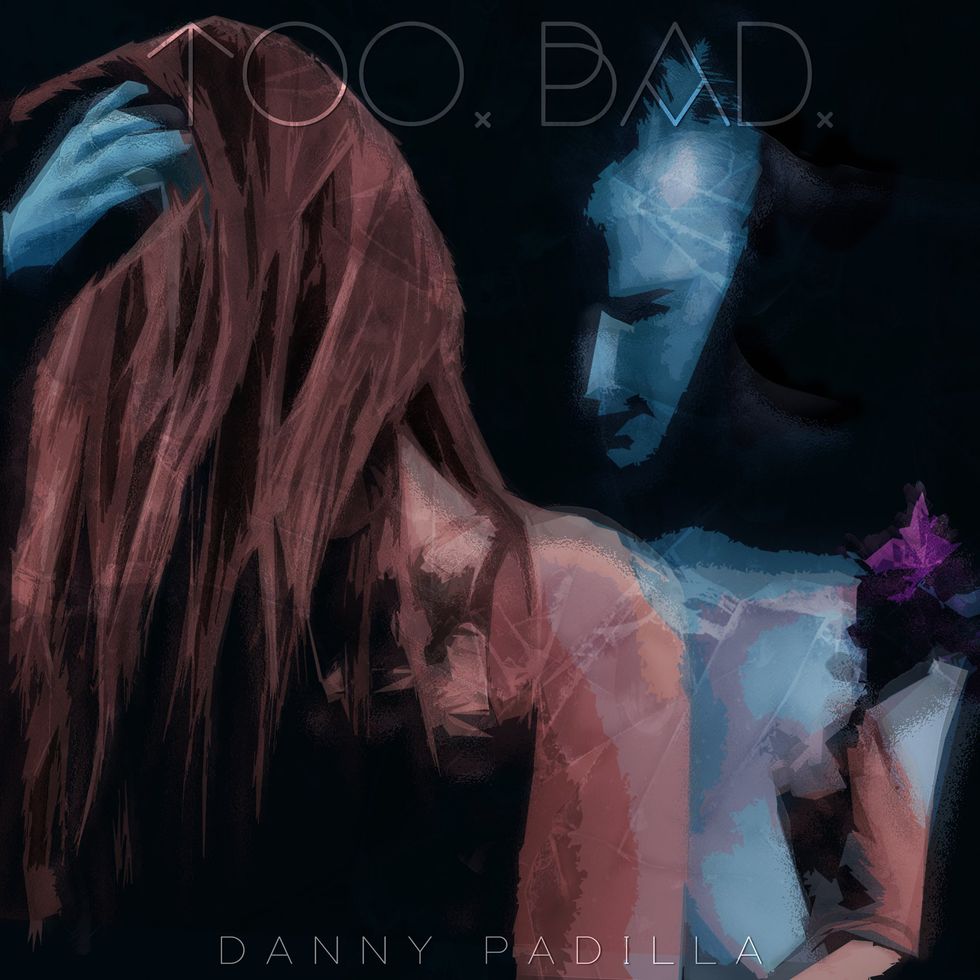 Danny Padilla
A product of the ritz and glamour of suburban Los Angeles, the singer and songwriter has amassed a rather loyal following, built from his extensive catalog of cover videos--with 176,258 subscribers and counting. He's reimagined such mainstream pop hits as Zayn's "Pillowtalk," The Chainsmokers' "Paris," Ed Sheeran's "Shape of You," OneRepublic's "Counting Stars," Maroon 5's "Sugar," Nick Jonas' "Jealous" and Katy Perry's "Dark Horse." He also has countless improv impersonation challenges, in which he mimics big stars, like Iggy Azalea, Bruno Mars and Jason Derulo, while covering their songs.

"Too Bad" follows a string of other original compositions, including last summer's "Intoxication." He has collaborated with a slew of industry stalwarts and other creatives, from Max Schneider and Brandon Skeie to Annie Bardonski, Kirby Welsh and David Fowler.
Padilla also produces YouTube's first improv show called Script Not Found. "'Script Not Found' is a group of amazingly talented and fun improvisers who I've grown to know super personally from going to school with them, and now we're finally taking the show to the YouTube platform," reads the show's description. Episodes, now on its 14th, have featured such fellow performers as MacDoesIt, MilesChronicles, Meghan Currie, Tyler Ward, AmandasChronicles, Alexis G. Hall and Joana Simon.
Watch the "Too Bad" lyric video below:

---
READ MORE ABOUT MUSIC...
PREMIERE | Sara Rachele's stark "Change Your Mind (You Should Be Mine)" video
LIVE | Northern National are the new age at Irving Plaza
PREMIERE | Fly by Midnight reinvent Bonnie & Clyde in "XL" music video
---