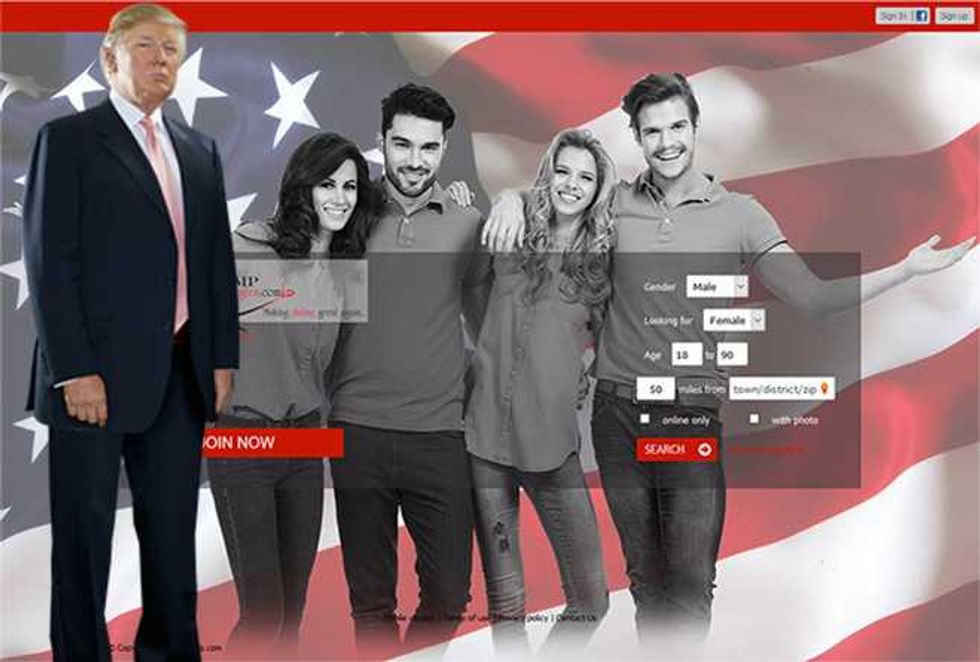 A dating site for Trump supporters is the answer to lovelorn singles hoping to meet someone who doesn't run off screaming once they've revealed their deal-breaking flaw.
TrumpSingles is the place there that deal-breaker is the sought-after quality: Ignorant support of a racist blowhard with tiny hands!
I think it would be great for Trump supporter to pair off, just as long as they buy plenty of condoms when they're out looking for gun shows.
We don't want them to reproduce, for god-sake.
The website is the work of David Goss, 35, who says he conceived the idea after hearing some Republican friends complaining about being rejected by dates who were repelled by their political stance.
Goss told the New York Post:
I think there's a special stigma when people say they're supporting Trump, because of some of the brash things that he's said. That immediately gets [projected] on his supporters, and it makes it hard for them when trying to date.
One can only imagine, not being a lunatic oneself.
And I like his use of the word 'brash'.
Goss continues,
At first I was concerned that people would think this was a parody site. But people have told me that they're so happy they can finally go on dates without worrying about political differences.
For Trumpist singles whose jobs have been stolen by China (try to mentally pronounce China like Trump does, chay-nuh) there is a free version of the service that limits users to one message per month.
But for just $4.95, you have unlimited access to all the bigoted, xenophobic mouth-breathers out there who share your pitiable views about immigration and guns.
On the other hand, and I do mean hand, there is a new SuperPac asking the Donald to reveal the measurements of those teeny little baby hands. It's called Americans Against Insecure Billionaires with Tiny Hands and you can sign their petition or follow them on Facebook.