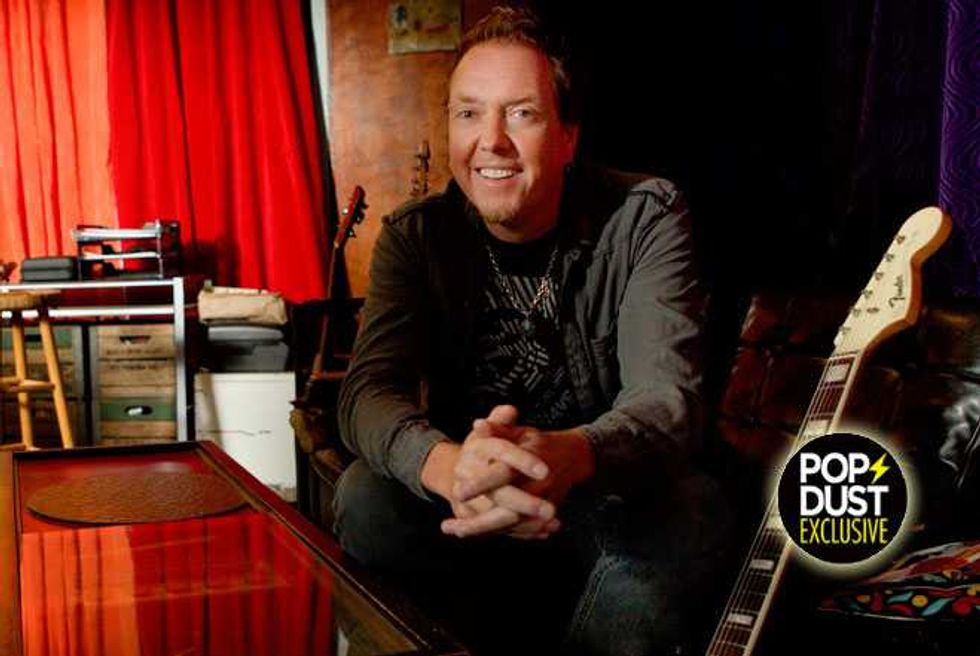 Songs like Fight Song and Ex's and Oh's are once-in-a-lifetime kind of hits. They defy the radio and sales charts, becoming significant cultural moments. For Rachel Platten and Elle King, they also defined the moment they shattered through the noise barriers and staked their claim as far more than working musicians. They transformed into bonafide pop stars. As two vastly different vocalists, too, they've etched bold statements into pop and alternative history, respectively, and they have one thing in common: Dave Bassett. The Grammy-nominated, two-time ASCAP Pop Award-winning songwriter, musician and producer has an impressive pedigree. He has also penned songs for Shinedown, The Veronicas, Fitz & the Tantrums and Josh Groban (among countless other rock and pop acts). There's something to be said about the risks he takes in his songwriting; he's often cutting, slicing to the core of human emotion and experience. With such a bevy of stories to his credit, he hasn't lost his way or his humility. In fact, he has only gotten better.
Ex's and Oh's and Fight Song are now certified platinum and triple-platinum by the RIAA and have notched more than 74 million and 119 million streams on Spotify, respectively. That says something monumental about the power of music connecting on such a base level across demographics. "It has been amazing seeing these new artists I've been working with break out and be heard after all of the incredibly hard work they put into their music," Bassett shares with Popdust via email recently. "I'm just so honored to be a part of their journey."
"With 'Fight Song,' I witnessed something I've never experienced before. I've had hits and I've had songs with positive messages out there, but the way that song inspired so many people was incredible," he says. "Forget the money, the charts, the radio. To see people posting these inspired videos and writing about how it helped them through tough times is an unparalleled reward."
When songs like this hit as hard as they do, Bassett admits he is often inspired to write similarly constructed songs, at least from a thematic stand point. "['Fight Song'] became an anthem and a mantra, and it is just mind-blowing to see that blossom from the tiny seed it started as! For me as a writer, seeing that effect was and will always be motivating. So to answer your question, yes, I hope to always make music that moves people in such a powerful way."
Now in the aftermath of a massive pop smash and his latest Grammy nomination (Best Rock Song for Ex's and Oh's), Bassett mulls over those writing sessions. "Each session is different, and every time an artist comes through my door, I never know what's going to happen and what path the music that's been made will take," he explains. "With 'Fight Song,' I think Rachel and I were trying to encapsulate the answer to her frustrations over working so hard and still not getting the opportunities or respect she deserved as an artist."
He continues, "We knew it was a big sounding song, but I think at that time I was thinking we'd get a few good film/TV syncs, but never had a clue as to how big it would be beyond all that. With 'Ex's,' Elle and I knew we had a great song and we had such a blast writing and recording it. For months the reward was just playing it proudly for friends and family and watching them react so positively. I had no clue, especially with that one, that it would be a pop hit."
Bassett lends his talents to Daughtry's brand new single Torches (listen below), a thumping, smoldering pop-rock anthem which fits perfectly into Chris Daughtry's vocal wheelhouse. "Chris is an amazing guy. I hadn't written with him since the 'Break the Spell' LP [Bassett co-wrote the title track], so I was super stoked to get back in with him," Bassett notes of the session. "He's got a ton of energy, and the second he walked in we just hit the ground running. We had discussed before the session how he wanted to get back to a more organic sound, and we wanted to capitalize on the soul he has as a singer."
He adds:
"[Chris] has such an expressive voice, and I really wanted to bring that out. I had a few piano chords laid out when he arrived and he immediately started singing over it. In less than an hour that song was pretty much written."
What is most striking about writing with Daughtry, Bassett says, is "after all the success and experience he has had, he knows his strengths and knows song structure, so it is always a pleasure writing with him. I know something good will always come out of it."
And most recently, Bassett also spent a few days holed up with Aussie pop-rock outfit 5 Seconds of Summer, who have raised eyebrows with their naked Rolling Stone cover. Last month, band member Michael Clifford tweeted what appeared to be lyrics, posting, "''Right now, your silence is the sound of screaming.'" To which Basset replied, "Amazing couple days w @Michael5SOS and @Calum5SOS #newjams #jetlag #tacos #coldbrew."
So, we had to ask, are those lyrics to a new 5SOS track?  "Wow! Someone did their homework! Well, I can neither confirm nor deny that those lyrics are from one of our songs, but I can say that those guys are awesome," he says, playing coy. "The poise and talent that they have at their age is crazy. Totally fun, yet disciplined, and so deserving of all of their success so far. We had a great time together and I hope to see a lot more of them."
Oh, to be a fly on the wall of that writers room! "I was in awe because they both just, and I mean literally, just flew in from Australia and the jet lag must've been wicked, but they were full of energy and motivated to write some killer jams," Bassett says. "They are hungry! They're huge, but they know with the right song, they can be even bigger, and they really want to take it to that next level."
With such a diverse resume, Popdust had to pick his brain on genres and what style of music excites him the most. "What inspires me is the opportunity to write in all of these different genres. The freshness is so important and really by having the ability to change it up on any given day keeps me motivated and inspired," he says. "That way, nothing gets stale or overdone. For me, alternative and rock are second nature. It's what I grew up on and what I love to listen to. The pop side of things keeps me on my toes, because there are so many incredibly talented young producers out there and I'm so inspired by their sounds and by technology—that alone keeps me hungry, humble, and motivated."
Of course, working with other singers, songwriters and musicians keeps him on his toes and challenges his thought process. "Every session is a new experience, and every artist has a different background, so as long as I do the majority of the listening and not all the talking, there is something to be learned from every one of them. I've done this long enough to know that I'll always have something to learn. The second you get complacent, lazy, or you think you know it all… boom, you are irrelevant. I don't plan on ever letting that creep in."
As music continues pushing forward, genre labels are becoming less and less important to the creative process. "I love the fact that there aren't really any restrictions or boundaries between genres," he says. "There's so much creative production going on and so much cross pollinating between styles. All of that makes it a really exciting time to be making music."
With a new year ahead of him, Bassett predicts where pop and rock are headed next. "I think people are getting ready for some grit and some danger again. It all goes in waves and cycles, and it's been pretty squeaky clean for a while. I think some nasty guitars are in order, the way Nirvana came out of nowhere and flipped the whole scene, or the way EDM stormed in and made hard rock sound wimpy. We're due for a flip again."
Bassett is always one to have his finger on the pulse of new and rising talent, and he says we should all keep an eye out on what James Bay does going forward. "I was fortunate enough to work with him about 3 years ago before his record came out, and he is such an incredibly nice guy and his vibe and his voice are so timeless. I'm hoping we can reconnect on his next LP."
In the age of streaming, he is as frustrated, yet optimistic, as the next guy. "There's a lag time between the airplay, the reporting, collecting and the payouts. In general though, I'm a big fan of what the folks at Sound Exchange are doing. It seems the payouts though still are not as much as they should be, but it's getting better. With so many streaming outlets available to people worldwide, it's quite a challenge. I also think there needs to be more transparency there, especially as it relates to what the labels collect and what they pay out to artists, producers, writers etc."
"The rates need to be higher, the collections and payouts streamlined and more efficient, and transparency in this digital world is a must. Companies like Kobalt seem to be doing a great job at this and are at the forefront of this technology. Further, I'm still amazed that we are the only country outside of North Korea and Iran, who don't pay Artists and producers for radio airplay. That must change."
[PHOTO CREDIT: Nick Stabile]
Stay tuned for music updates. Be sure to follow @Popdust and @JasonTheScott on Twitter!