MUSIC
The U.K.'s biggest rock star plays "Life On The Road" and a Sinatra cover with his band.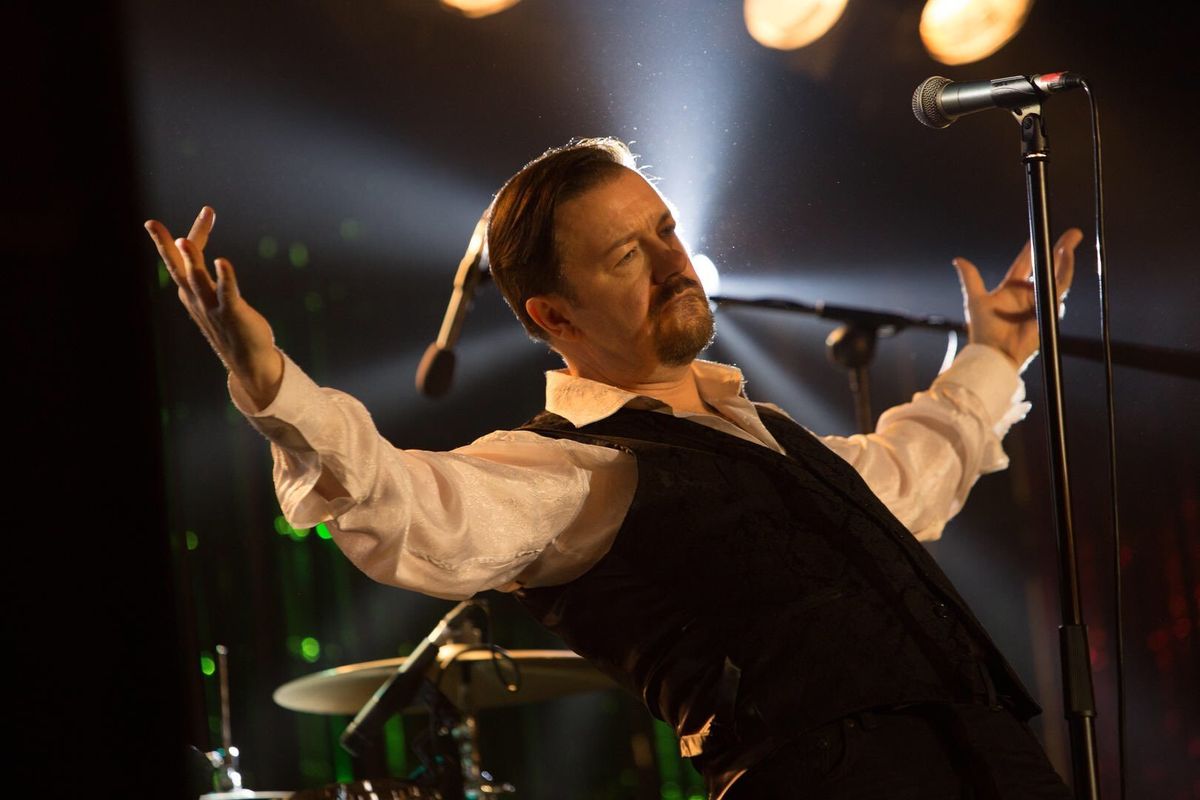 Ricky Gervais's rockstar David Brent character stopped by the BBC Radio 1 Live Lounge this week for a 2-song set including an original off his debut album and a Frank Sinatra cover. With his band, Foregone Conclusion, behind him, Gervais drove into "Life On The Road" like it was Springsteen's "Meeting Across the River."
Gervais, in Brent character, keeps it dark, mysterious, gritty. The song starts in media res with Brent on his way to a meeting down in Sidcup. No explanation, no names; "It's just a pitch," he says, implying a meeting with a record label, "And then I'm off to Ipswich." Off to Ipswich, the southeast England port and county seat of Suffolk. Also see: nonmetropolitan. Not exactly New York City.
"Life On the Road" has clear hip hop influences in its lyrical rhymes and rhythms but the chorus echoes Eagles-esque rock ballads. The chords and harmonies might be pulled straight from 70s acoustic rock and Brent's delivery is a fantastic impression of the serious on-the-road rocker. It bleeds drama.
Expectations for a song written by Gervais's David Brent character rightly include terrible jokes, racism, sexism, or worse. Instead, the humor in this song and most of the album comes from its very existence—the fact that this is really happening, Ricky Gervais performing as a character on a real tour with a real band. It's missing any of Brent's usual offensive or brutally unsuccessful jokes.
The humor only comes in the chorus and it's at the severe expense of Brent, himself, though he'd be too confident to realize. "Foot down to the floor," he sings, "70 miles an hour / But no more." The rocker's flooring it for his music career but his top speed is only seventy: the maximum speed limit on U.K. motorways. It's a fittingly mediocre climax to a character whose entire being is based on his unfailing mediocrity.
The Sinatra Cover
For the obligatory Live Lounge cover song, David Brent and Foregone Conclusion performed a heartfelt version of Frank Sinatra's "Have Yourself A Merry Little Christmas."
The soft piano and clean guitar complement Brent's smooth voice in this faithful cover. It's entirely sincere, at least until the second verse. The line, "Make the Yuletide gay," doesn't escape Brent's notice. "Haha, gay," he chuckles, finally back to the childish "Office" humor. But the rest of the cover is a nice Christmas tribute to Frank Sinatra. He finishes the song with characteristic Brent awkwardness: "Merry Christmas everyone," he says, "…innit……and the new year."
The new David Brent film, also called Life On The Road, will premiere on Netflix in February 2017.
Listen to the soundtrack album on Apple Music and Spotify.