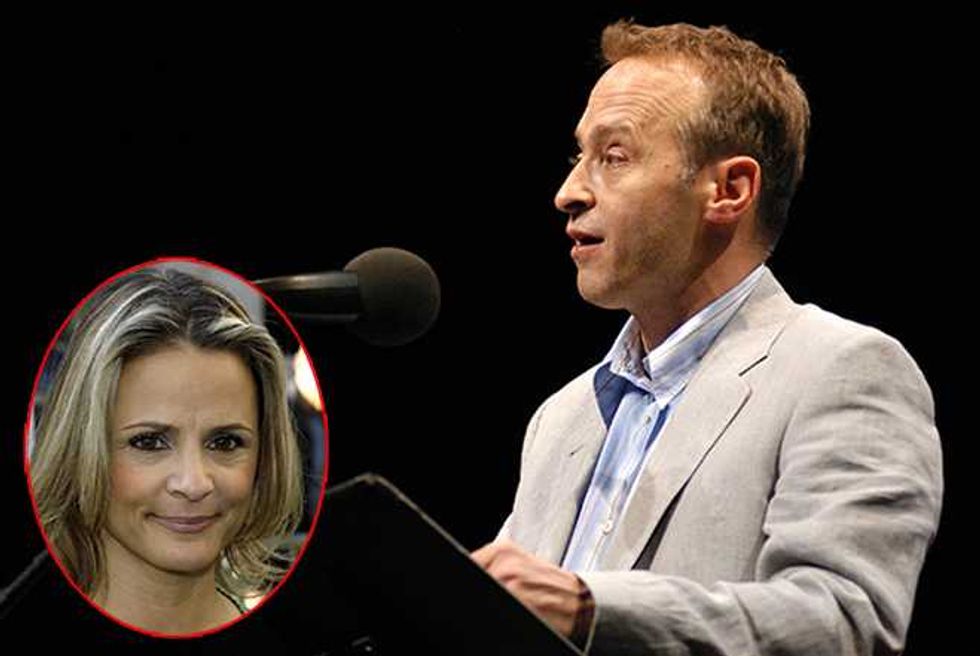 David Sedaris has opened up about the tragic suicide of his younger sister.
Tiffany Sedaris took her own life back in May, shortly before her 50th birthday—and her brother writes about her death, how little he knew her and some shocking discoveries about her life—in the new issue of The New Yorker—and Popdust has the details.
Sedaris reveals that he learned of his sister's death at Dallas airport as he was about to board a plane to Baton Rouge.
"In late May of this year, a few weeks shy of her fiftieth birthday, my youngest sister, Tiffany, committed suicide," he writes. "She was living in a room in a beat-up house on the hard side of Somerville, Massachusetts, and had been dead, the coroner guessed, for at least five days before her door was battered down."
He admits to having had sporadic contact with Tiffany over the years, and her last will and testament makes the extent of the fractured relationship with her family apparent.
"She did leave a will," Sedaris writes. "In it, she decreed that we, her family, could not have her body or attend her memorial service."
Heartbreakingly, when Sedaris' sister Amy drove to Somerville to pack up the 49-year-old's worldly possessions, the sum total came to just two boxes worth, comprising of: "family photographs, many of which had been ripped into pieces, comment cards from a neighborhood grocery store, notebooks, receipts."
"The bed, a mattress on the floor, had been taken away and a large industrial fan had been set up," Sedaris writes of his late sister's living quarters. "Amy snapped some pictures while she was there, and, individually and in groups, those of us left studied them for clues: a paper plate on a dresser that had several drawers missing, a phone number written on a wall, a collection of mop handles, each one a different color, arranged like cattails in a barrel painted green."
Tiffany's possessions left no clue as to why she had taken her own life, Sedaris says, going on to admit he knew very little about his troubled sibling.
"Each of us had pulled away from the family at some point in our lives - we'd had to in order to forge our own identities, to go from being a Sedaris to being our own specific Sedaris. Tiffany, though, stayed away," he writes, detailing a conversation he had with his father over what could have been behind her suicide.
"'Why do you think she did it?' I asked as we stepped back into the sunlight," Sedaris recalls. "For that's all any of us were thinking, had been thinking since we got the news. Mustn't Tiffany have hoped that whatever pills she'd taken wouldn't be strong enough, and that her failed attempt would lead her back into our fold? How could anyone purposefully leave us, us, of all people?
"This is how I thought of it, for though I've often lost faith in myself, I've never lost it in my family, in my certainty that we are fundamentally better than everyone else. It's an archaic belief, one that I haven't seriously reconsidered since my late teens, but still I hold it. Ours is the only club I'd ever wanted to be a member of, so I couldn't imagine quitting. Backing off for a year or two was understandable, but to want out so badly that you'd take your own life?
"'I don't know that it had anything to do with us,' my father said. But how could it have not? Doesn't the blood of every suicide splash back on our faces?"
You can read the full article here
If you, or anyone you know, is struggling with thoughts of suicide please contact the Suicide Prevention Hotline on 1-800-273-8255