Top Stories
MUSIC VIDEO | "Be Without You" is the lead single for Davis' debut EP, "Loud," dropping July 7th. That's tomorrow !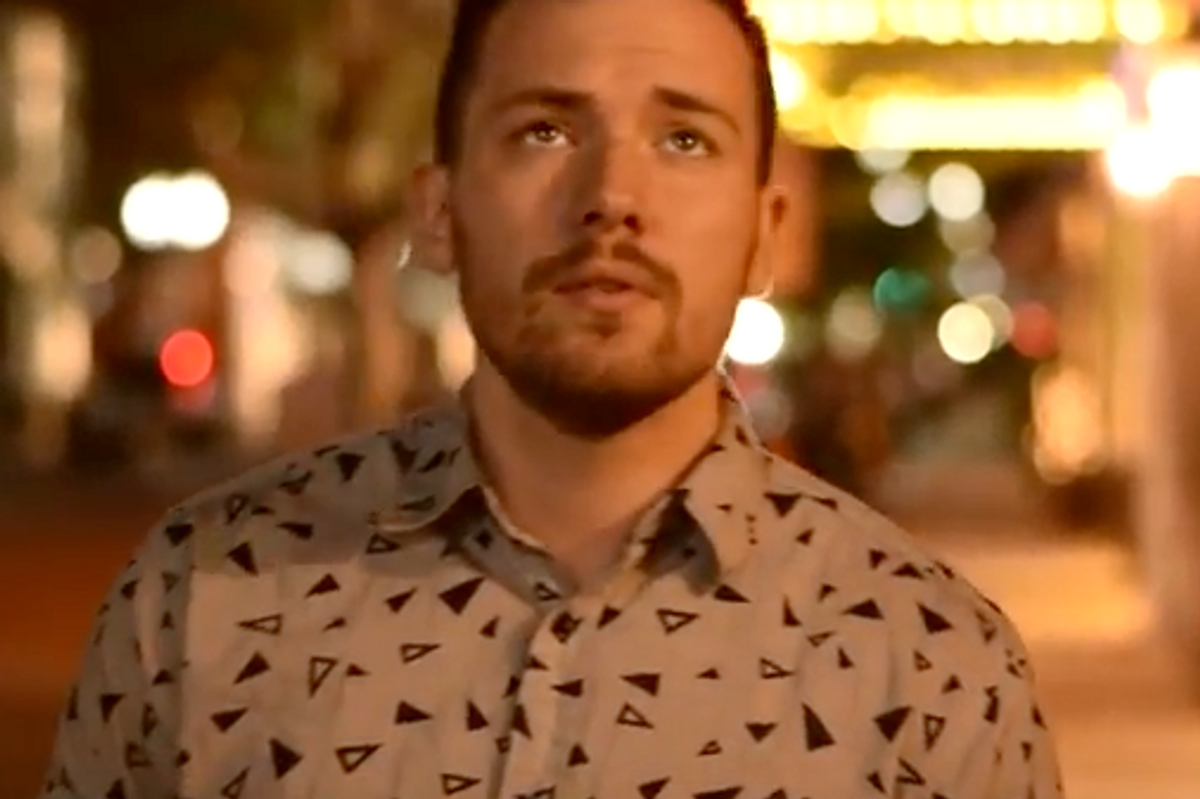 Davis Mallory, best known as the openly gay, southern "frat boy" on MTV's The Real World, has a brand new music video.
The somber yet driving track was written by Davis a few weeks after his long term boyfriend moved away from their shared home of Nashville, ending the three year relationship. Davis explains, "we had been inseparable at that point in time - we shared so many interests and he was my best friend. I broke down crying when he told me he was moving away, and we were in a pool at the YMCA in East Nashville, TN surrounded by people."
Popdust is proud to give you the exclusive first look! Watch this:
Shortly thereafter, the song came tumbling out in a co-writing session. As part of an assignment from his OS | OM songwriting group (One Song | One Month), Davis was paired with Bridget Caldwell. This was the first time the duo had met, and they clicked immediately over the subject matter. Bridget's boyfriend is a touring drummer and is away for long stretches of time. She could relate to Davis's loneliness and heartache every time she says goodbye to her boyfriend.

Austin Peckham – a songwriting peer of the singer's as well as a talented cinematographer, directed the video. Shot at dusk in a cemetery in downtown Franklin, TN the video visually captures the longing and sadness depicted in the song.
[rebelmouse-proxy-image https://media.rbl.ms/image?u=%2Fuploads%2F3%2F9%2F8%2F5%2F39851635%2Fdavis-mallory-img-7298-photo-by-acacia-evans_orig.jpg&ho=http%3A%2F%2Fwww.davismallory.com&s=698&h=f9fd9a3afe81c67c214b53be868e24845062253d28bdea5a191cc9d7830bb638&size=980x&c=2746715436 photo_credit="" caption="Davis Mallory" pin_description="" image-library="0" crop_info="%7B%22image%22%3A%20%22https%3A//media.rbl.ms/image%3Fu%3D%252Fuploads%252F3%252F9%252F8%252F5%252F39851635%252Fdavis-mallory-img-7298-photo-by-acacia-evans_orig.jpg%26ho%3Dhttp%253A%252F%252Fwww.davismallory.com%26s%3D698%26h%3Df9fd9a3afe81c67c214b53be868e24845062253d28bdea5a191cc9d7830bb638%26size%3D980x%26c%3D2746715436%22%7D" expand=1]Davis Mallory
According to Davis, "The video was a challenge. I tried to get Bridget into the video several times, as she sings with me on the chorus; however, due to her schedule she was unable to film each time. Ultimately actress Tara Hayes was cast to play Bridget in the video. As an openly gay artist I often run into the obstacle of how do I portray myself within my music videos? Do I need every video to include a gay storyline? Initially in "Be Without You" I wanted to cast a character to display that boyfriend, but instead I took the video into a different direction... It was Austin's idea to have Tara play a romantic partner of mine who is always unattainable for me, while also showing Tara mourn the loss of someone in her life.

Davis was kind enough to talk to Popdust about his growth, adventures, and travels in music! Read below:
Over the last 4 years I have been living in Nashville actively writing music - I have written nearly 300 songs to date. Yet in 2016 I only released 2 of these songs: On Valentine's Day 2016 I released "Anyone Would Know" a love song I cowrote with the same duo of writers behind "Beautiful Girls (Diem's Song)" my tribute to my MTV co-star Diem Brown who passed away from cancer in 2014. Then I released an original Christmas song called "Box It Up" co-written with Clayton Jones of the band The Madison Letter produced by Josh Sudduth of the band Relient K. "Box It Up" became the most played new holiday song (over 500,000 spins) during the holiday season via a platform called What's In Store Music's in-store radio program that services over 40,000 retail stores throughout America.

At the end of 2016 I met my current artist manager/attorney Christian Barker who encouraged me for 2017 to release my debut EP. Together we went through the material I had written and compiled a cohesive collection of music to showcase myself as a songwriter and a vocalist. It was after my first press interview on the project that I realized that nearly each song circulated around a common theme - largely this ex boyfriend that 'Be Without You' was about.
[rebelmouse-proxy-image https://media.rbl.ms/image?u=%2Fimages%2Farticles%2F5529_73MSWR3G.jpg&ho=http%3A%2F%2Fwww.gaycalgary.com&s=898&h=56aa0408b0c90a32e81f9236a88733e6b0716e9083fc8f2b2b5f23583b0ca506&size=980x&c=185768032 crop_info="%7B%22image%22%3A%20%22https%3A//media.rbl.ms/image%3Fu%3D%252Fimages%252Farticles%252F5529_73MSWR3G.jpg%26ho%3Dhttp%253A%252F%252Fwww.gaycalgary.com%26s%3D898%26h%3D56aa0408b0c90a32e81f9236a88733e6b0716e9083fc8f2b2b5f23583b0ca506%26size%3D980x%26c%3D185768032%22%7D" caption="" pin_description="" image-library="0" expand=1 photo_credit=""]
My debut EP is out tomorrow so I am currently on a promotional tour in Los Angeles and New York City performing at several venues and meeting with music and TV companies to incorporate my music into shows while also scheduling new writes with new producers.

I performed in Los Angeles at Club Avalon's Tiger Heat party on June 29th singing 2 songs off my EP LOUD ("Loud" & Help") in an elaborate costume, accompanied by dancers dressed in lion masks and custom videos. Next up I am heading to New York City July 5-13 performing at three events: July 7 at Rise at 11:30PM singing 2 songs with dancers, July 8 at Kola House at 9:30PM for a 45 min show followed by a midnight 1 song performance at The Monster. In 2017 I have already written over 50 new songs, many that I am excited will be coming out soon. In 2017 2 of my songs were signed to record labels - "Loud" remixed by Landis was signed to Grammy-nominated producer Cedric Gervais' label Delecta and my song "Anyone Would Know" produced by John Dahlback was signed to Armada. My goals for the future are both to continue to write new music collaborating with more DJ/Producers within the EDM space and to perform - traveling globally performing songs off the LOUD EP. I also plan to release a full length album in the near future, which I have been actively writing for.

- Davis Mallory
---