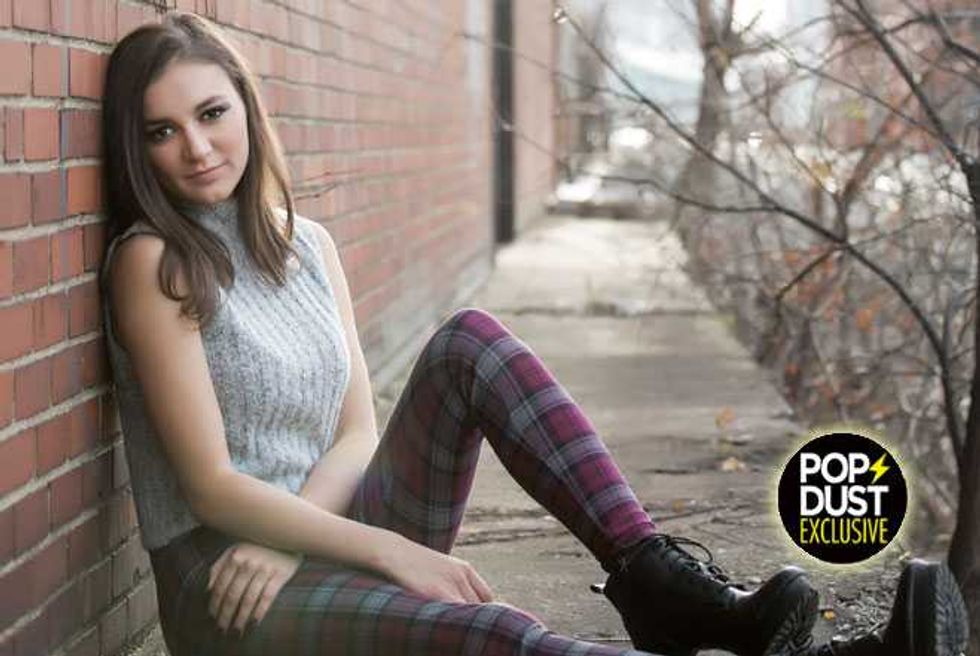 daya sit still look pretty exclusive interview march 2016
Daya is the unlikeliest of pop stars. She's not sugar sweet, and she's not afraid to tell it like it is. Her debut single Hide Away became a bonafide smash last year, setting the stage for even more riotous upheaval in the new year. Needless to say, she came in like a wrecking ball. Taking cues from the likes of Taylor Swift and Tove Lo, the 17-year-old, born Grace Tandon, amalgamates her own version of gritty, but truthful, reality. "Taylor is definitely one who has influenced me most. She has done so much for women. She rules the world. She's very powerful and doesn't take crap from anyone. She goes after what she wants and does it. That's admirable of her," Daya tells Popdust of Swift's undeniable impact over her.
And, much like Swift, Daya's music centers on empowering young women. "I definitely wanted [empowerment] to be the main theme for the EP, about just being independent and not having to depend on someone else for happiness and finding that within yourself. The new single ['Sit Still, Look Pretty'] is definitely about [that, too]. I don't want to be that girl to sit still and look pretty for someone else. I want to be my own person and go after my own dreams, goals and ambitions."
On selecting Sit Still, Look Pretty as the apt follow-up, she explains, "I can't think of a better song that represents me. I love it. We leave it up to the fans and listeners. Based on the research we've seen, the presence on iTunes is significantly higher for this one. It is really relatable to the audience and for me. It just totally makes sense."
Other early indicators, like YouTube views on the song's audio track (currently standing over 500,000), are surefire ways to get a firm grip on what her fans want next. "It is really cool to see everyone loving the song, even people like Emma Roberts—she tweeted about it the other day. A ton of celebrities and people I respect have loved the song already."
She continues, "[The song is inspired from] a collection of experiences from people telling me to be a certain way or dress up and wear makeup, just the general gender stereotypes. I really don't think those ring true at all. We as a society need to break out of that mold. We can still go further with that."
With being a female in a male-driven industry, Daya admits she has felt the blunt end of unfair criticism more than once. "People have commented on my image from day one, with how I should wear my hair and how I should always look nice. I do like looking nice. I'm not saying it's the worst thing ever, but it is present there. People just expect that of you."
daya sit still look pretty exclusive interview march 2016
daya sit still look pretty exclusive interview march 2016
Taking a moment to recount her Hide Away success, she ponders, "It's pretty insane to see [the song] grow that much. I had no idea what it would do when I recorded it...just about a year ago. I obviously wanted to be an artist and wanted to be serious about it. I didn't know the extent that it would go. It was wild to see it slowly climb up the charts." For the record, she became one of those obsessively monitoring the pop charts "pretty much for six months straight."
While the beat-heavy, whistle-inflected Sit Still, Look Pretty hits radio today (March 29), Daya says there are plans already for the next single, to (hopefully) lead into her debut full-length. "We're thinking there might be one more single from the EP. We don't know for sure, but we will definitely push another single out and then go into the album after that," she teases. "[The album is] pretty far along. I just spent two weeks or so with my co-writers in LA that I worked with on the EP [which include Gino Barletta, Scott Bruzenak, Brett McLaughlin and Britten Newbill]. We wrote a bunch of new material that I'm really, really excited about. I recorded most of it, too. We just need to find the right producers. Then, we should be good to go."
Out of the new batch of tunes, she focuses her attention on one song she's most excited for fans to hear. "There's one that's a youth anthem. I love the concept. I am one of the younger artists right now. My audience is a lot younger, but there are also a lot of people who can relate to what I'm saying. It encompasses that feeling of being young and being free," she says, remaining quite tight-lipped about the title.
Daya is also the featured vocalist on The Chainsmokers' alert new single Don't Let Me Down, which was recorded "around the time 'Hide Away' was going up the charts," she says. "We both were rising artists, and they reached out to me. We were both fans of each other's music. I love 'Roses.' I fell in love with this new song right away. I am really proud of the outcome."
Alex Pall and Andrew Taggart "had a demo. They told me to basically follow the melody, but other than that, they said 'you can add whatever you want and style it your own way.' They definitely wanted to hear some different styles. They reached out to a bunch of people and compared them and went with mine. I was super stoked about that," she says.
The stunning, powerful lyric video dropped last week, with the official music video expected to "be out soon," Daya hints. "We just shot the music video a little bit ago. I am featured singing in a lot of it and I have a group of really powerful backup girl dancers. It's a really cool video."
With a 2016 which has already included a full-blown tour and a showcase at SXSW, Daya takes a minute to collect her thoughts about where she was only one year ago. "I was in school last year, just a junior in high school. I knew that I wanted to do music but I didn't know exactly when or how. This opportunity presented itself. I took it and ran with it. It's weird to look back and think a year ago I was just a normal high schooler."
At the time, Daya did not have an exact plan in place; in fact, she was completely undecided on her future. "The junior-senior transition is all about your future. Everyone is pressuring you into making decisions about it. I was undecided about what I wanted. Then, I went to a writer's session. We wrote a bunch of songs, and that really sealed the deal for me."
Even before she knew she wanted to make the kind of unfettered, soaring pop jams found on her debut EP, she was a lover of music. "I took classical piano for about 10 years. Then, vocally, I did start out with more classical stuff and musical theatre. I knew this woman [Christina Chirumbolo] in Pittsburgh who started the Accelerando Music Conservatory. It was an after-school program, and we'd put on plays and do musicals. They were original musicals, too. I really loved that. I found my belting voice somewhere along the way. I realized I could sing and had that potential. I was listening to a bunch of my favorite pop artists. I loved going to concerts. That's when I decided to make that transition into more of a stylized pop and R&B sound."
And the rest is history.
Grab Sit Still, Look Pretty now on iTunes.
daya sit still look pretty exclusive interview march 2016
daya sit still look pretty exclusive interview march 2016
[PHOTO CREDIT: Noah Bility]
Stay tuned for Daya updates. Be sure to follow @Popdust and @JasonTheScott on Twitter!
daya sit still look pretty exclusive interview march 2016