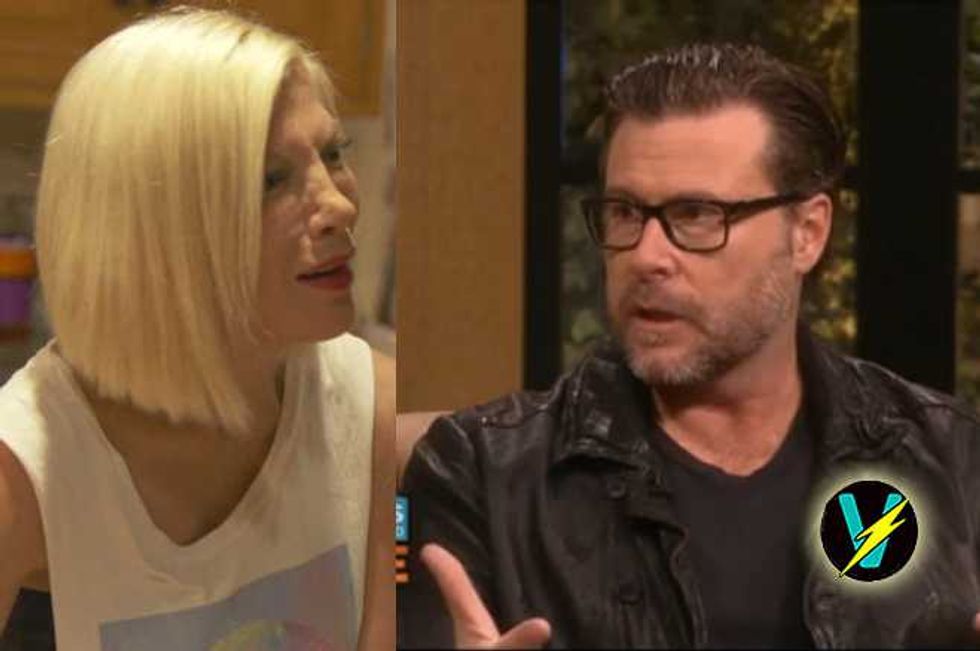 Dean McDermott has had it with reality TV, saying he can't stand the lack of privacy he and Tori Spelling have.
The actor appeared on Access Hollywood Live, and opened up about how bad things have become for the family - and why he feels he can no longer continue being on True Tori.
"I don't watch it, I can't. It's really difficult… I can't do it any more, for my soul," he told Billy Bush and Kit Hoover in a particularly raw and moving interview. "I've learned a lot from this whole process. From the affair, form doing the show… I almost lost everything, everything that means anything to me. I don't want to ever do that again. I don't ever want to be in that dark place again where I wanted to take my life…  I was driving around in my truck with a loaded 9 mm. I was put on a 5150 at the UCLA psych ward. [My son] Liam had a performance and I didn't want to miss that performance… I had plans that night to do it."
Dean also insists his marriage to Tori is stronger than ever, and she is recovering well from her stay in hospital. Having their private lives so openly discussed and reported upon is something he wants to put an end to, which means saying goodbye to their reality show - and the money that came in from it.
"I'm not going to continue with the show," Dean said. "We have five more shows left… I can't do this anymore. I can't keep opening a vein, opening my soul and sharing my feelings and thoughts and demons with the world."
Watch the video below, and make sure to catch the full interview on Access Hollywood Live!