An anonymous Western Conference GM told Sporting News that "[Sacramento] has three months, tops." Boogie is one of the most notoriously ornery personalities in the NBA, clashing with both the front office and the revolving door of coaches. Sacramento currently resides in the bottom half of the league in points/game, opponents points/game, pace, offensive rating, defensive rating, and even attendance. At this point, the ownership has to realize that they're not going to be able to resign him and his trade value is much higher with Cousins still under contract for 2017-18. Cousins is so talented, it almost makes you wonder why there hasn't been a real offer, but then you look at his history with the league. Regardless, Cousins and the Kings should have plenty of potential trade partners for one of the most gifted bigs in the league.
Boston Celtics—Sacramento Kings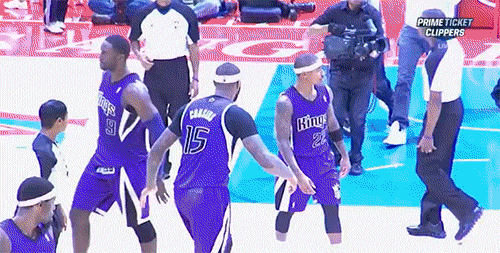 Boston Gives:
Jaylen Brown, Marcus Smart, and Brooklyn's 2017 First Round Pick
Sacramento Gives:

DeMarcus Cousins and Omri Casspi
Why?
If the Kings are really behind a rebuild, this is a great potential package. Brooklyn is locked into a high lottery pick; Marcus Smart is a premier perimeter defender and is learning how to be a point guard; Jaylen Brown is a potential two-way stud as a prototypical do-it-all forward. For Boston, Isaiah Thomas has been doing his best Chandler Parsons impression. Thomas told Sporting News, "I've got his respect, I've always had that."
The Celtics certainly have the assets to go after Cousins, the only question is are they ready? A friend of mine told me, "I love [the Lakers and the Timberwolves]. They're pretty good right now, but they're on track to peak when LeBron's had enough." Bringing on Cousins could really tip the scales to making them a true contender. Their elite perimeter defense would take some of the pressure off DeMarcus' uninspiring defense and the front court of Cousins and Horford would be elite on the offensive end. They're both smart passers and the high-low game between the bigs could open up more attacking patterns for an already shapeshifting Brad Stevens offense. Omri Casspi is just the apple sauce on the latke.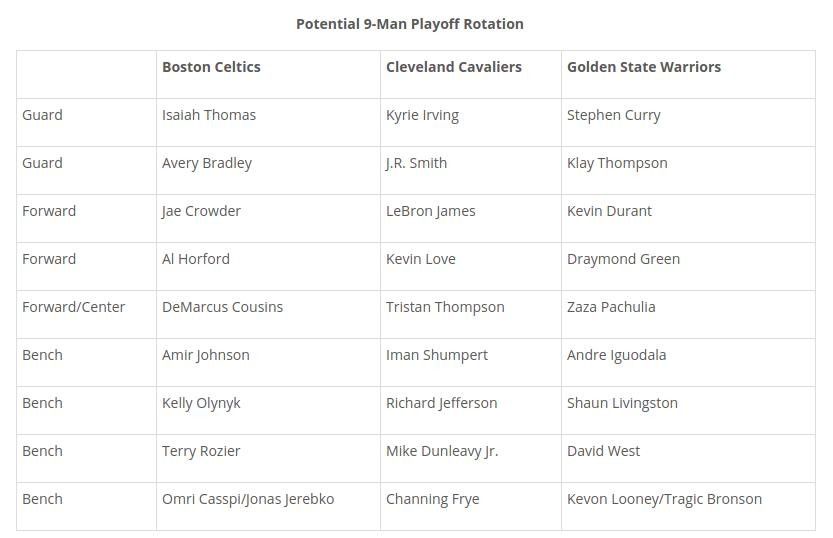 The only reason to do this trade as the Celtics, is if they think they can win now. This Boston lineup could exploit Golden State's weakness on the inside, but could they break out the East? I'm not sure they're deep enough, I think they'd still be a move away.

Milwaukee Bucks—Sacramento Kings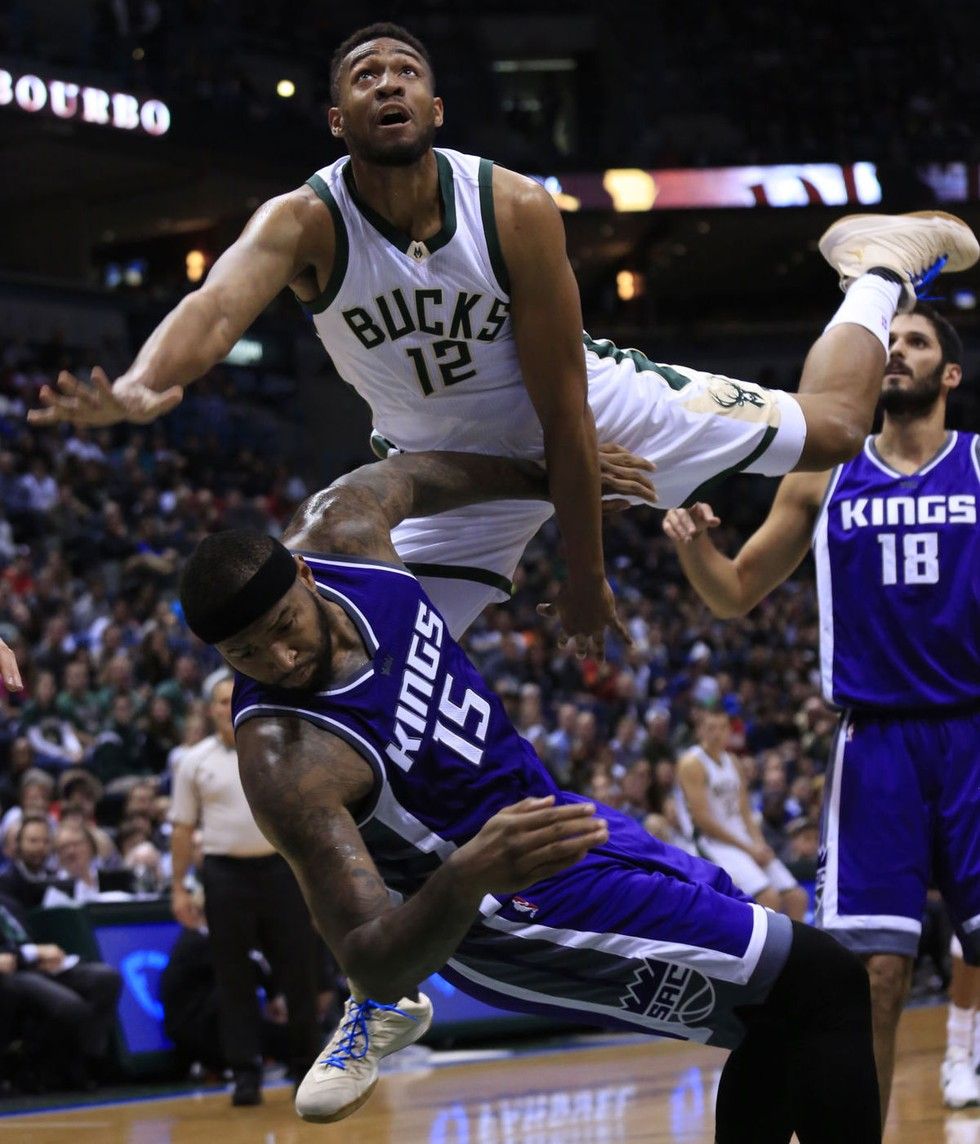 Milwaukee Gives:
Jabari Parker, Greg Monroe, 2017 First Round Pick
Sacramento Gives:
DeMarcus Cousins
Why?
Let me say this: I don't think this trade will happen. The Bucks like Jabari too much and if DeMarcus is serious about wanting to win, Milwaukee's probably not the place for him. Plus, DeMarcus in Milwaukee? He'd get up to some shit.
That being said, I think this trade legitimately makes both teams better. For the Kings, Jabari Parker is the answer at the four spot. Played next to Willie Cauley-Stein and Rudy Gay, the defensive switching can be endless. For Milwaukee, once again, you have a strong perimeter defense to hide DeMarcus' shortcomings and it gives them a go to scorer in the half court. Monroe was supposed to be the lynchpin for the Bucks' half court offense, but Cousins isn't nearly the plodder Monroe is and can really move in the open court. Plus his elite level gravity when posted up in the paint opens the floor for cuts and space for shooters. Take a look at what these starting fives would look like:

Charlotte Hornets—Sacramento Kings—Washington Wizards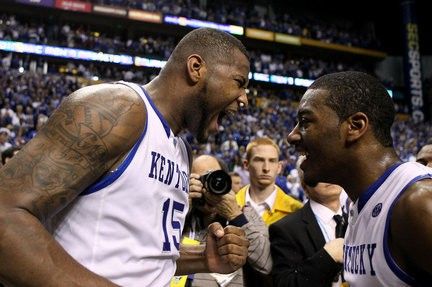 Charlotte Gives:
Michael Kidd-Gilchrist (Kings), 2017 1st Round Pick (Kings)
Kings Give:
DeMarcus Cousins (Wizards)
Wizards Gives:

Bradley Beal (Kings)
Marcin Gortat (Hornets)
2017 First Round Pick (Hornets)
Why?
This really isn't enough for DeMarcus, but if it gets close enough to the deadline, I could see the Kings swinging for it.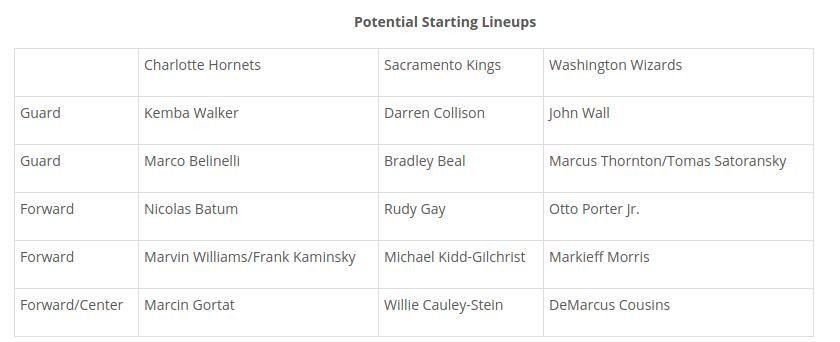 Getting Beal and Kidd-Gilchrist gives the Kings two young guys to build around. Beal is a young, two-way guard who solves the whole Ben McLemore (yikes) problem and MKG is a top tier defender and rebounder that could complement Rudy Gay as interchangeable forwards. The Kings get much better defensively and get to start a little fresher with defensive minded coach, Dave Joerger.

The Wizards get to reunite Cousins and Wall (who's becoming increasingly frustrated in Washington, as evidenced by back-to-back ejections a week ago), who were part of an absolutely stacked Kentucky team that included Eric Bledsoe and Patrick Patterson. Their wing depth falls off the chart a little bit, but with Wall and Cousins on the same team, it might not matter. Even Scott Brooks couldn't ruin that team (could he?).
The Hornets get a center to play with Kemba Walker in pick-and-roll and pick-and-pop sets with equal efficiency. Gortat isn't a premier rim protector, but he's an enforcer and a smart player on both ends of the court. On top of that, Steve Clifford has a habit of turning players into elite system defenders. Gortat's basketball IQ fits in perfectly with the culture Clifford's established in Charlotte. Of course, Gortat didn't win anything in the NCAA so I'm not sure Jordan's behind it. Neither am I, really, but don't tell my editors (they don't care).