They had canceled on Demi Grace; common enough for anyone working the grind between modeling, dancing, and a career as a singer that she had been nurturing since. She saw an unglamorous audition needing backup dancers. The line wasn't around the corner so she decided to give it a try. It was for the VMAs. Particularly Beyoncé.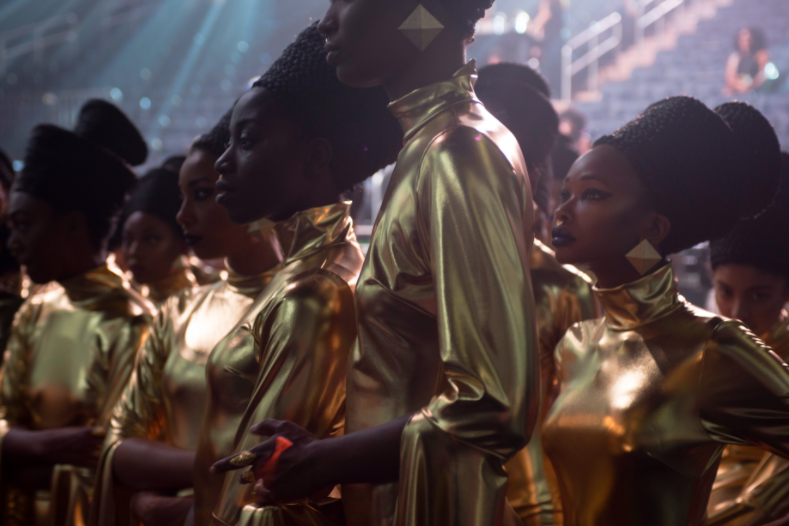 Demi Grace at the VMAs (Mason Poole/beyonce.com)
As last year's hot, tired summer rolled to a close, Grace was on stage at the VMAs, among the golden glowing backup dancers at Madison Square Garden. But Grace has had a compelling career outside of the backup dancing gig of a lifetime. As a model and a singer, she worked with beauty brands like Dark & Lovely, Sephora and Pantene, pushing boundaries as one of the Pantene's first model with dreadlocks to star in a television ad spot. Which is why we were excited at the chance of inviting Grace on over to Popdust's office to perform an acoustic rendition of "Afraid (For the Girls)" her EDM banger that already has a hella blazed music video. Joined by David Pattillo, who performs regularly in Alphabet City under the name Strange Majik and has fond memories of running into Julian Casablancas at a party once.
Watch below:
Jump onto the Demi Grace train by following her on Facebook, Twitter, or the 'gram.
And watch the music video for "Afraid (For the Girls)" below:
Want more of that saucy byline? Go for it:
Do you want to be one of those girls who never die?
Jonah Hill's new Danny Brown music video is what happens when the Cash Me Outside-girl finally cashes us, outside