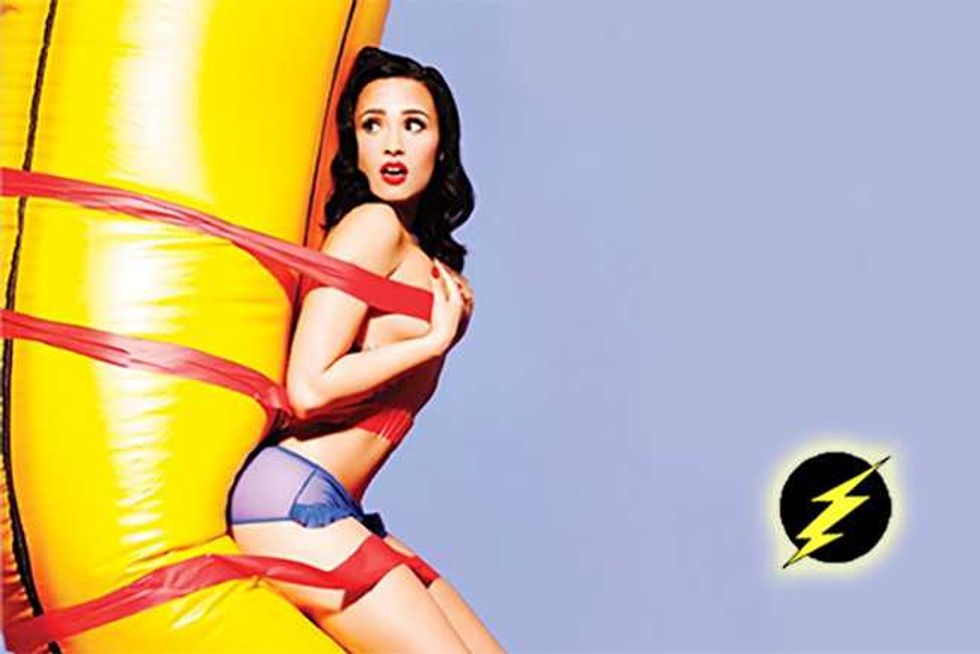 Demi Lovato is stripping down and bearing her soul.
The 23-year-old got nearly naked in an absolutely stunning photo shoot for Complex magazine, and sat down for a candid tell-all, during which she dishes on life, love, sobriety, her body image battles, the Biebs, her friendship/feud with Selena Gomez, and that rumored lesbian love affair with OINTB star Ruby Rose.
So, did she or didn't she?
Demi Lovato Laughs Off Tattooist's Boozy Toilet Seat Pee Claims
Well, Lovato denies that her song Cool for the Summer is about Rose, admits that she's met her, denies they had a relationship, and skirts wonderfully around the subject of whether they hooked up or not—leading to the conclusion that, yep, they did (and, who can blame her quite frankly…. girlfriend's hot!)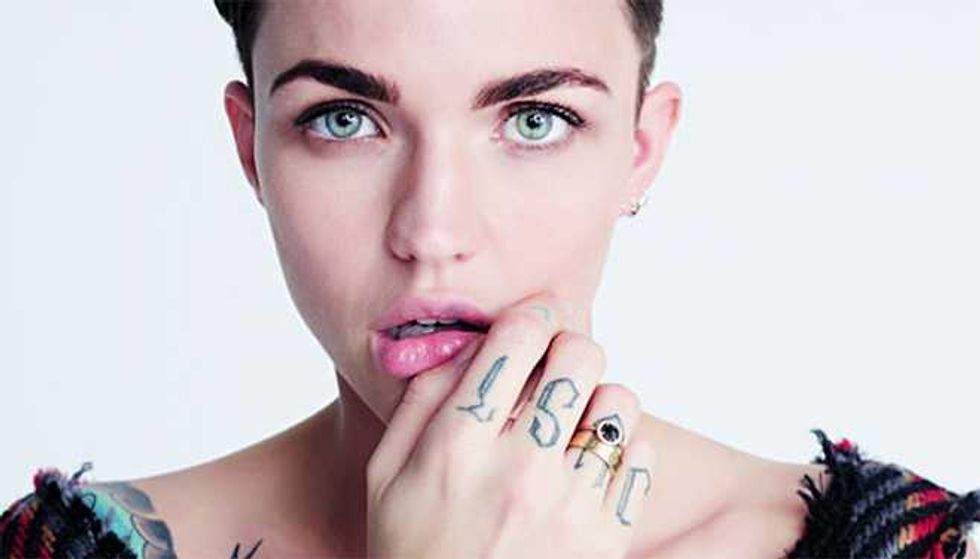 The awesome Ruby Rose—yeah, we totally would....
I don't feel like any of my past or future—when it comes to relationships that may have happened or not have happened—are of any concern to anybody. What matters to me is my relationship with Wilmer. We are in an amazing place. Rumors are rumors, and people are going to spread them. You can believe what you want, but no, I was not in a relationship with her.

By the way, love is fluid. Whether there's been rumors with one specific person or not, that's all that matters. Humans are humans, and when you connect with somebody on a spiritual level it doesn't matter. I don't want people to ever look at the past or rumors or anything and try to figure me out. There's a lot of relationships that I've had where nobody has even guessed it. Not everybody knows everything about me. The only thing that matters to me is that people know who I am today. With Wilmer, I'm the happiest that I've ever been, so that's all that matters to me.
Demi Lovato Busts Her Friend Sexting Wilmer Valderrama
While we're on the subject of Wilmer Valderrama, Lovato opens up about their on-off relationship over the years:
We have been together for almost five years now, off and on. The only times that we were off was when I was not in a healthy state of mind, or he was like: "I can't be with you until you get sober. I can't enable what you're doing right now." Or with food: "You need to get your food settled before you can get into a relationship. You need to learn how to love yourself first." So I did, and then that made our relationship so much stronger.
Demi Lovato's Dog Buddy Is The Cutest Canine Fluff Ball Ever!
When it comes to her well documented emotional and body image issues—which have included battles with self-mutilation and a stint in rehab, Lovato credits today's slew of "thicker" stars for helping her come to terms with her own figure—and name checks the KK Klan as being the embodiment of modern beauty:
When [the Kardashians] came into the spotlight, they kind of revolutionized what beauty was when it came to body shapes. For so long, it was the heroin-chic '90s supermodel thing, and I feel like, when the Kardashians came into the picture, people started to look at it because it was different. They were like, "You know what? That's actually really beautiful."

From then, I noticed that Beyoncé was thicker, and Nicki Minaj is thicker. When I say thick—like when I call my thighs thick—I love it. I think it's a good thing. Watching them really helped me learn to accept my body image, too. I'm not naturally super thin. I have an athletic body. I just have to embrace that. There are days when it's hard to, but more and more, there are days where I'm actually proud of my body.
Demi Lovato Ums And Ahs Way Through Super Awkward Miley Cyrus Question
Demi also gives some major props to everyone's favorite Douche of the Day, the ever wonderful, Justin Bieber:
He's actually a nice guy. I don't really know him that well, but he seems to have grown up. He looks like he's maturing. But, you know, when you're young and you get older, you change and people change. You have things in common, and then all of a sudden, you don't. It's just a part of life.
Demi Lovato On Unfollowing Selena Gomez: 'People Grow Apart'
The last part would seem to refer to her longtime friendship with Gomez, whom, she admits, she no longer talks to… Lovato goes on to explain that she doesn't really have many celeb friends these days, as she wants to keep it real and avoid those who like to kiss her ass:
My closest friends who aren't necessarily famous are so awesome. I'm very, very, very blessed and very lucky to have the friends that I do. I believe that friends are chosen family. They're not friends to me, they're family.

I don't really hang out with celebrities. I guess I do sometimes. I like Hailee Steinfeld. And Nick Jonas. But I don't count Nick and Joe Jonas as celebrities. I've grown up with them. I'm not the type of person that's on Instagram posting pictures of me and tons of my best friends. I have my core group, and they're the type of people that will be there for me in the middle of the night. They're the type of people that are like, "You're being a bitch right now. Don't talk to me that way," and I'm like, "Whoa. Sorry. I didn't realize it." I don't have anybody around me who kisses my ass.
Demi Lovato Is A Brazilian Beach Babe In Teeny Tiny Thong Bikini
Meanwhile, despite the many issues Demi has had to overcome throughout her short life so far, she still manages to keep a positive and well balanced outlook, and definitely does NOT want anyone feeling any pity for her:
I'm just 23. I never want people to feel sorry for me, and I also think that there's always someone who has it worse. Not to invalidate what I've been through or what I'm feeling, but there's somebody who has it worse, and I've always got to remember that.
And, that, right there, is one of the many reasons we respect and love you so much Ms. Lovato.
For more music and pop culture news and updates follow Max Page on Twitter