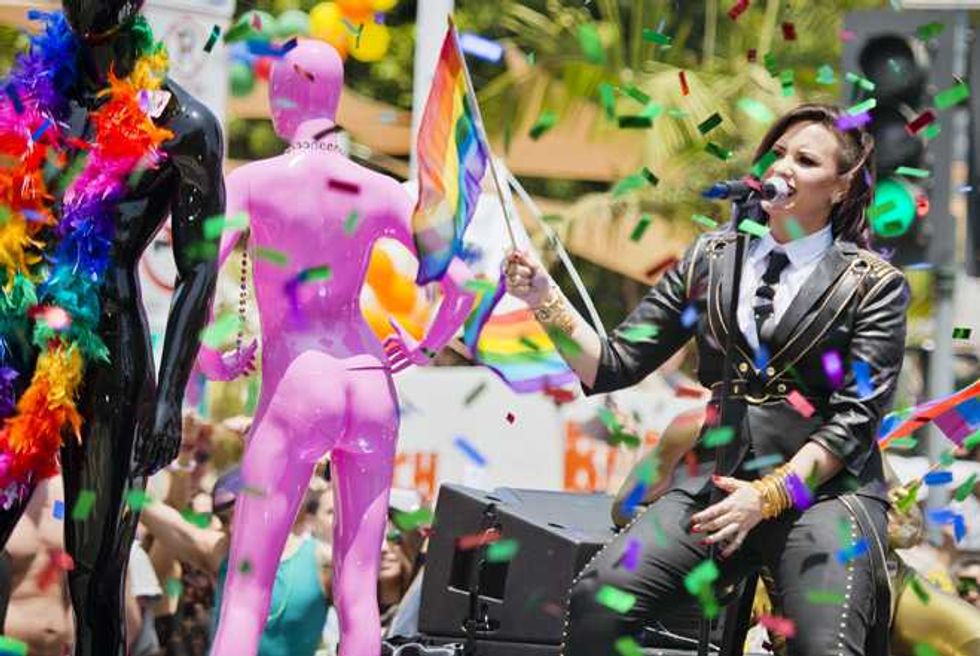 Demi Lovato takes the Westboro Baptist Church to task in her brand new music video "Really Don't Care," featuring the rap styling of Cher Lloyd. The nearly four minute clip launches with a brief non-musical intro, as signs emblazoned with hate speech are seen at the edge of the crowd at LA Pride. The pop diva doesn't let these slide, making sure everyone knows the controversial Bible believers are there.
"You don't have to hate, because my Jesus loves all!" Lovato proclaims, as a siren blares and the music kicks in. And she's right. Vibrant images of rainbow flags, peacock feathers and other items of extravagance splash across the screen. It's a celebration of our differences, rather than a medium to tear those down. The video, directed by Ryan Pallota, examines what makes each of us unique and wholly special.
Celebrity blogger Perez Hilton makes a joyous appearance, as well as Travis Barker, Kat Graham and Shane Bitney Cone.
Grab a copy of "Really Don't Care" on iTunes now!
Check it out:
For more Demi Lovato updates, stay tuned to Popdust.com and follow @Popdust on Twitter!
For all things entertainment, feel free to follow JasonTheScott.
For the best deals on Demi Lovato tickets visit TiqIQ.com