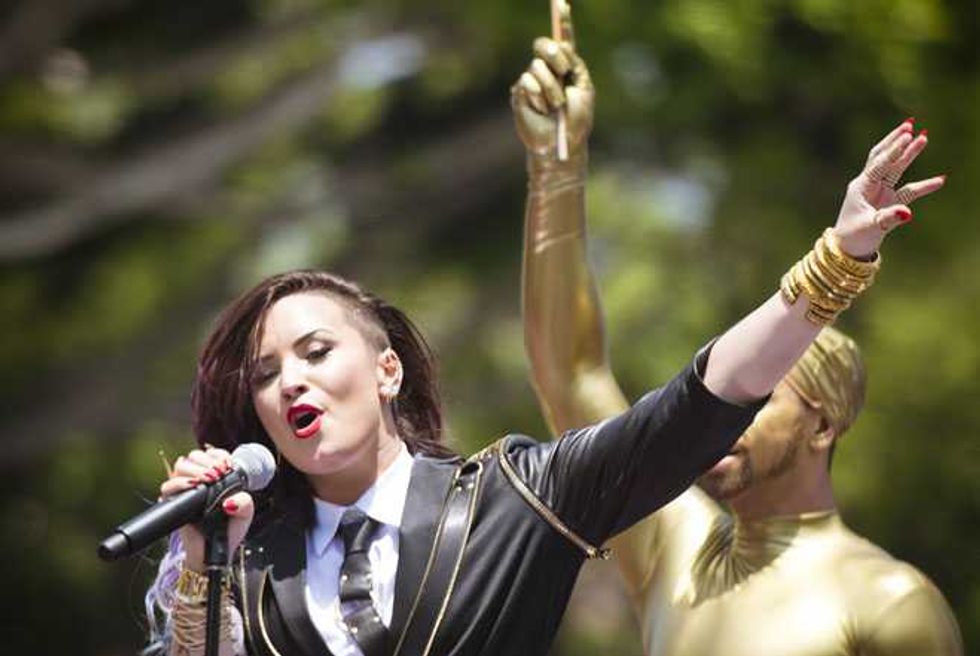 Demi Lovato has already proven her loyalty and commitment to the LGBT community, vowing to fight for equal rights. Parterning with the Human Rights Campaign, the pop singer joins an online initiative to continue bringing awareness and an open mind to the world. "I believe that love comes in all different shapes, sizes and colors," Lovato says in a brand new promotional video.
She adds, "So whether you're LGBT or straight, your love is valid, beautiful and an incredible gift. ... Please join me in supporting the majority of Americans who support marriage equality."
With an adoring fan base of more than 20 million Twitter followers, Lovato's pledge is admirable and refreshing. In her recent "Really Don't Care" music video (featuring Cher Lloyd), she celebrates diversity at Los Angeles' Gay Pride parade, at which she served as the grand marshal. Unique individuals from all walks of life were given the stage to boast what makes them so special. In the modern age, Lovato's efforts will hopefully continue to spark change all across the world.
"With so much negativity in the world today, I always try to highlight the positive and recognize those who are making the world a better place," Lovato writes in an online pledge letter. "That's why I'm thrilled to lend my voice to the Human Rights Campaign's 'Americans for Marriage Equality' campaign."
"My generation knows that it's wrong to tell two people in love they can't get married, simply because of who they love. We've got to stand up for what's right and let our voices be heard if we want to put an end to marriage discrimination," she continues. "The America I know and love values everyone, and that includes the LGBT community. Yet there are still 31 states where same-sex couples can't be married.
Stay tuned to Popdust.com for updates. Feel free to follow @Popdust and JasonTheScott on Twitter!
For the best deals on Demi Lovato tickets visit TiqIQ.com