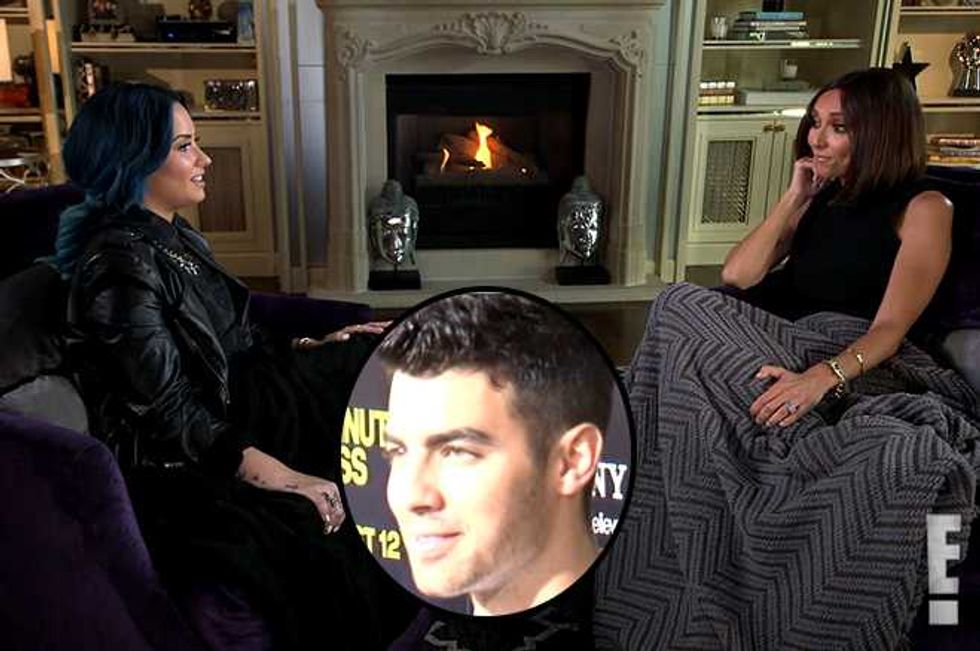 Demi Lovato is telling all, in the hope of helping others.
On the eve of her Neon Lights tour kicking off on February 9, the 21-year-old sat down for a very candid chat with E! host Giuliana Rancic for her new show, Beyond Candid with Giuliana—and Popdust has sneak peek video and details.
Demi Lovato gets beyond candid with Giuliana Rancic in a new interview
During the one hour interview, Lovato addresses the Joe Jonas Potgate "scandal" that erupted after the 24-year-old confessed a tad too much during an interview with Vulture.
As Popdust previously reported, Jonas claimed during the interview that the first time he experimented with drugs was with Demi and Miley Cyrus.
"The first time I smoked weed was with Demi and Miley. I must have been 17 or 18," Jonas said. "They kept saying, 'Try it! Try it!' so I gave it a shot, and it was all right. I don't even smoke weed that often anymore. … "
Demi confesses to Giuliana that she was a little surprised by Jonas' revelation....as she actually had no memory of it ever happening!
Demi Lovato gets Beyond Candid with Giuliana Rancic in a new interview
"We smoked pot together?" Demi says she recalled thinking at the time. "I don't remember, because clearly I was chilling!
"But I'm pretty sure it happened..and I called him and was like 'hey' and he was so afraid to talk to me.
"I was like, 'relax, we're good..just don't be so stupid next time.. I want to sit and talk to you in person.. but i love you its all good.'
"We're always going to be friends."
During the sit down, which takes place at Demi's home in front of a roaring fire, Lovato also talks about her career, her fans and the challenges she's faced during her life—which include an eating disorder, cutting herself, struggles with substance abuse and rehab.
Demi Lovato gets beyond candid with Giuliana Rancic and talks about Joe Jonas' pot smoking revelations
According to E!
Demi Lovato candidly reveals to Giuliana her most honest and brave insights in her journey to staying strong. Young girls have idolized Demi Lovato since she broke out in the hit TV movie "Camp Rock," and have remained loyal throughout her hit series "Sonny with a Chance," four successful albums and two seasons as a judge on "The X Factor."

However, throughout her rise to international fame, Demi kept some dark secrets, until she realized that sharing her life experiences would help her let go of her past and offer hope and inspiration to others with the same struggles.

Demi speaks with Giuliana at her home in Los Angeles, where the two sit by the fire and discuss what has brought Demi to this point in her career, her early eating disorder and the intense life program she now lives to ensure she remains sober and healthy.
Demi Lovato gets beyond candid with Giuliana Rancic in a new interview
Beyond Candid with Giuliana: Demi Lovato premieres Monday, February 3 at 3pm ET/PT and again at 10pm ET/PT, only on E!
Looking for the best deals on Demi Lovato tour tickets?