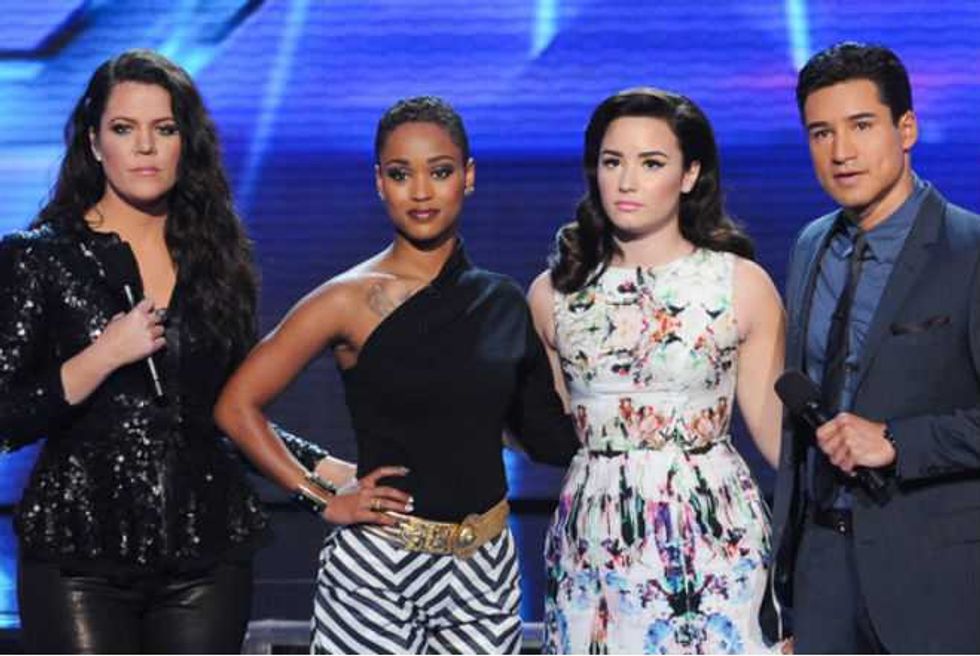 Demi Lovato has a lot to be proud of. She's a fantastic singer, for one, who just hands down kills a ballad. She's got a hit album, and another in the works. She's a loyal BF. There's also the great hair, the desire not to name names when throwing shade and the fact that she seemingly conquered her child-star demons of substance abuse, disordered eating and cutting, taking care of her health by staying in a "sober" facility and speaking out publicly about her recovery. In doing so, Demi's become a role model for millions of teens. Not bad for a 20-year-old. Oh, and she's also one of the major reasons that fans tune in to X Factor. Lovato, who along with Britney Spears signed on as a judge for season two of the series, accepted an offer last week to return for season three (Britney, on the other hand, won't be back; neither will L.A. Reid).
In honor of Demi's anticipated return to the small screen, we've cased all her outfits from last season—most sourced from hip British chain Topshop—and pulled the standouts. Consider it a Cliffs Notes to cool style, the Demi Lovato way.
1. A greeny-gold mini
Here it is, our number one look from last season: futuristic sexpot. This gold and green cutout mini is totally cool and look, her eyeliner matches. It was the perfect dress for a big night—the series' season finale.
Photo credit: Frazer Harrison/Gettty Images
2. A combo of blue, yellow and black
With so many things going on prints! colors! straps! an asymmetrical hem! big shoulders! this outfit could have gone horribly awry. However, it's stunning on Demi. She looks like a breath of fresh air next to Britney, who decided on a very Britney-esque skintight white dress. Boring.
Photo credit: Demi Lovato/Facebook
3. A floral dress
It's so hard to choose favorites; this one also is tops in our book. Though Demi doesn't always love a print, she kills it in this rose-adorned dress which is toughened up with one of her many black moto jackets.
Photo credit: Imeh Akpanudosen/Getty Images
4. A black dress with sequins
For the premiere of X Factor's second season,  Demi opted for a pretty black number made extra dressy with jewels, sequins and bright red lips.
Photo credit: Kevin Winter/Getty Images
5. A black dress and a black jacket
Demi can be relied upon to wear a few looks over and over, specifically, little black leather jackets and dresses cut just above the knee. Here she is rocking both on stage with fellow judges L.A. Reid, Simon Cowell and Britney Spears. Hey, was there an office memo sent out about matching or something?
Photo credit: Fox
6. A teal dress and a black leather jacket
Here she is, sticking with the pieces she loves but adding a little twist. In this case, a formal shift is made to look cooler with the addition of Demi's fave, a black leather moto, and a slightly undone fishtale braid.
Photo credit: Demi Lovato/Facebook
7. A bright red number
Don't get too close, or you might be impaled by a shoulder. At this point it seems like she's tried out every hairstyle (and color); the topknot was a runaway hit last summer.
Photo credit: Frederick M. Brown/Getty Images
8. A black tux jacket with matching pants
This is business casual in Demi's world. For the taping of part one of the show's season finale, the singer stepped out in head-to-toe black (a tux jacket, a tunic and slim pants) paired with glittery heels, bold brows and gold chains.
Photo credit: Frazer Harrison/Getty Images
9. A floral skirt and black top
When you really love a print, there's no shame in wearing it twice. Demi picked out the skirt version of a dress she'd already worn to share the stage with CeCe, Paige and Jennel.
Photo credit: Demi Lovato/Facebook
10. A silver dress
Demi reaches into the future again with this aluminum-foil-like fit-and-flare dress. She shines in it, sure, but that's because it's practically reflective. It's not her best look, but props for coordinating with CeCe and Paige.
Photo credit: Fox