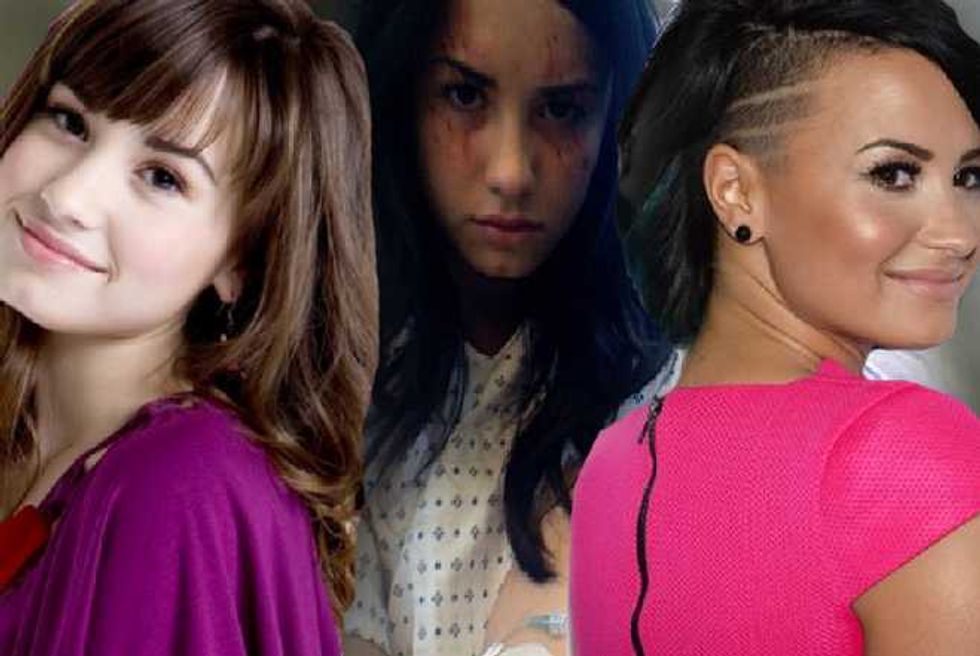 Demi Lovato brawling coke fiend sober journey was a crazy ride—she opens up about her descent into addiction, and how she got clean again
Demi Lovato's addiction was so bad, back in the day, she admits she couldn't go an hour without cocaine.
That's right—after only one hour, Lovato, the ex-Disney darling, would be fiending for another line of coke.
When her parents would try to discipline her she would say, "Try to ground me — I pay your bills."
Which is actually kind of badass, but don't try it at home—especially if you DON'T actually pay the bills..
In 2010, at age 18, she punched out a backup dancer while on tour with the Jonas Brothers.
Shortly after, she checked in to rehab to get treatment for her eating disorder, cutting and cocaine addictions.
The Cool For The Summer singer openly details her days as a boozy blow hound and her path to recovery in a new interview with Refinery29 :
I had to learn the hard way that I can't do parties anymore.

Some people can go out and not be triggered, but that's not the case for me.

Prior to getting sober, I was one of those people who was like, I don't give a fuck, whatever.

And I used that as an excuse to do whatever I wanted. I was a nightmare to work with.
She recently told ET that when it comes to staying clean:
I think what inspires me is remembering that I deserve to be the best that I can be and also knowing people look at me as a role model.

It gives me the fire to continue to be strong.
Still, Demi appreciates the cunning, baffling, and powerful nature of addiction and has to be vigilante about avoiding temptation.
She couldn't even watch the Oscar-winning documentary Amy, about the troubled life of late singer Amy Winehouse.
She tells Refinery29:
To see white powder in a movie.... To see someone shooting up?

It's too triggering.

If I feel even 1% unsure that I'm in a place where I can watch it, then I just don't do it.
Lovato says that although she has achieved mainstream stardom, she still has her haters.
And, the 23-year-old says that she thinks she still has more to prove:
I'm still underestimated… I still have more things to prove—not just about the things I can do with my voice.

Some people think that because I'm young, I can't stay sober.

But these are things I want to prove to myself.
Lovato also opens up about her friend Kesha's ongoing battle with Dr. Luke:
There's way too much shame put on victims coming forward talking about being date-raped, raped, sexually abused.

So then people feel like they can't come forward anymore because they'll just be torn to shreds.
And, she talks feminism—insisting, don't talk the talk unless you're willing to walk the walk.
With that in mind, she gives major props to Lena Dunham and Beyonce:
My thing is, don't brand yourself a feminist if you don't do the work.

I have an immense amount of respect for women like Lena Dunham… or Beyoncé, who make amazing political statements through their work.
Demi celebrated 4 years of sobriety in March.
Playboy Model Details Brutal Near Death Battle With Alcoholism
Turns Out Britney Spears Was Abusing Drugs That Year She Lost Her Mind
WWE Legend Chyna Was Planning A Return To Porn Prior To Her Death
Teary Teen Mom Leah Messer Talks Rehab, Drugs, Depression
Demi Lovato brawling coke fiend sober journey confession
Good Girls Turned Bad! Disney Stars Stripped Down And Sexy!
Hilary Duff Talks Body Image Struggle, Being 92 Lbs And 'Obsessed' With Food
Child Star To Chubby Nazi—Haley Joel Osment's All Grown Up, But Not In A Good Way
Angus T. Jones Goes From Highest Paid TV Child Star To Bearded Aspiring Preacher
Demi Lovato brawling coke fiend sober journey confession
Demi Lovato Bares All—Talks Lesbian Hookup With OITNB Star Ruby Rose
Demi Lovato Laughs Off Tattooist's Boozy Toilet Seat Pee Claims
Demi Lovato Busts Her Friend Sexting Wilmer Valderrama
Demi Lovato Dumps Adam Lambert For Nick Jonas To Open Her World Tour
Demi Lovato brawling coke fiend sober journey confession