Demi Lovato Throws Shade At Mariah Carey;
The claws are out! Well, they've been out for a while but they continue to be out.
The Demi Lovato/Mariah Carey feud kicked off when Demi commented on an Instagram meme which compared Mariah to Ariana Grande.
"When you order it online vs when it arrives," the caption read.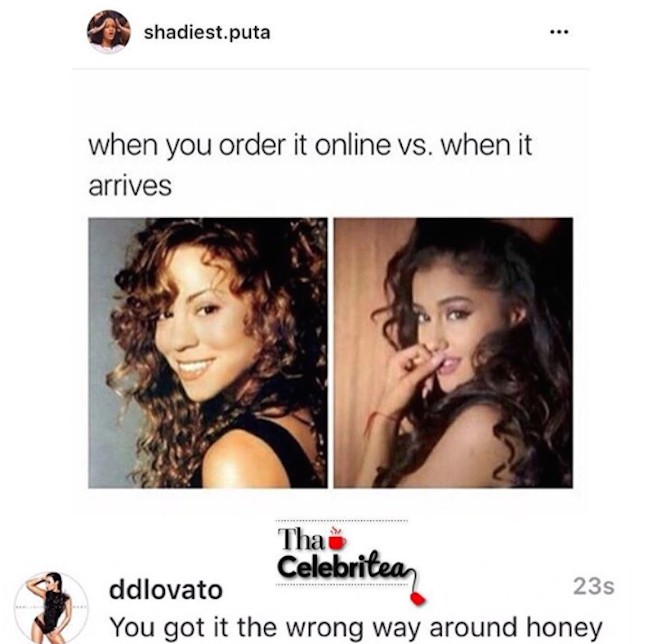 "You got it the wrong way around honey," Demi wrote, then went on to explain that she doesn't care for the way Mariah regularly pretends she doesn't know who Jennifer Lopez is. ("Who is she?").
She wrote: "Mariah is a legend and is so talented but constantly disses people. It's nasty the way she treats Jennifer. Ari did nothing wrong."
That triggered a world of war among Mimi's 'lambs,' who promptly became cyber lions and began spamming Demi's Instagram feed with some nasty nastiness. (I didn't know they had an emoji for that!)
Last month, Mariah attempted to minimize her J. Lo dismissiveness. Speaking on Watch What Happens Live, she said: "That was so long ago, I can't believe people make such a big deal out of it."
---
Read about more celebrity feuds...
When Crazy Collides—Azealia Banks And Sarah Palin Feud On Social Media
Desperate Kim Kardashian Throws Some Sexy Shade At Beyonce's Lemonade
Madonna Talks Gaga Feud And Age Appropriateness In Rolling Stone
---
When asked if they know each other, she said "no" and added: "You know what? I'm very forgetful. Apparently, I'm forgetful because I don't remember the fact that it was just like, 'Hi, I'm so and so.
"And then move on, and then 'Hi' and that's it. If I had never had a conversation with you and someone asked me about you I'd be like 'I don't know him but he seems cool' or 'I don't know him'."
But the ugly truth came out when Mariah was asked if she thought J.Lo "seemed cool".
"I don't know her, what am I supposed to say? I'm not going to put on a thing going 'Oh we're all Hollywood and let's just pretend we're all best friends because we're in that land. It's no offence to anybody, it's just like the question was about Beyonce and I was saying 'She's super talented, she's a friend of mine, she's always been sweet to me, we've always been very cool'.
"And then they asked me another question and I was like 'I don't really know her', it wasn't like 'I don't know who she is', of course I do. That wasn't the question."
This one's gonna run and run...
 Demi Lovato Throws Shade At Mariah Carey