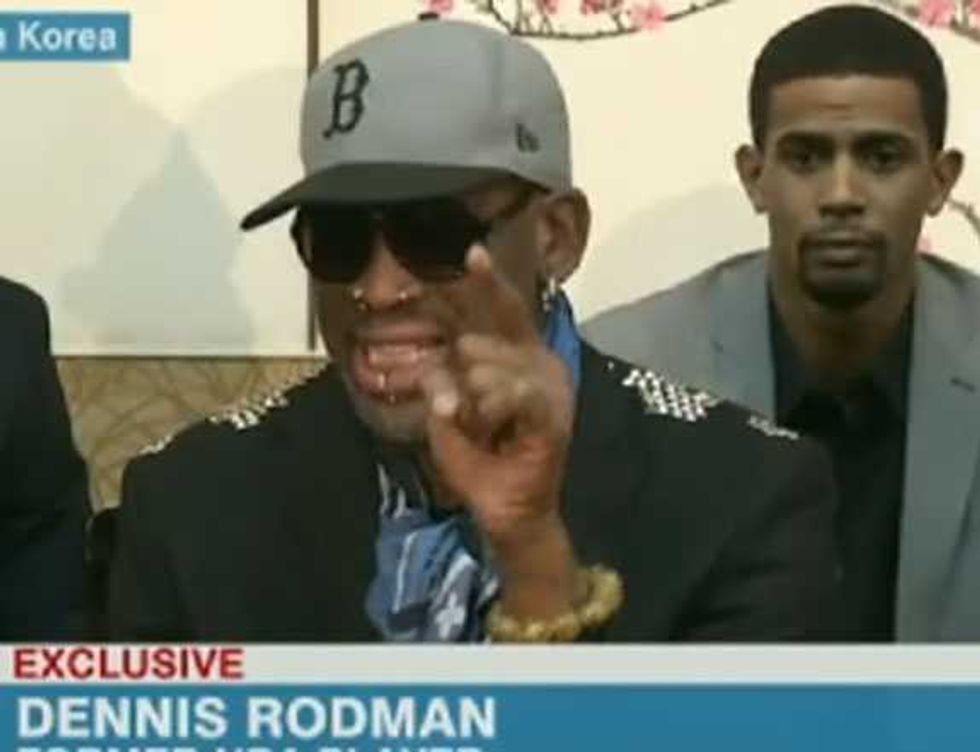 Really, when you consider the circumstances, Dennis Rodman is very likely the most suitable ambassador for North Korea...
Bizarre, angry, crazy, confusing, totally out there...
The former basketball star is back in his new favorite hell-hole dictatorship and once again defending his "friend for life" despot Kim Yong Un—and Popdust has the video.
Rodman appeared on CNN's New Day, where he claimed his current visit to North Korea with a team of former NBA players to celebrate Kim's birthday is a "great idea for the world."
Yep.... sure Dennis.
Even by Rodman's standards the interview is absolutely bizarre, and when pressed by Chris Cuomo on whether the group should have traveled to the DPKR given recent events (including the execution of Kim's once-powerful uncle and the detention of U.S. citizen Kenneth Bae for more than a year for unspecified reasons)...he was pretty much totally nonsensical.
"The one thing about politics, Kenneth Bae did one thing. If you understand — if you understand what Kenneth Bae did," Rodman rambles. "Do you understand what he did? In this country?"
"What did he do?" Cuomo asks. "you tell me."
"You tell me," Rodman snaps. "You tell me. Why is he held captive?"
And then the 52-year-old completely LOSES HIS SHIT!!!