Culture News
George Floyd is dead because Derek Chauvin ignored his pleas, but this picture is a distraction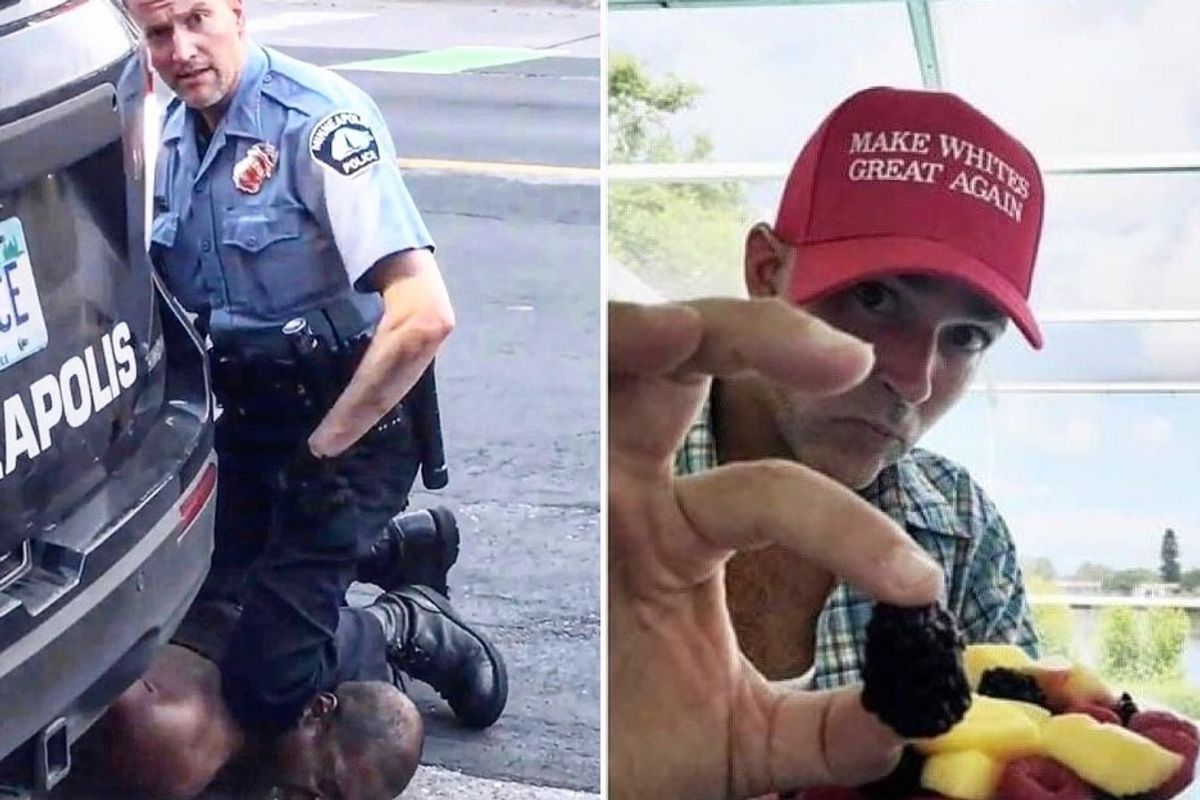 After the release of graphic footage showing the violent arrest of George Floyd, who subsequently died, there has been a scramble to find more information on Derek Chauvin—the Minneapolis police officer responsible.
In a chilling echo of the Eric Garner case, the video shows Floyd continually pleading for relief, saying, "Please, the knee in my neck, I can't breathe, sir." Chauvin, meanwhile, refused to move even after Floyd went quiet, leading concerned bystanders to ask him to check the man's pulse. The video shows Chauvin's monstrous indifference, and it makes sense that people want to ascribe that behavior to a personal fault that might have kept him off the police force. But apart from some publicly available records of police incidents, there is little information on who Derek Chauvin is.
---
Of course that has never stopped amateur internet detectives from collecting what amounts to evidence on Twitter: In this case a picture that supposedly shows Chauvin in a hat that says "Make Whites Great Again" and another that places him on stage at a Minneapolis Trump rally wearing a "Cops for Trump" shirt.
❌ That is not Derek Chauvin in the "Make Whites Great Again" hat. https://t.co/yKXyXvBe7T

— snopes.com (@snopes.com) 1590599587.0
There is not much of a case to be made for a strong resemblance in either case. Both images feature a man who is white with short hair and no beard or mustache. Apart from that, there is maybe a little similarity in the noses, but one man looks significantly slimmer than Chauvin, with thick, dark eyebrows, and the other is significantly larger with a noticeably different hairline.
At least the second image has the right context to suggest that the man pictured is a Minneapolis police officer, yet it's the picture with the racist hat that has gone viral, spreading across Twitter with the phrase "Make Whites Great Again" and the claim that the man pictured is Derek Chauvin.

In reality the man in the image is a full-time troll named Jonathan Lee Riches, who has previously posed as Jonah Rich in a since-deleted New Yorker profile on a supposedly Jewish Trump supporter (Riches is not Jewish),and as a relative of a mass shooter who gave phony interviews in the aftermath.
Jonathan Lee riches being awful on Facebook
He is not the police officer in that video who tells George Floyd to calm down as Floyd tells him—accurately, as it turns out—"I'm about to die." He's just a troll, and he may be behind the misinformation around the picture. Riches' whole goal seems to be to spread misinformation and undermine the media's authority and the "liberal" "politically correct" narratives. He is an agent of chaos seeking to discredit critics of Donald Trump, the police, and white supremacy. He wants to paint protesters in Minneapolis, who are currently being met with violent tactics, as irrational and biased. And now, with people like Ice Cube tweeting his image with the claim that it's Derek Chauvin, Riches is getting exactly what he wants.
So why are so many people who should know better falling for it? We're trying to make sense of a senseless act. The way Chauvin behaves in the video in which Geoge Floyd pleads for his life is so inhuman, so heartless—it's impossible not to wonder about him and wonder about how someone like that ended up in a job where his purported duties are to protect and serve. We want to think that there was some indication, some sign that should have prevented him from being a cop in the first place.

We can scour records of past violent incidents, but there's nothing definitive in the official documents, and no video to consider. The fact that George Floyd was black and Derek Chauvin is white is an obvious place to go next. If there was evidence that Chauvin was an open racist, then we could point to some kind of solution—just don't let openly racists be cops. And if we could place him at a Trump rally, maybe we could pressure Donald Trump to acknowledge the problem of racist, violent elements within his base of support (not likely, but we can dream).
A wolf in wolves clothing. The demons are among us. #Fightthecowards https://t.co/UYw7zXNabQ

— Ice Cube (@Ice Cube) 1590583153.0
Unfortunately, the evidence we're looking for just isn't there—or at least it isn't so easy to find. We're grasping at straws to prove something we already know from watching that awful video: George Floyd died because Derek Chauvin thought of him as less than human.

That's the only explanation for Chauvin ignoring someone's desperate pleas to be allowed to breathe—when all he had to do was move his knee. It's certainly possible (likely) that Chauvin is racist. It's also possible that he's a psychopath with no sense of empathy or the humanity of others. But if we continue to focus on him—and diagnose his pathology—we miss the point. Because to some degree, Chauvin—who was fired Tuesday, along with three other police officers involved in the incident—was just a cop doing what cops are trained to do.
It's in the nature of police work and police training in the US to dehumanize. Their primary job is to enforce the law without concern or consideration for the people affected. So when George Floyd nonviolently resisted arrest—trying to stay in his car—there was no apparent effort to calm him down and reassure him that everything would be okay (which, of course, it wouldn't). Though Floyd eventually cooperated, and was calm before being pinned and killed, by that point he was already being treated as hostile, and the whole process was about subduing and restraining him by any means and with no concern for his well-being.
George Floyd was begging to be able to breathe. By all counts this was a public execution. https://t.co/YmkLkxppX0

— Kamala Harris (@Kamala Harris) 1590606821.0
Floyd's crime (other than resisting arrest) was apparently "forgery"—which is often associated with writing bad checks. Nothing about that crime is suggestive of the kind of violence that would justify the way Floyd was treated, but it's not police officers' jobs to resolve these situations calmly or to consider why a black man might reasonably be upset and fearful at the prospect of being arrested—they only need to resolve them quickly and without compromise.

Their second duty is to protect themselves, which is why they're encouraged to shoot first and ask questions later if they fear they might be in danger. It's why attorney Tom Kelly—who is tasked with representing Derek Chauvin in this case—was able to get police officer Jeronimo Yanez acquitted for the deadly shooting of Philando Castille.
The distant third duty of police officers (if it can be considered a duty at all) is to protect the public. Just look at the deadly Florida shootout last December, in which officers crouched for cover behind cars with bystanders inside.
With that set of priorities, the health and safety of suspected criminals is not even worth considering. If you're suspected of a crime—and especially if you're a black or brown man—you are treated like a wild animal that needs to be controlled and restrained, while innocent civilians are considered either with benign indifference, or as obstacles in the way of "justice." While not all police officers share this frame of mind, it's how many police departments in the US train their officers to think. So whether or not Chauvin is a racist, the effect is the same: He treated Floyd as less than human, and Floyd died as a result.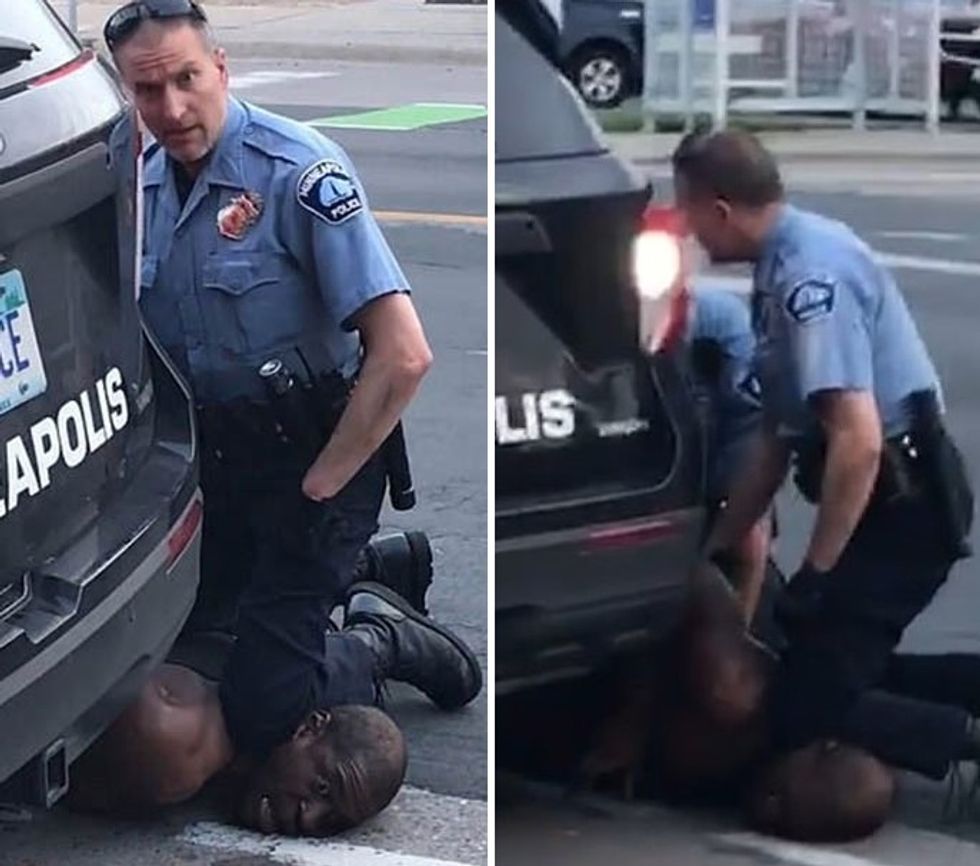 While racism is a big problem both in police forces—where there's been a deliberate effort by white supremacists to infiltrate in order to abuse police powers—and in the juries that continue to acquit cops for the murder of black men, if we continue to treat these killings as the fault of individual bigots who must be investigated and outed, then we miss the larger institutional problems and play into the divisive games of trolls like Jonathan Riches.

Derek Chauvin did a horrible, inhuman thing and should be charged with murder—whether we can find a pattern of that kind of behavior or not. But until we change the way police in our country think of the citizens they're meant to serve, these incidents will keep happening.