When I heard about fashion's new IT girl, Hindi Jain, and her first signature collection, I was inspired. Inspired to shop her line? Well that's part of it, but it was the young designer's powerful message that resonated with me. The strong-minded and talented fashionista strives to create meaningful clothing that promotes equality for humanity. Jain's mission is commendable, bringing new meaning to the words fashion statement.
Hindi Jain's Words Collection is a series of casual weekend wear and yoga pants featuring inspirational words, definitions, and quotes that reinforce happiness and positivity. You can choose your silhouette, quote, and the placement of the words your clothes, such as the inside of your wrist, small of your back, or proudly sport it on your ankle. The words are delicately placed where a tattoo would be. I'm ordering matching yoga pants for my sister and myself as we've always wanted matching tattoos, but in my family, that's a no-no. It's going to make for an awesome holiday gift, and it's so personal. I can't wait to sport them and think of her.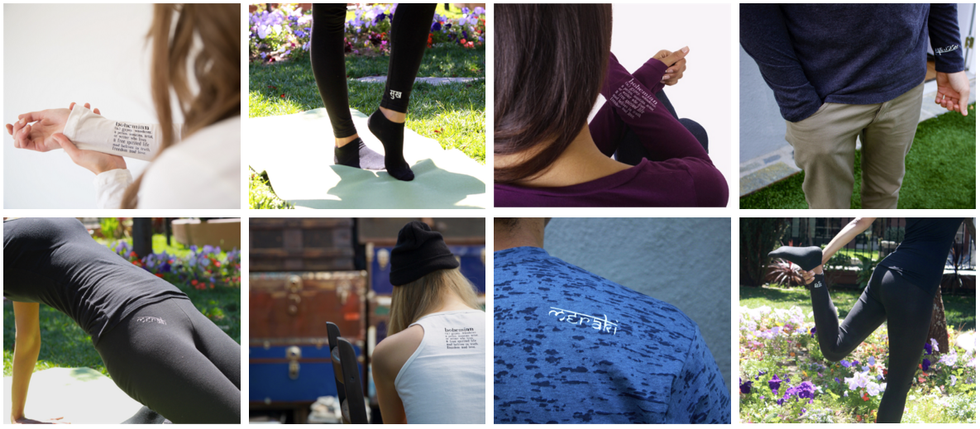 All her trims are high quality sourced from around the world. The young designer started a henna line when she was only 10 years old and has worked for top quality designers like Ralph Lauren and BCBG Max Azria (two of my personal faves). Hindi Jain knows quality materials, and has learned the value in spreading positivity worldwide. For this reason, she's won over our fashionable hearts as Popdust's Designer to Watch!
Her motto? 'No Titles. No Borders. World Citizens.' Jain tells us "[Her line] creates a statement for young women around the world that we can do any and everything with the right motivation, skills, and network of amazing supporters.  We can make an impact both locally and globally.  We are bridging worlds and increased understanding and equality is the effect."
Hindi's collection is an agent of change. Meaningful clothes that create equality for humanity-- plus the stylish and comfy weekend wear to boot.
You can help Hindi in her powerful mission by purchasing an item from her → Kickstarter campaign for one month only! Simply select a funding amount, and the item you'd like to receive. You'll be among the first to score yourself a long sleeve t-shirt, tank top, or a pair yoga pants from her signature line!