Anonymous trolls cyberbully teen prom photo girl because, presumably, they have nothing better to do
A bunch of despicable trolls crawled out of their dark little caves recently to spew their toxic troll venom on some poor teenage girl.
The trolls had never met the teen girl—they didn't know her—but troll her they did, mercilessly.
So, what had the teen girl done to unwittingly warrant the toxic trolls' venom?
Well, the teen girl, Tayja Jones, posted a photo of herself in her prom dress on her Facebook page.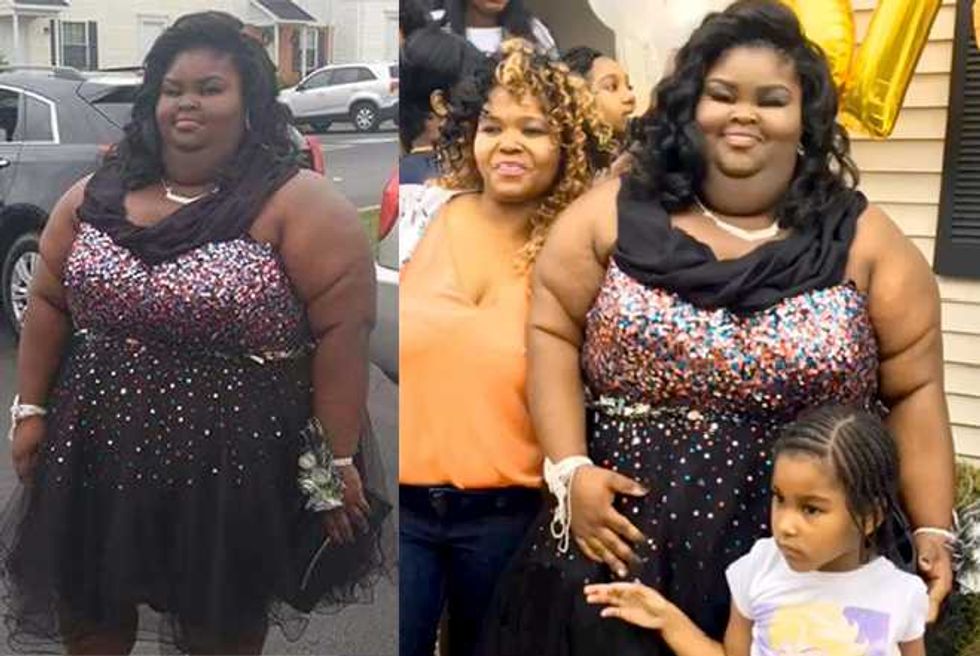 Tayja is 17-years old, she had just gone to her first prom—at her school, Pottsgrove High— she had had fun, she was happy.
It had been her big night, she had worn her perfect dress—it was fabulous—sequined and shimmery, lacy and floaty.
She had had her hair done, her make-up looked perfect, she had worn a beautiful white floral wrist corsage.
She had felt pretty.
Tayja tells Fox 29:
I felt good and I was happy.

I made a status when I came home from the prom that night and it said I enjoyed myself and I'm happy. I had fun.
Tayja went to bed that night feeling on top of the world—giddy and full of joy.
When she awoke in the morning however, everything changed.
Tayja's phone started ringing, and she learned her photo had gone viral—the trolls were attacking, and they were attacking VICIOUSLY.
She tells Fox 29:
There were just, like, so many rude remarks and negative comments about how I looked.

People I didn't know just, like, "that dress is not for her, she looks like a fat….something"

It was just really hurtful because I was so confident the day before and it just changed my view of myself.
The trolls were brutal—and utterly despicable, attacking a 17-year-old kid they don't know from Adam—destroying her self-confidence and esteem.
The comments were so demeaning that Tayja subsequently updated her status to say she should never have even gone to her prom, let alone posted the photo.
Because, yeah, how DARE she?!!!!!!
What the fuck is wrong with people?!!!! How miserable do they have to be in their own lives to attack a kid in this way?
Tayja's heartbroken mom, Natina Parker, tells Fox 29 about how the attack has affected her young daughter:
She was just really depressed and sad.

She doesn't want to go out the house. She doesn't want to go to school.

She doesn't want to go nowhere.
Good job toxic trolls—you all feel better about your miserable little lives now?
Proving there IS good in the world though, support soon started flooding in for Tayja.
Her social media began filling up with compliments, and messages of support from strangers all around the world.
Strangers telling Tayja she looked beautiful, she slayed it, she's cute, she's gorgeous.
Strangers telling Tayja she's unique, stylish, fierce.
Strangers urging strangers to "spread love not discrimination."
However, despite all the support Tayja is still reeling from the attack.
She's told her mom she's not sure if she will attend her senior prom next year.
Her mom is hoping Tayja will get her mojo back in time though and change her mind.
Meanwhile, Tayja has a message for others out there who are being bullied:
You're not the only person.

You should know who you are inside and the outside shouldn't affect the inner you.

Just stay strong.
Amen to that you beautiful, fabulous, fierce, wonderful girl.
#TeamTayja
For more entertainment, world, music and pop culture updates and news, follow Max Page on Twitter
Chinese Students Get Jail Time For 5 Hour Attack On Fellow Student
Girl Whose Acne Photo Became Mean Meme Takes Haters To Task
That Mean Amy Schumer Hurt Khloe Kardashian's Feelings On SNL
trolls cyberbully teen prom photo
Sam Smith Was Suicidal Over Weight
Kim Kardashian Is Tired Of Your Fat-Shaming
'Potato Head' Rumer Willis Talks Bullying, Being Compared To 'Beautiful' Mom
trolls cyberbully teen prom photo
Monica Lewinsky Talks About Effects Of Explosive Presidential Affair
Kelly Clarkson's Response to Fat-Shaming Bully Katie Hopkins Is Perfect
Heads Up, Bullies—World Safer Internet Day
trolls cyberbully teen prom photo