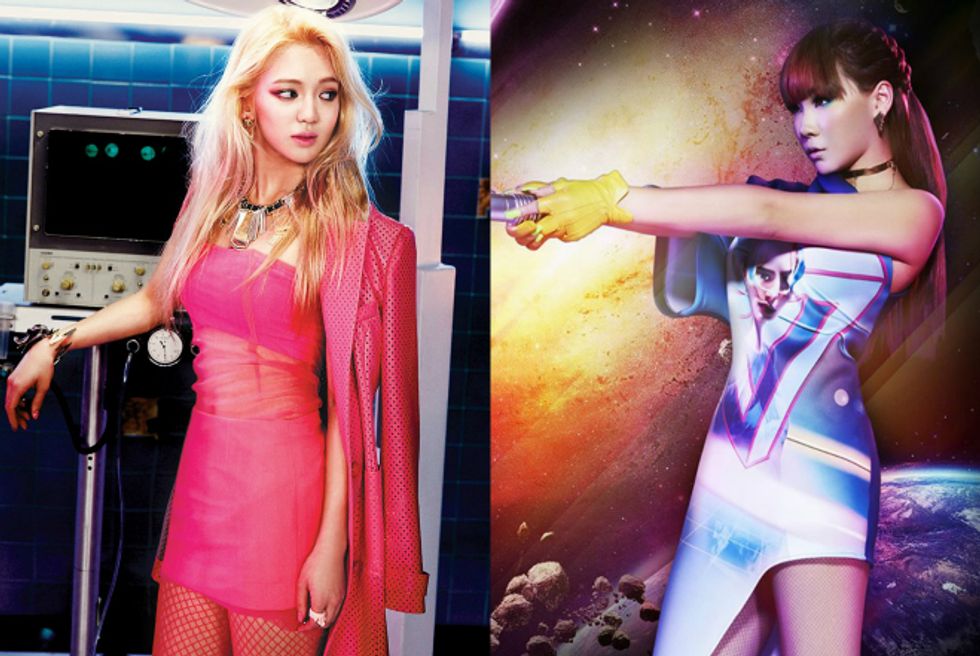 One of the biggest K-pop battles in recent years is set to take place at the end of the month when both Girls' Generation and 2NE1 release their new albums within days of each other. While both albums still aren't due out for roughly another week, the competition between the two A-list girl groups is already getting seriously messy.
Let me give you a rundown of what's happened between the two rival groups so far.
Girls' Generation were the first to announce their comeback, with plans to release their new single and music video, "Mr.Mr," on February 19, followed by their full album release on the 24th.
Two days later, 2NE1 suddenly announced that their new album, Crush, would see a digital release on the 24th --the same day as "Mr.Mr.-- and that the physical version would be out a week later. The suspicious timing led many K-pop fans to speculate that 2NE1's agency, YG Entertainment, was using Girls' Generation's comeback for publicity, on top of trying to overshadow the popular group by bringing out 2NE1 a week later. The speculation only grew stronger when YG's official Twitter account tweeted a link to an article about a chart battle between the two girl groups.
Well, Girls' Generation's agency, SM Entertainment, didn't like that one bit, so a few days later they conveniently announced that Girls' Generation's "Mr.Mr." music video had run into some issues in the editing room and would have to be delayed. They waited a couple of days (probably for YG to cement 2NE1's schedule), and then announced that Girls' Generation's single would now be out on February 24 -- the same day as 2NE1's album.
Now, if you know anything about K-pop, then you know that Girls' Generation is the biggest thing around, and that going up against them with a same-day release is basically chart suicide -- even for a huge act like 2NE1.
Just when it looked like all the delays had come to an end, YG Entertainment just announced today that 2NE1's album will now come out two days later on the 26th. They reasoned that the move was so the album could drop on the day as CL's birthday, but is anybody really buying that excuse?
It just looks like YG tried to get one over SM and it ended up blowing up in their faces. Now all we can do is wait and see if SM will push back Girls' Generation again. Hate to say it, but the push backs and bickering between the two agencies is almost as exciting as new music from the groups!