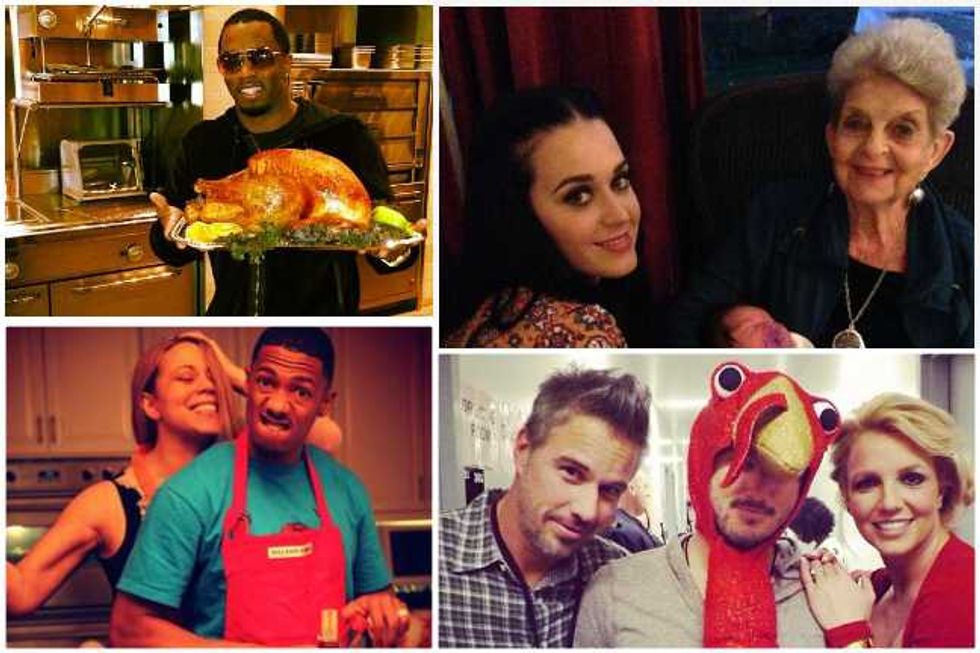 Did you celebrate Thanksgiving this year? Did you Instagram your turkey? Sure you did. And now you have a lot more in common with your favorite pop star than you think. Across Twitter, Instagram and all those other places we put evidence of our celebrations, pop stars are also sharing the the things they're thankful for and the requisite pictures of drumsticks.
Britney's always on the job. The X-Factor host posed with her boyfriend Jason Trawick and this random dude dressed up as a turkey.
Who let this jive turkey near my dressing room!!! instagram.com/p/SWu8zMm8IL — Britney Spears (@britneyspears) November 23, 2012
Katy Perry and her adorable grandmother, Ann, post with new baby Kai. Katy's baby? Unless she got fully pregnant andgave birth this holiday weekend, we suspect that Kai belongs to someone else.
Hope everyone is having a lovely Tday. Most thankful for my friends & family & welcoming Kai to the group, 1st bab twitpic.com/bfjm7w — Katy Perry (@katyperry) November 23, 2012
Taylor Swift did not eat turkey, but she did force her band and crew to watch her babble on forever and what she's thankful for. (Perhaps all the famous boyfriends she's dated and the songwriting material they've given her?) 
Last night my band, crew, and I ate Japanese food and went around the table saying what we're thankful for. I could've gone on for an hour. — Taylor Swift (@taylorswift13) November 22, 2012
Alas, everyone's favorite Canadian pop icon Justin Bieber did NOT celebrate Turkey Day yesterday, but he's still thankful for you.
Hope everyone has a great day today. Canadian Thanksgiving already passed but Im thankful for all of you. Have fun. thanks — Justin Bieber (@justinbieber) November 22, 2012
But his on-again, off-again girlfriendSelena did. Maybe Justin just wasn't invited to the Gomez table this year.
Happy Thanksgiving Everyone!!! — Selena Gomez (@selenagomez) November 22, 2012
But wait, fellow Canadian Carly Rae Jepsen didcelebrate Thanksgiving? Not only did she celebrate, she was allowed the honor of performing on a Thanksgiving Day Parade float! We call blasphemy. 
Getting all bundled up for @macys parade!!! I'll be the girl dressed in blue with 5 layers of mittens and scarfs! Wave to me! #macysparade — Carly Rae Jepsen (@carlyraejepsen) November 22, 2012
Moving on. P!nk poses with her mom and her kid. Three generations of P!nk! 
Three generations... I'm thankful xxx instagr.am/p/ST_6_3PWDg/ — P!nk (@Pink) November 22, 2012
While Nicki Minaj grabs early Thanksgiving at an Indian spot. No turkey?
Early Thanksgiving dinner courtesy of My fave west Indian spot w/the crew. I can literally feel the lbs bein packed on rt now. #ohwell — Nicki Minaj (@NICKIMINAJ) November 21, 2012
One Direction's Harry Styles doesn't celebrate Thanksgiving (Sorry about that, England!) but he does wish that yours is great. 
Happy Thanksgiving to everyone who celebrates it!! Hope you have a great day .xx — Harry Styles (@Harry_Styles) November 22, 2012
Meanwhile, coincidentally, Joe Jonas is thankful for Harry's hair.
Happy Thanksgiving. I'm thankful this year for Family, Friends, Music, Fans, Whipeout, Coffee Sleeves, 007, Harry Style's Hair,And Mustaches — joe jonas (@joejonas) November 22, 2012
While Hurricane Sandy hero Aaron Carteris thankful for trending topics. 
#MentionSomeoneYourThankfulForAll my beautiful fans! Everywhere around the world. Even though some of you might not celebrate thanksgiving. — Aaron Carter (@AARONCARTER) November 22, 2012
Lady Gaga's fans are spending their Thanksgivings hiding out in her garage.  
thanksgiving story: woke up for leftovers in kitchen (naked)- stumbled on security camera revealing 35 monsters in my garage #why #iloveu — Lady Gaga (@ladygaga) November 23, 2012
And Diddy's caught posing with a turkey we have a feeling he didn't prepare.
TIME TO EAT!!!!!! instagr.am/p/SWl4uxpl9q/ — iamdiddy (@iamdiddy) November 23, 2012
Mariah Carey and hubby Nick Cannon are practically an old married couple in celebrity years.
Prepping the day before! #HappyThanksgiving instagr.am/p/SW9GGHreAV/ — Mariah Carey (@MariahCarey) November 23, 2012
And Miguel and his pops are practically identical.
I want to be like him when I grow up. Love you Dad. Thank you. instagr.am/p/SXRAPBC14M/ — Miguel (@MiguelUnlimited) November 23, 2012
Be careful "Animals", Ke$ha might prepare you with a side of glitter-dusted mashed potatoes.
happy thnxgiving animals! im so SOthankful for having every one of you in my life.... i wanna kiss you all right on the mouth; ) — ke$ha(@keshasuxx) November 22, 2012
And last but not least (Well, maybe a little least), Fergie gives her fans a big Thanksgiving smooch. *wipes lipstick off cheek*
Happy #Thanksgiving! I'm thankful for u. xo instagr.am/p/SWHSOgkDHU/ — Fergie (@Fergie) November 22, 2012