New York, NY - In Rockefeller Center, lies an ultra-modern box that almost looks out of place near the historic sculptures that surround it. The box is surrounded by 4 gigantic LED panels which reveal the other side, giving it a transparency effect. It's quite stunning, and truly something that you must see while the limited-time gallery is in the city. Surrounding the "LG Signature Gallery" were many sharply-dressed New Yorkers and bloggers to witness "An Evening of Bespoke Fashion," even recent America's Got Talent winner Grace VanderWaal (A.K.A. America's Sweetheart) was there with her family to take a peek. Inside the Gallery, surrounded by a display of LG SIGNATURE's new top-of-the-line appliances, was celebrity stylist Preston Konrad of TLC's Style by Jury, and we were invited for a one-on-one style consultation and to talk about what's going to be POPing for us this Autumn.
When we arrived to the event, which was open for the public, and took a look inside, we were a bit taken aback by all the cool gadgets. A refrigerator you can open with your foot, with a door that becomes transparent when you knock it, the most rad 77" television that only sets you back a measly $20K, washing machines that you can put in two separate loads in at once (and monitor it with your smartphone), and a luxury air purifier were the permanent stars of the LG SIGNATURE Gallery. The LG SIGNATURE Gallery is set to visit other cities after its brief stint in New York. What even is a luxury air purifier, and why do we know we just got to have it? Class oozed out of the gallery, and we felt like we were in the apartment of a super classy art gallery owner.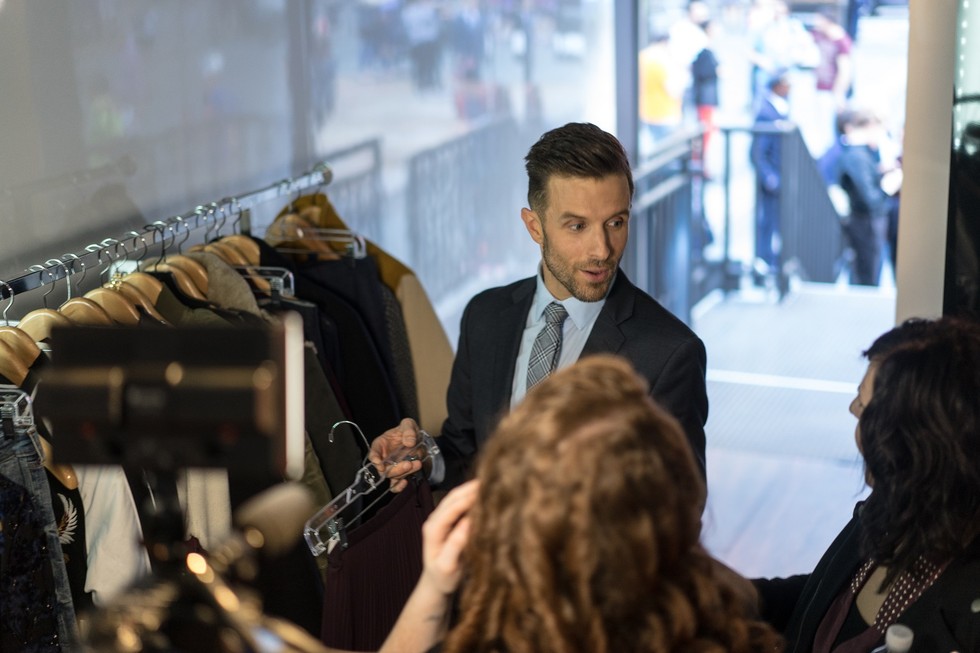 Preston Konrad of TLC's Style by Jury Shows LG SIGNATURE GALLERY-goers pieces they might like this coming Fall
Toward the back of the gallery is a cool confessional photo-booth, where you talk about your "Signature Style", right by none other than the always-dapper Preston Konrad. Donned in a handsome blue suit with a wonderfully whimsical plaid tie, a line awaited Mr. Konrad for people who sought his celebrity sartorial wisdom. When we approached him, he gave us a smile, introduced himself, and complimented the jacket I was wearing. Never before did we feel so humbled by someone calling something we were wearing "cute." We asked him about some tips, and he jokingly told us "why do you need tips when you dress like that!" Laughing, he reached into a magical rack of clothes (clothes were so beautiful, that we, like Liz Lemon, want to go to there), and pulled out an adorable varsity jacket with a really cool embroidered pattern on the back. "I can tell you like fun because of your jacket, so I thought you might like something like this for this Fall."

It was pretty incredible how quickly and how accurately Preston was able to know exactly what my style was, and pick a piece that would fit into our wardrobe. We told him what other sorts of stuff we liked, and we geeked out about Gucci's last couple seasons (they've been killing it!) before we started feeling bad for the people waiting behind us. It was pretty cool of LG SIGNATURE to give us that time with someone as knowledgeable as Preston Konrad, but it was even cooler for them to let anybody come in and talk with him, and play with the appliances in the gallery. The LG SIGNATURE Gallery is a must see while it's still in New York, and those appliances are a must-buy for anyone building their dream home!
For more information on the LG SIGNATURE brand, its cutting-edge products and the LG SIGNATURE Gallery, please visit LGSIGNATURE.com, and to learn more about your signature style, visit WhatsYourSignature.com.