FILM
After killing Iron Man and making Chris Evans too old to be hot, now Marvel's giving us the most diverse superheroes we've ever seen.
San Diego Comic-Con 2019 delivered a windfall of nerd dreams come true.
The details of Marvel's socially conscious and heavily diverse Phase 4 include the first superheroes to be Asian, deaf, and openly queer, as well as Natalie Portman taking up the mantle of Thor.
Marvel Studios, the fairy godmother of comic book fandom, have released the titles of the next 10 projects throughout 2021. President Kevin Feige (Marvel's equivalent to the Tooth Fairy) appeared to discuss the stars of The Eternals (2020), Scarlett Johansson's solo Black Widow feature, and Mahershala Ali taking on the role of Blade. Eternals director Chloe Zhao teased that the next installment focuses on "this group of incredible immortals but through their journey we really get to explore what it means to be human and humanity on our time on this planet."
The wave of diversity is a conscious push to correct a long history of white, male leads putting an exclusive face to America's favorite superhero narratives. Author Preeti Chhibber said, "Half of the highest-grossing films of all time right now are superhero movies. What that means is these are accessed by a huge number of people in the population, they shape popular thought, and they impact who is seen as powerful or important enough to be included."
These are just 5 of the most ground-breaking projects coming up in Marvel's Phase 4.
Makkari (Lauren Ridloff) in The Eternals
Tony-nominee Lauren Ridloff will play the first deaf superhero in the Marvel cinematic universe. The broadway actress will play Makkari in The Eternals, which will also star Angelina Jolie (Thena), Richard Madden (Icarus), Kumail Nanjiani (Kingo), Brian Tyree Henry (Phastos), Salma Hayek (Ajak), Lia McHugh (Sprite), and Don Lee (Gilgamesh), according to EW. In addition to being named Miss Deaf America (2000-2002), Ridloff is a former kindergarten teacher who picked up acting and soon after won acclaim on Broadway before being cast on The Walking Dead. Her character uses American Sign Language (ASL), as Ridloff does in real life.
Ridloff told Good Morning America, "There is an increased interest in casting more actors who are deaf, but there is still a woeful paucity of deaf talent behind the scenes, involved with the writing process." She added, "I feel that with more representation working behind the camera, the stories that are told in television, film and stage would become more intriguing, truthful and thought provoking."
On Instagram, the actress posted, "Honored and humbled to be a part of this powerful, diverse group. #Eternals"
Valkyrie (Tessa Thompson) in Thor: Love and Thunder

Thompson has long pushed Marvel to include queer representation in its upcoming projects. Aside from inspiring dedicated fanart depicting the galactic power couple Valkyrie and Captain Marvel, Thompson has confirmed that the new leader of the Asgardians is indeed queer. "As new King, she needs to find her new queen, so that'll be her first order of business," she told TIME.
In fact, Thompson previously shared with Rolling Stone that a cut scene from Thor: Ragnarok depicted a woman leaving Valkyrie's bedroom in order to confirm her bisexuality: "It wasn't Marvel or Disney or anyone extracting that because it was an issue," she explained. "It just was like, that particular moment didn't make sense in the context of the scene. And there were other beautiful things where you get a sense of her backstory." Still, Thompson's always assured viewers that she's "played her as a woman that's queer."
We cute @TessaThompson_x https://t.co/7358yhTQlA

— Brie Larson (@Brie Larson)1552924774.0
WHAT. we so cute @brielarson https://t.co/LGVXRoQbMy

— Tessa Thompson (@Tessa Thompson)1552940606.0
Female Thor (Natalie Portman) in Thor: Love and Thunder

Natalie Portman will reprise her role as Jane Foster in the Thor franchise, with Taika Waititi also returning to direct the next installment, due for release 2021. In the comics' 2014 storyline, Thor renounces his title after losing his powers, allowing Foster to inherit his weirdly sentient hammer, Mjolnir, and become the Goddess of Thunder. She even acquires Thor's name and presumably becomes incredibly jacked.
Portman confirmed her return to the MCU on Instagram, posting, "So thrilled to share the news with you today at #sdcc2019 that I'll be returning to the @marvel #mcu as female Thor with legends @taikawaititi @tessamaethompson and @chrishemsworth. (Remember this as the before picture for when I get jacked)."
Shang-Chi (Simu Liu) in Shang-Chi and the Legend of the Ten Ring
We're finally getting an Asian-fronted superhero movie from a major U.S. studio. Directed by Dustin Cretton and written by Dave Callahan, Shang-Chi will be fronted by Asian creators and an Asian lead. The universe follows the son of a "China-based globalist who raised and educated his progeny in his reclusive China compound, closed off to the outside world. The son is trained in the martial arts and developed unsurpassed skills. He is eventually introduced to the outside world to do his father's bidding, and then has to come to grips with the fact his revered father might not be the humanitarian he has claimed to be."
Kevin Feige said Simu Liu will "be a household name soon enough" after starring as Marvel's first Asian superhero. He's previously appeared in Nikita, Taken, and Kim's Convenience. Liu emigrated from China to Canada when he was 5 years old. Before he pursued acting, he was an accountant. "All I've ever wanted to do when I was growing was make [my parents] proud," Liu said on stage at Comic-Con. "What I'm trying to say is, I'm really happy I'm not a doctor. So, take that mom and dad."
Writer Preeti Chhibber noted, "Of course, Asians deserve to be represented on screen in something that has become a cultural behemoth. By excluding Asians from the narrative, the implication is that Asians aren't a part of that space—and not only does the Asian community pick up on this, but so does the non-Asian community." Jen Bartel, an illustrator and comic artist who's worked with Marvel and Disney, adds: "Kung fu films have resonated with a wide range of audiences for many decades now—a character like Shang-Chi, who specializes in martial arts, specifically kung fu, could potentially bring some of that mainstream appeal while simultaneously reclaiming that piece of our culture for Asian audiences."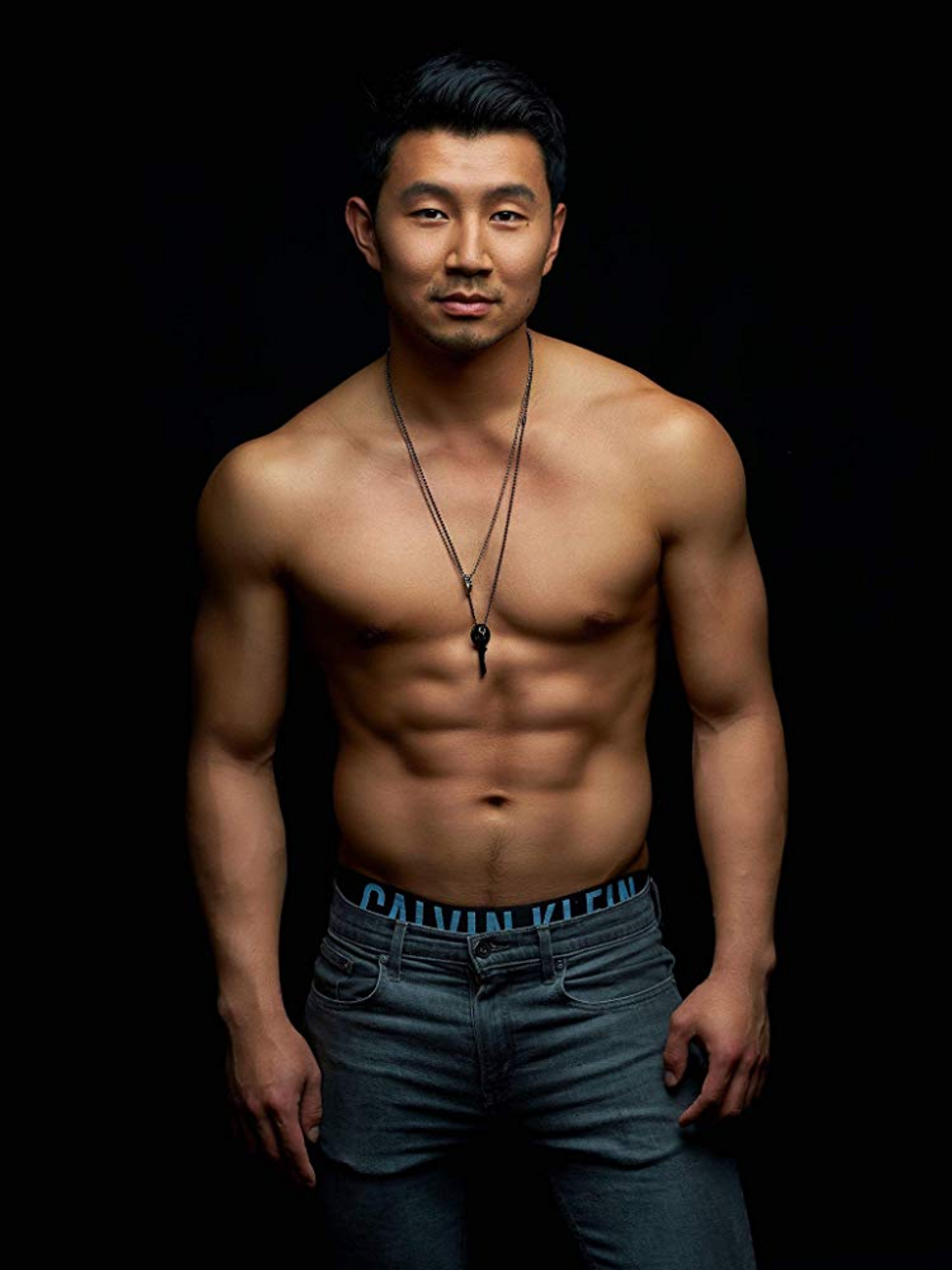 Blade (Mahershala Ali)

One of Kevin Feige's greatest surprises was announcing that Mahershala Ali has been cast as the titular character in Marvel's reboot of Blade. Even more surprising is Feige telling The Hollywood Reporter that Ali approached Marvel about the part. "When Mahershala calls, you answer," Feige said. The Oscar-winner reportedly "came right out and said that he wanted to do Blade." The remake of the 1998 classic, starring Wesley Snipes, will carry on the momentum of Black Panther's all black cast. As TIME points out, "When Black Panther premiered in 2018, many fans cited Blade as the movie that laid the groundwork for a black superhero movie to break box office records."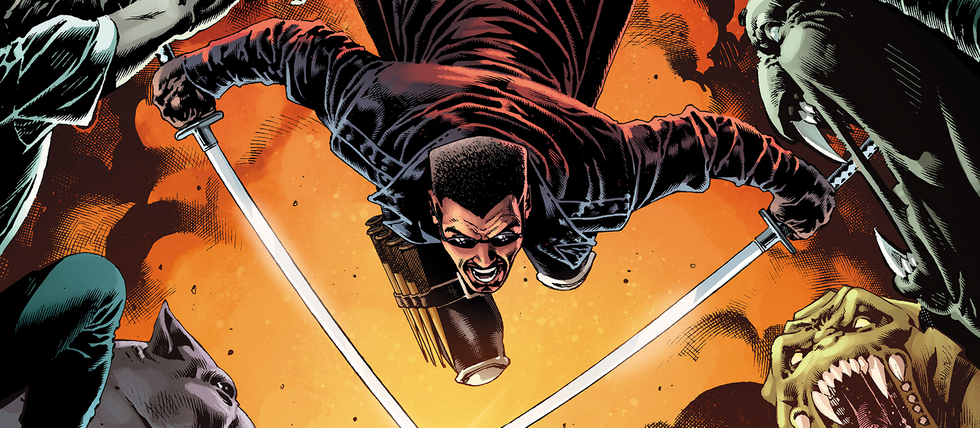 "Blade" Comic
Overall, the daring new wave of characters are a clear push to justify the dramatic ending of Marvel's Phase 3, wherein Captain America (Chris Evans) passed his shield to Falcon (Anthony Mackie) after aging about 80 years in a span of 10 seconds in Endgame, Black Widow and Iron Man die, and all the people eradicated in Thanos' Bitch Snap are revived (including Doctor Strange, who's also getting his own movie sequel with Benedict Cumberbatch reprising his role as a mystical silver fox with perfect enunciation). Here's what we know of Marvel's Phase 4 and continued global domination:

"Black Widow: May 1, 2020
The Falcon and the Winter Soldier: Fall 2020 (Disney Plus)
The Eternals: Nov. 6, 2020
Shang-Chi and the Legend of the Ten Rings: Feb. 12, 2021
WandaVision: Spring 2021 (Disney Plus)
Doctor Strange in the Multiverse of Madness: May 7, 2021
Loki: Spring 2021 (Disney Plus)
What If...? Summer 2021 (Disney Plus)
Hawkeye: Fall 2021 (Disney Plus)
Thor: Love and Thunder: Nov. 5, 2021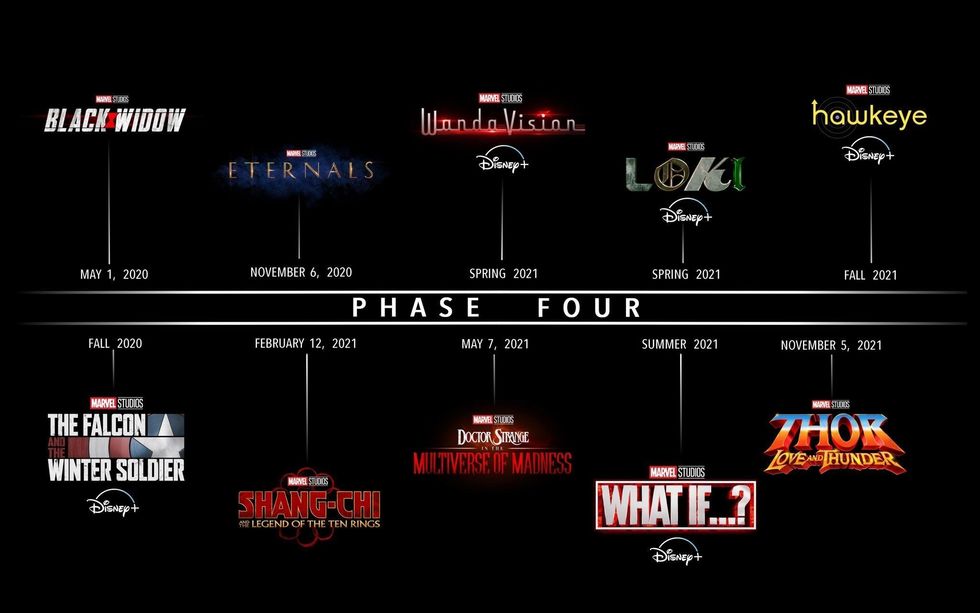 Geek Tyrant