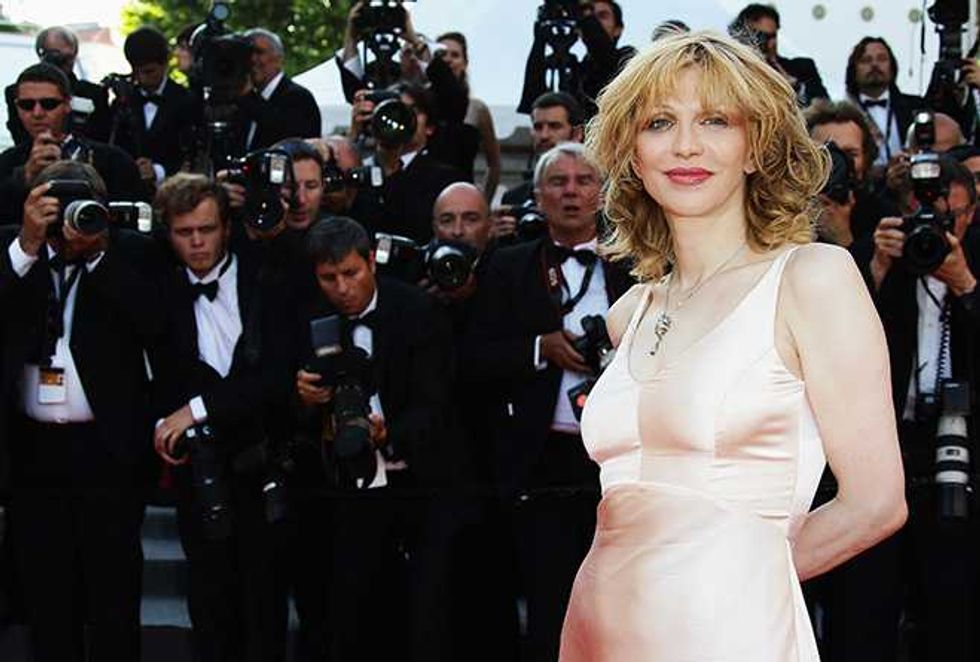 Courtney Love is ready for her comeback.
The 49-year-old believes she deserves a second chance—and Popdust has her reason why.
"Listen, if [Orange is the New Black star] Natasha Lyonne can burn down a house and Robert [Downey Jr.] can go to prison for two years, I deserve a second chance," Love tells Fashion magazine.
"I know there is hope for me."
Courtney Love was all dolled up at Goodwood racecourse in Chichester, England, July 2013—Photo: Getty
Love—who recently reconciled with her daughter, Frances Bean Cobain, after she took out a restraining order against her mother in 2009—opens up in the interview about her drug addiction, rehab, her bumpy road to becoming a style icon, her upcoming album and new fashion line.
"I got really ostracized by [the fashion industry] after I went to rehab in 2006," she says. "After I got out, no one would dress me and I sucked it up. I went to Paris, got on a plane and I was only invited to two shows. Two shows! YSL and Stella.
"Then I met my stylist Panos [Yiapanis], who got me to sit down with Riccardo Tisci and he was more than happy to dress me during the biggest weight gain of my life. He renewed my faith in fashion… it's really about who you surround yourself with in your career.
Courtney Love was red carpet glam in Cannes 2011—Photo: Getty
"The next time I went back to Paris was in 2008 and I got invited to a hundred shows and the minute [Givenchy creative director] Riccardo [Tisci] said 'she is my muse,' everyone threw clothes at me. That's just fashion—it's such a reactive community."
She also talks about the responsibility that comes with fame.
Courtney Love was a red carpet fixture at the Mercedes-Benz Fashion Week in 201—Photo: Getty
"Being a rock star today is almost like being a politician," she says. "You have a platform where you can say things and the good ones like [Bruce] Springsteen, [Michael] Stipe and Bono use it for good politics."
You can read the full interview in Fashion magazine—on newsstands November 11.