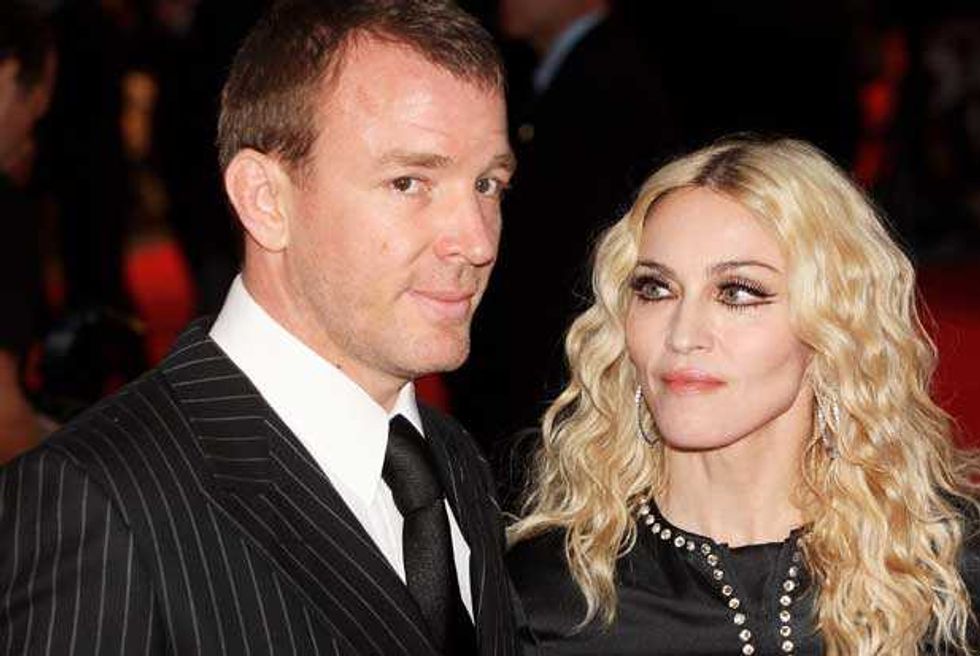 It seems like forever ago that Madonna and Guy Ritchie were even, like, a thing—they divorced over three years ago, and it feels like even longer before that when Jay Leno was making an endless number of cracks about her relationship with Yankee slugger Alex Rodriguez. But if Madge has any lingering resentments about her marriage, they finally appear to be manifesting in the form of the "I Don't Give A..." track from her upcoming MDNA album. Lyrics from the still-unreleased song, as reported by the New York Post from an invite-only playback of the pop legend's new album, appear to be directed at the British director:
"I tried to be a good girl / I tried to be your wife / Diminished myself / And I swallowed my light / I tried to become all / That you expect of me / And if it was a failure / I don't give a [bleep]."
Gigwise also reports further lyrics that get even virulent-er:
Wake up, this is your life / Children on your own, gotta plan on the phone / Meet the press, buy a dress / Do all this to impress / Do ten things at once / And if you don't like it / I don't give a f*ck.'
Yikes. And Nicki Minaj is gonna be on this thing too? Look out, wrongdoing males of America and abroad. Of course, there's no guarantee that this song is actually about Guy Ritchie—indeed, perhaps these are sentiments Madonna has wanted to get off her chest since the dissolution of her marriage to Sean Penn a quarter-century ago. It's probably not about Russell Brand, in any event.