FILM & TV
The biographical documentary about legendary labor activist Dolores Huerta is the intersectional story we need right now.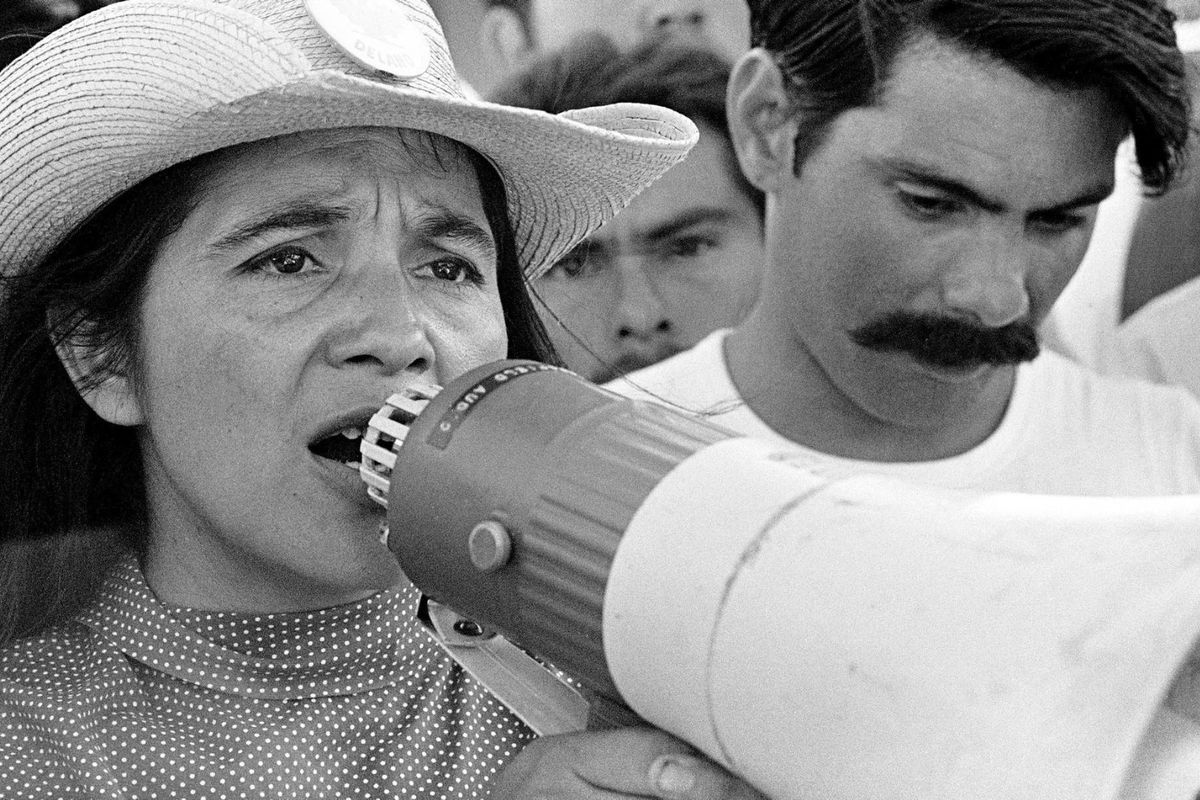 IMDb
Activism. Civil rights. Racism. Politics. Labor.
While Martin Luther King, Jr. was leading the charge for social change on the East coast, another revolution was underway out west. Though many know who Cesar Chavez was, fewer know of Dolores Huerta, an equally important figure in the labor rights and immigrant rights movement that began in California in the 1960s. That's what the documentary Dolores, which premiered in New York February 12 at Athena Film Festival (after its world premiere at Sundance last month), sought to change.
Peter Bratt's documentary tells the story of Dolores and her cause, an often grisly one, in an engaging and exciting spirit—not unlike the feeling of civic action itself, fighting the good fight against seemingly unsurmountable odds. The tone is set immediately, as the opening sequence intercuts soundbites about Huerta with lively music and clips of dancing. Despite heavy subject matter, the film isn't out to beat its viewers over the head with information or to depress them—it's a celebration of Dolores' accomplishments and her drive. Interviewees range from Dolores' children to figures like Gloria Steinem, sprinkling footage of Huerta being praised by politicians of decades ago and of late for her work.
This is important, and well-deserved. The conditions Huerta was organizing to fight against were gruesome: in the 1960s, undocumented immigrants were easy targets for labor exploitation, underpaid for arduous, long hours working for the agriculture industry. (Sound familiar?) What's worse, the gratuitous use of dangerous pesticides had led to cancer clusters in children whose mothers worked in agriculture and were constantly exposed to the chemicals. Birth defects and stillbirths were rampant. And the connection to current events, the fact that so many of these issues are still not resolved, makes this an important time for this story to be told.
Still, the film manages to cover this awful truth, sparing no detail or image, without detracting from the celebration of Huerta's well-earned legacy. The history is told chronologically, weaving in national figures and events such as the death of Robert F. Kennedy, who had vocally supported Huerta and the National Farm Workers Association before his assassination in 1968. Such historical background helps contextualize the narrative for those who may be less clued in to the history of the labor rights movement. And the overall high-spirited tone of the documentary is appropriate, especially considering the focus of the festival, "a celebration of women and leadership." Huerta may be comfortable behind the scenes, putting her work before her name, but it's easy for women to go unsung while men become legends. Huerta deserves to be remembered, and the cheering audience that gathered with her to see this film—a room that included women of all ages, including Gloria Steinem and Dolores herself—ensures that she will.