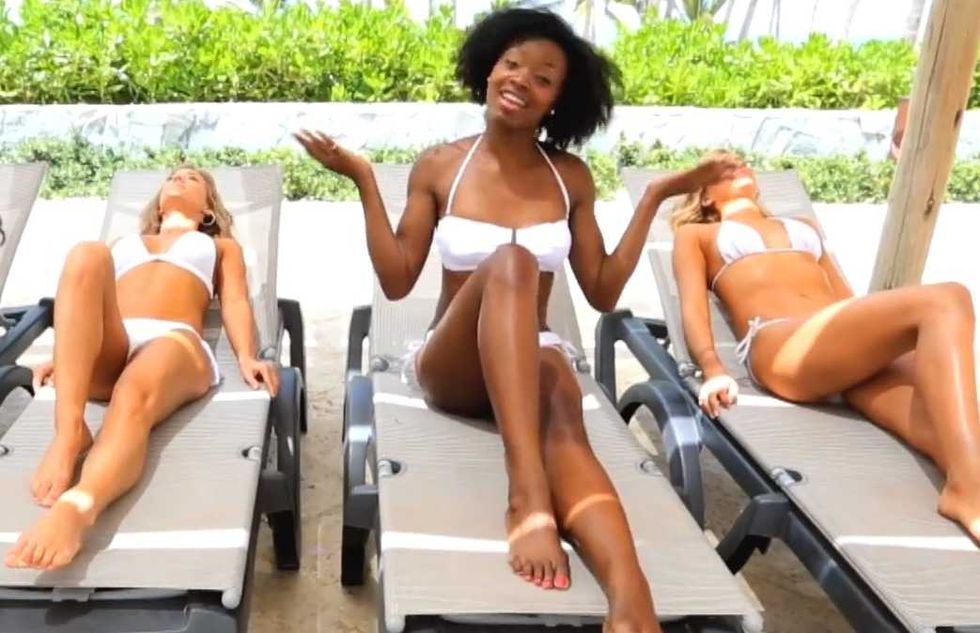 After a disappointing offseason that waved goodbye to wide receiver Brandon Marshall and did not witness Peyton Manning purchasing a beachfront condo or dining with the likes of Jennifer Lopez, the Miami Dolphins and their fans have an uphill battle to fight before September. Despite the setbacks, their optimistic roster of cheerleaders is doing everything they can to raise the morale of their NFL team and its fickle fans. The ladies recently shot their own "Call Me Maybe" video—because the thought that someone had already lip-synced the song while wearing a bathing suit never crossed their collective mind—during a shoot for their 2013 swimsuit calendar in the Dominican Republic. Two birds with one stone, but we're just surprised the Kardashian family didn't join in.
There's not a whole lot of surprises in this CRJ tribute, as the beautiful women trade their frilly, sequins NFL-approved sideline gear for tiny swimsuits that have the occasional Dolphins logo splashed across the one breast. When you're average weather is approximately 85 degrees and sunny, there's a market for every kind of team apparel one can think of. It's all lovely, and at times soul-crushing, to watch, but we'd rather see team members rocking to Our Girl Carly Rae during OTAs. If the Heat fall to the Celtics in Game 6, the Dolphins will need to do something to take the pressure off LeBron and D. Wade. Call us when Reggie Bush gets involved.
We now present you with the difficult decision of determining a favorite between a "Call Me Maybe" video featuring cheerleaders in bikinis, or one with pageant girls in bikinis, and a glimpse of Donald Trump. The choice is yours.