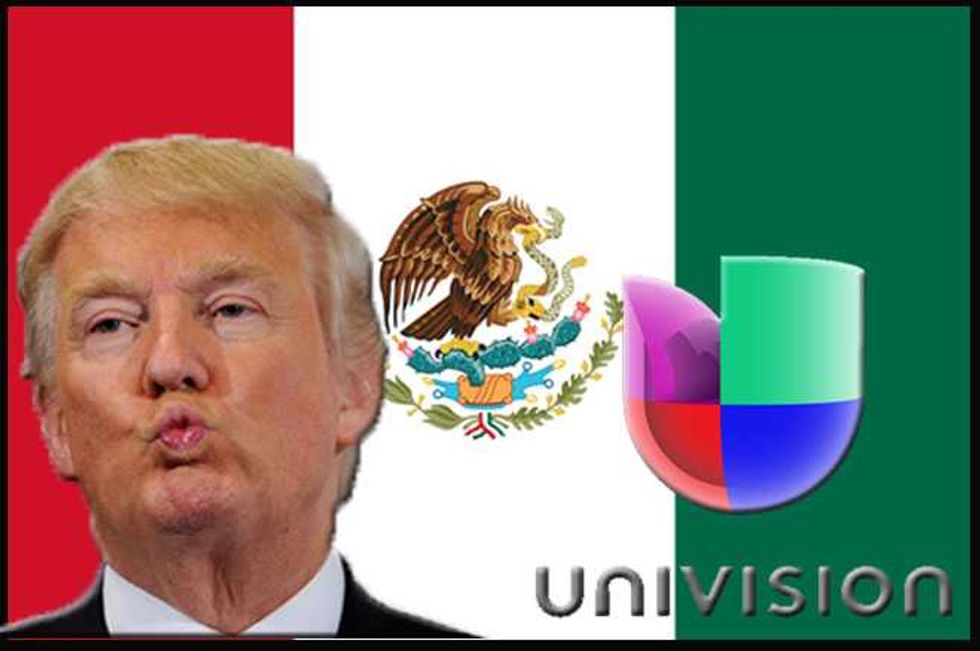 The backlash against Donald Trump is gaining momentum.
As Popdust previously reported The Donald famously (and ill-advisedly) went on a bizarre anti-Mexican rant at the press conference when he announced his bid for the Presidency of the USA.
To quote him;
"They're sending people that have lots of problems and they're bringing their problems, they're bringing drugs, they're bringing crime, they're rapists"
As we know, Trump part owns (with NBC) the Miss Universe Organization, which runs the highly popular, Miss USA competition due to be held next month.  On Thursday morning however, Univision announced that it will not air the show—a huge decision bearing in mind it was due to be the first ever Spanish language simulcast of the pageant.
The property mogul has responded by threatening to sue Univision for hundreds of millions of dollars, as he claims they had an iron clad, five year deal with no get outs.
Trump has clearly taken network's actions very personally—TMZ are reporting that he has given instructions that no employee of Univision are allowed to set foot in his fancy Miami golf resort!
The Miss USA pageant suffered further blows when Colombian singer J Balvin and co-hosts Roselyn Sanchez and Cristian de La Fuente all pulled out of the event in protest at Trump's remarks.
Balvin told Billboard;
"It was going to be my first performance on national [mainstream] television. But we're talking about our roots, our culture, our values.. His comments weren't just about Mexicans, but about all Latins in general."
In a move that could prove to be even more damaging for Trump, NBC felt forced to issue a statement distancing themselves from their long term partner.
"Donald Trump's opinions do not represent those of NBC, and we do not agree with his positions on a number of issues, including his recent comments on immigration."
OUCH!
NBC and Trump go back a long way—in addition to their partnership on the Miss USA and Miss Universe pageants, the hugely popular NBC show The Apprentice, has starred Trump since the start.
NBC has already stepped back from Trump's role as host of the Celebrity Apprentice following his announcement, saying
"We will re-evaluate his role as host...should it become necessary, as we are committed to this franchise".
This is because under election equal time rules, should NBC want to air a season while Trump is running, they would run the risk of receiving equal air time requests from the other presidential candidates—which considering we are now up to 13, would prove quite a headache for them!
There is no backtracking from Trump on this subject though.  He cannot be silenced—his team released a statement on Thursday saying amongst other things;
"They are taking our jobs, taking our money and at the same time hurting us at the border with illegals from all over the world freely flowing into our country."