Donald Trump is ready to take over the motherfucking world!
Trump, 69, has today announced he is running for President of The United States—the press conference was of course at the Trump Tower in New York City, with Trump descending on an escalator like the Angel Gabriel from above, to stand at the podium before a backdrop of American flags, flanked by his adoring family to declare his intention to save America.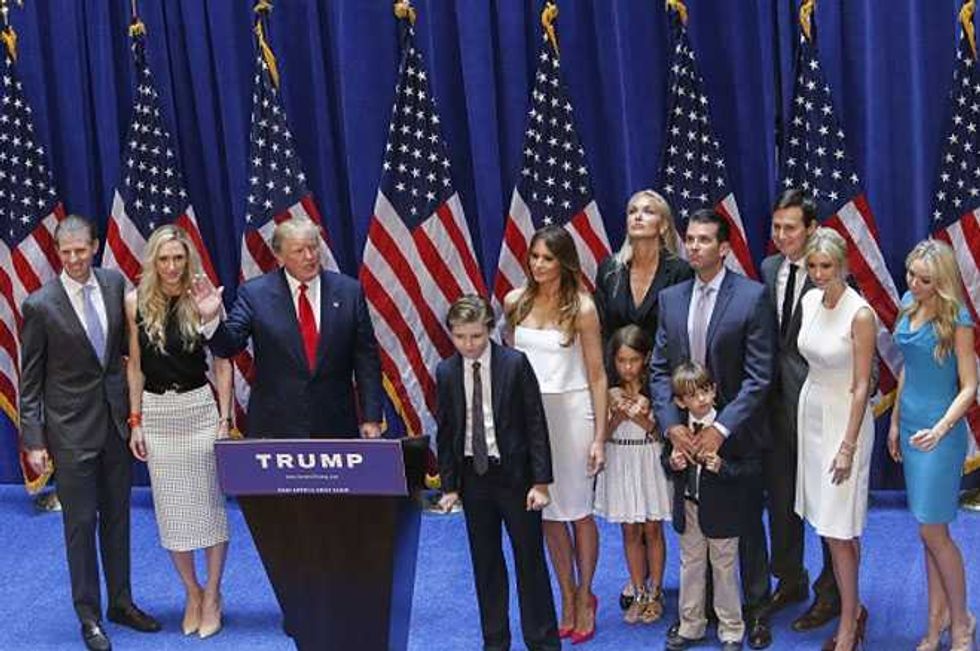 His platform is based on the jobs market and, as ever not one to blow his own trumpet, he announced;
I will be the greatest jobs president that God has ever created...Our country is in serious trouble, we don't have victories any more.

We will make America great again!
The property mogul slammed the previous administrations, particularly Obamacare—maybe he would be a little more positive if it offered free hair transplants (obvious I know, but gotta be done).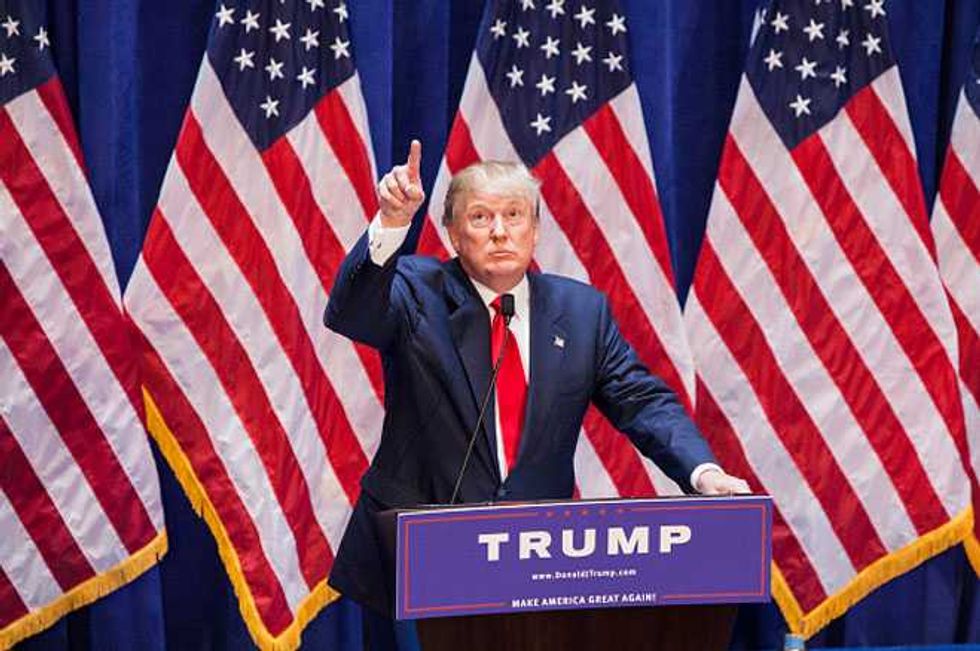 His run for the White House means that season 15 of The Apprentice will not air—ironic given that the end goal of that show is to give someone a job...perhaps he could instigate an Apprentice style healthcare system where needy sick people compete for lifesaving drugs by laying on benefits and selling ice cream they've invented on the street?
The billionaire (on paper) is widely viewed as not having a chance of winning the nomination—he's standing against a large group of Republicans including, of course, Jeb Bush, who launched his candidacy on Monday. Trump is seen to be a big headache for the Republican party as any time he consumes in the media is taking away the focus from a legitimate contender.
Appealing to the Fox News viewers, The Donald accused Mexico of sending rapists and other criminals to live in the US;
"They're sending people that have lots of problems and they're bringing their problems, they're bringing drugs, they're bringing crime, they're rapists, and some I assume are good people but I speak to border guards and they tell us what we are getting."
Wow, we would have thought that capitalist Trump would be happy that our brothers south of the border would be adhering to the economic law of supply and demand when it comes to drugs!
Seriously though—can you imagine Donald Trump sauntering up to a guard at the Mexican border to get their views on immigration?
We can't.
The Donald is clearly a keen amateur Ornithologist—at least when it comes to style.. here he is modeling a wonderful woodpecker 'do