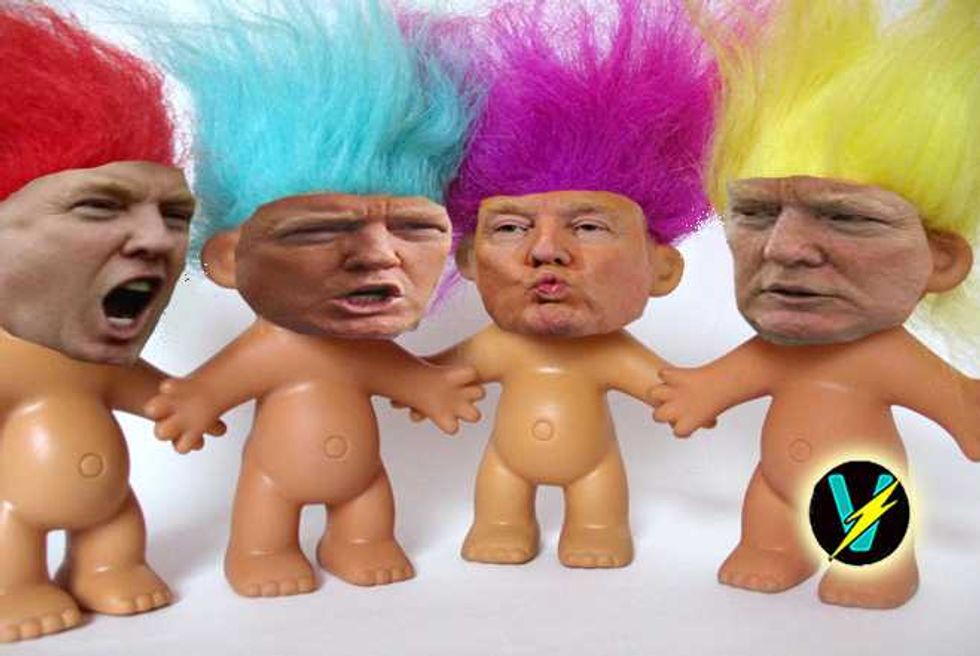 Just weeks into the presidential candidacy run and Donald Trump has already surged to the top of the polls.
Results published Monday by the Washington Post show Trump leading the field at 24%, way ahead of his closest GOP rivals, Wisconsin Gov. Scott Walker (13%) and Florida Gov. Jeb Bush (12%).
Donald Trump Hair Mystery—Combover, Toupee, Transplant, Follicle Faux Pas?
Pretty amazing given the fact the 69-year-old has no background in politics at all—actually, scrap that, no, not amazing at all really when you take into account The Donald is hands down the biggest, and arguably most amazing, troll of our times.
Trump knows who his core voter is and he knows how to push the right buttons to connect with them. It's all about hot air, bluster, bullying, and bullshit…. it's all about "being tough" "never backing down" "never apologizing" even if what you say is absolutely fucking outrageous, or a complete and utter lie.
Donald Trump Dumps On John McCain—Says He's Not A War Hero
I mean, there's the whole line he gave about Mexico sending its drug dealers and rapists over the border to the States, which Trump claims five different "sources" (all of which he refuses to name of course) told him is true.
There is no factual evidence to back up the claim, whatsoever, his "sources" are questionable at the best, and yet, there are one hell of a lot of Trump supporters out there bleating on about how he's telling the truth…. and anybody who tries to question Trump on the issue will just get screamed down, bullied, threatened with a law suit, or torn apart on social media.
Donald Trump Will Win The Hispanic Vote—Because Hispanics Love Him—Says Donald Trump
Not prepared to rest on his troll laurels, Trump was back up and at it again Saturday, with impressive gusto—this time slamming Senator John McCain, and calling to question why he is considered a "war hero" when he was a prisoner of war.
"He's not a war hero," Trump opined. "He's a war hero because he was captured. I like people who weren't captured."
Ten out of ten for your top class troll work Donald!
Meantime, for those wondering, no, Trump didn't serve in the armed forces himself—as he explained to a reporter, "I had student deferments…. it was a long time ago… I had student deferments then ultimately I had a medical deferment because of my feet. I had a bone spur."
Gwyneth Paltrow Thinks Water Has Feelings, Is Trolling Us All
Yes, a bone spur......which, at least is progress from the bullshit line Trump was spinning back in 2011, when he claimed he managed to dodge drafting because, "I actually got lucky because I had a very high draft number…and those numbers never got up to."
It's actually truly amazing to watch this pantomime play out—and, one has to think, that just like Sarah Palin before him, eventually even the most steadfast Trump supporting ignoramus is going to see him for what he is—a shabby showman and nasty bully, playing up people's fears and insecurities, and tapping into the psyche of the "American dream" with false promises and bravado.
Donald Trump Threatens To Sue Over Fred And Rosemary West Tribute Tweet
Unlike Palin however (bless her pretty little God fearing ignorant heart), Trump knows how to put on a show, and he knows that the more he trolls, the more camera and press time he gets—and he also knows that his core voter isn't interested in stupid boring things like the actual facts—they're interested in hearing a rhetoric that connects with their "values and beliefs" pure and simple.
Oh, and let's not forget, unlike Palin, Trump also has (a self purported) $10 billion of his own money to play politics with.
So, yeah, we can expect one hell of a lot more trolling from Trump in the coming weeks….and, as usual, Jon Stewart summed up the situation best—tearing into Trump during a ten minute segment on the Daily Show Monday night.
You can watch the genius take down below, but here's how Stewart concluded:
Here's the thing I don't get. Why is anyone acting surprised about Trump? The only reason you like this guy in the first place is because of the terrible things he was willing to say about Obama, but Trump has no control over the projectile vomit of dickishness that comes out of his mouth everytime he opens it….

It was inevitable some of his word puke was going to get on you. And you should have known that…. you've been down this road before… yep… Sarah Palin….

Once you cast a spell and bring an internet comment to life, it no longer belongs to you…. only this time….. the chat room troll emoji you've conjured has ten billion dollars of its own money….

You thought Wasilla word salad was hard to shake….wait till you get Trump dump on you.