Ah, the first meal of the day. For Jan Castellano that consists of buttered toast.
But on this particular Saturday morning, Jan woke up, shuffled off to the kitchen to prepare her morning victuals. She popped the bread in the toaster..... peeled back the lid of her butter.... and... suddenly…she was fired!
Money Monday—How Much Is Donald Trump Actually Worth?
There, in her Trader Joe's organic butter, was the face of Donald Trump, bathed in yellow and staring back at her like a jaundiced albeit delicious incubus.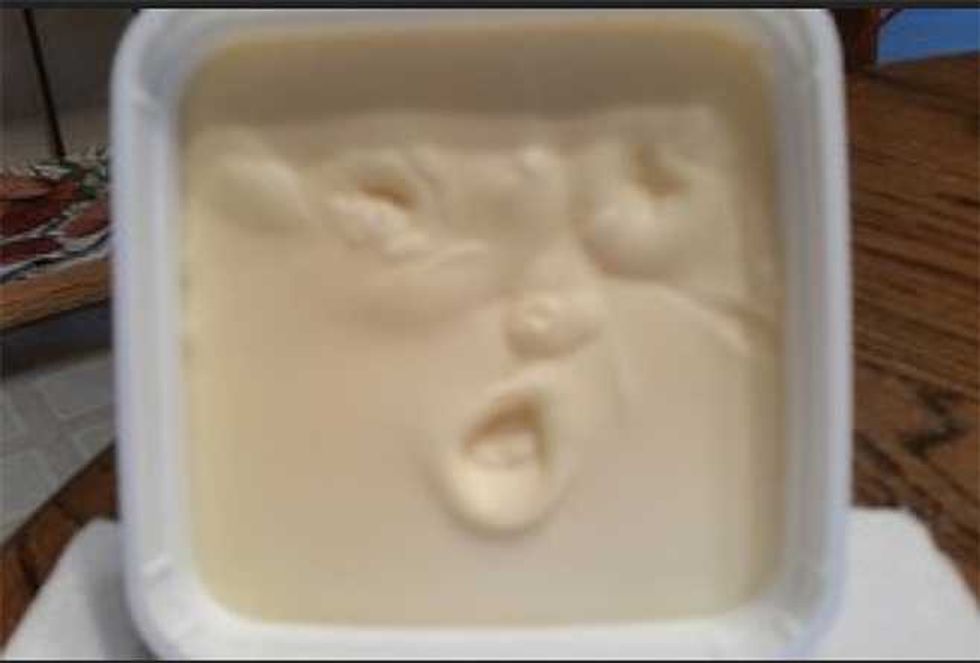 Even without the trademark hair there's no doubting it's the Donald....
"It was a brand new tub," Castellano told The Daily Beast. Which can only mean one thing. The Donald bribed a Trader Joe's dairy aisle attendant, plucked a butter off the shelf, dipped his objectionable visage right into it, and sealed it right back up again.
"It was just staring right back at me," Castellano whispered, her voice trembling.
Donald Trump Hair Mystery—Combover, Toupee, Transplant, Follicle Faux Pas?
Castellano promptly sent the disturbing image to a friend and later the local NBC affiliate in St. Louis.
"He has such weird expressions. He's so animated—whether he's angry or whether he's trying to make a point. All the cameras seem to capture him with his mouth kind of open and his eyes scrunched," Castellano said.
Donald Trump Butt Plug Is Everything… Just…. Everything
She considered selling the Trump butter on eBay, especially since the "Virgin Mary toast" sold for a cool  $28,000, which would go a long way toward off-setting her daughter's student loans.
But no, Castellano decided she needed to take a chuck of the Trump.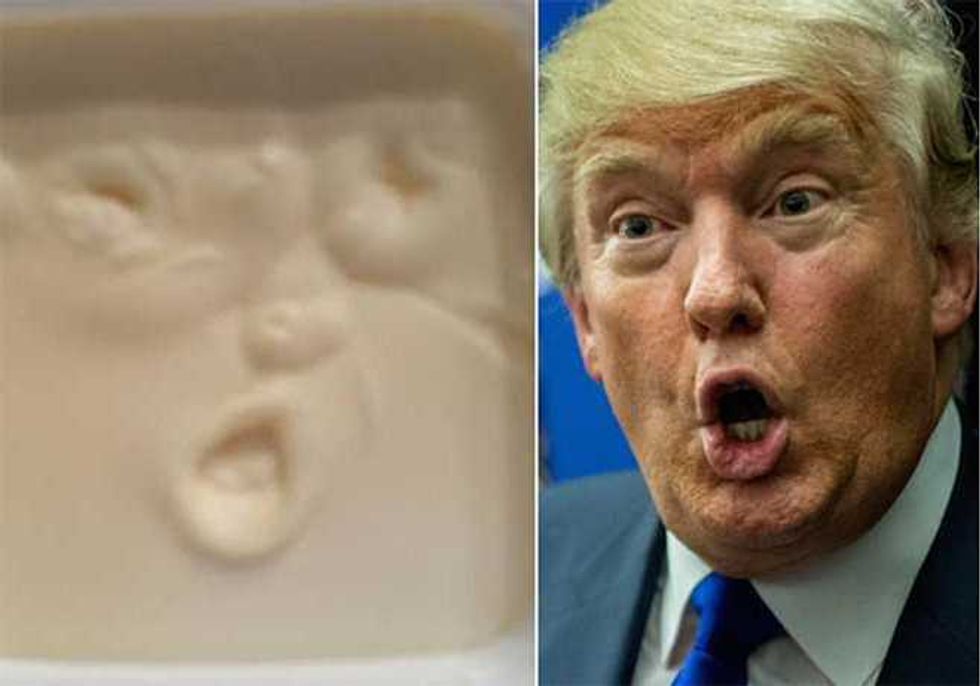 Butter (left) Trump (right)
"I'm just tired of seeing his face everywhere," Castellano said, breaking out into exasperated laughter. "And I open up my butter and there he is."
The toast tasted pretty normal according to Castellano, although "mildly right-sided."
Donald Trump—Boston Brothers Who Beat Homeless Hispanic Are 'Passionate' Patriots
Will this trauma affect how she'll vote in the 2016 election?
"He's everywhere and now he's in my food products," Castellano said. "Maybe I'll buy the real butter. I'll start buying sticks so I don't have to worry about it anymore."