Donald Trump has got his panties in a very serious twist after finding himself on the wrong end of a truly epic Twitter prank.
Trump suffered a major sense of humor failure—and is even threatening to sue—after some "jerk" tricked him into retweeting a tribute to British serial killers and child molesters, Fred and Rosemary West.
On Monday morning, an unnamed genius tweeted Trump a photo of the gruesome twosome on their wedding day, claiming they were his parents who had passed away—that they had looked at The Donald as a "big inspiration" and asking him to "RT for their memory".
Which, he promptly did.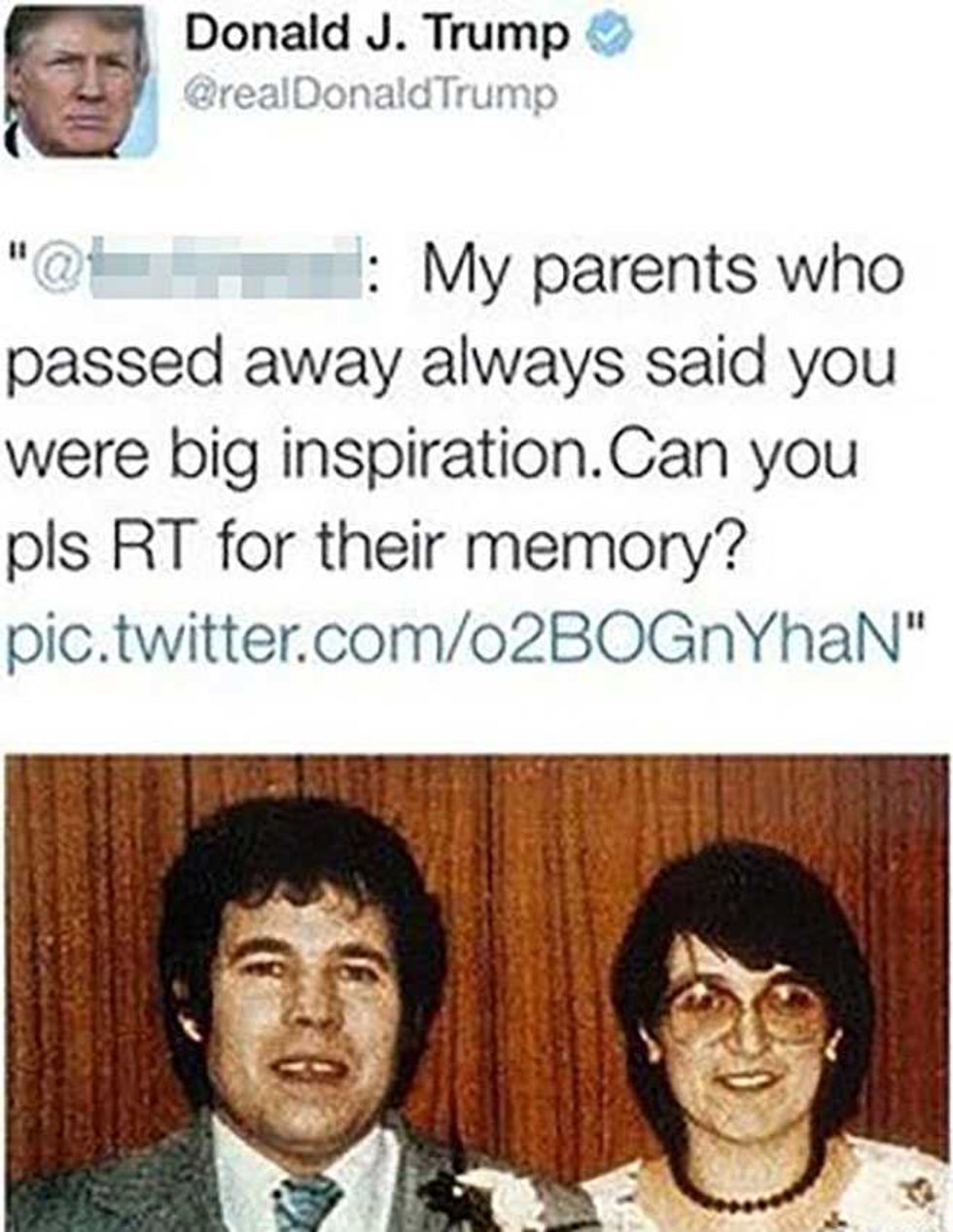 For the others out there who are blissfully unaware of Fred and Rosemary West—they are two of the most notorious and odious serial killers in British history.
Between them the married couple raped, tortured and murdered at least a dozen young girls in the Gloucester area, including members of their own family. Many of the bodies were subsequently buried on the grounds of their home.
Fred West was charged with a dozen murders, but hung himself in jail before reaching trial. Rosemary West was found guilty of ten charges of murder in 1995 and is currently serving a life sentence with no chance of parole.
For some reason, after learning of the Wests' true identity, Trump was spitting mad—presumably not flattered at the idea the two would look to him as a "big inspiration." He immediately deleted the tweet—but not before it had been shared widely around the world.
"Some jerk fraudulently tweeted that his parents said I was a big inspiration to them + pls RT-out of kindness I retweeted. Maybe I'll sue" The Donald fumed in one tweet.
"I thought I was being nice to somebody re their parents. I guess this teaches you not to be nice or trusting. Sad!" He later tweeted.