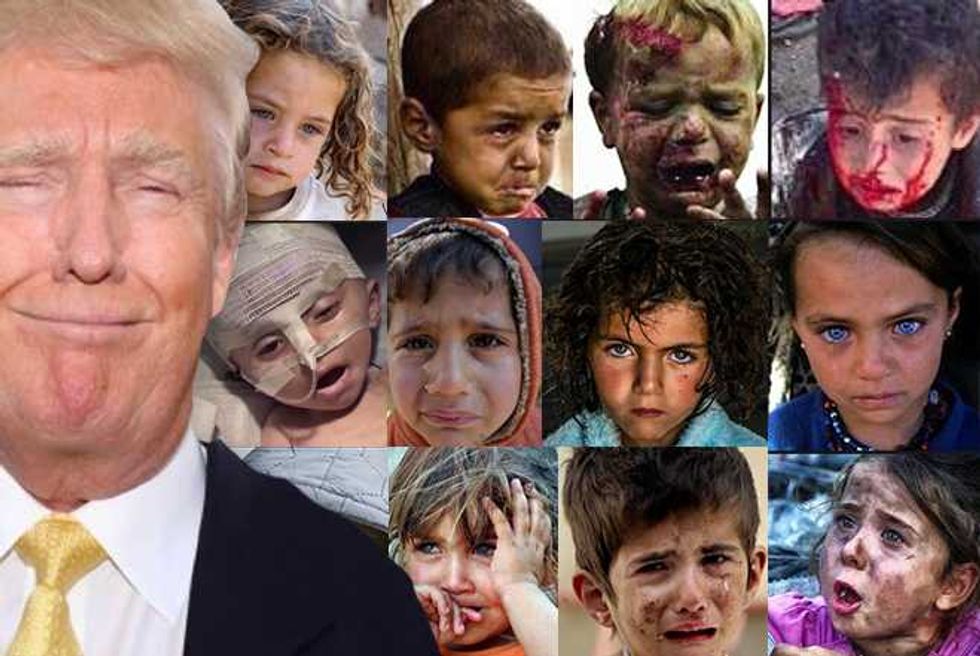 donald trump kill families syria
Donald Trump has excelled himself when it comes to his seemingly never-ending bid to prove that he really is a truly despicable asshole, incapable of displaying even a shred of humanity.
Fully embracing the tried-and-tested totally fucked-up North Korean ideology of "three generations of punishment" Trump is espousing not only "bombing the shit" out of Syria in order to take out ISIS, but also, thinks we need to "take out their families."
Heartbreaking Story Behind That Photo Of A Dead Syrian Boy On A Turkish Beach
Take out their families? Just kill thousands and thousands of innocent men, women, and children? What, as a means to achieve world peace?
Yeah, way to go genius… that's really likely to solve the problem.
But, hey, let's all face it right here—the very last thing people like Trump want is world peace… there's no money to be made for his arms peddling buddies if we were ever to actually achieve world peace…. there would be all these terrible, horrible, brown people in the world if we were ever to actually achieve world peace.
Shudder!
Donald Trump Miraculously Appears In Missouri Woman's Organic Butter
Let's just bomb the fuck out of them and become a world packed full of Trump-looking beings! Truly the genetically blessed!
Oh, hold on though—don't think it's only my lefty liberal sensibilities that are disgusted by Trump's latest verbal assault against humanity and mankind—even Fox news hosts displayed signs of discomfort when it came to the 69-year-old's willingness to murder women and children at the drop of a hat, as part of his never-ending quest to prove how big his dick is.
Because, let's face it, when it comes to war mongering and its very favorite bed partner, religion, it all comes down to the size of mens' dicks—figuratively, of course.
Anyway, I digress. Back to the subject at hand.
Donald Trump Is Great In Bed, So That's A Relief
This is how it all went down this morning, during a phone-in between Trump and the Fox & Friends hosts:
"If you're gonna do your job, do your job. Don't talk about it," Trump mouthed off, criticizing President Obama's unwillingness to just leap feet first down the same path we have already attempted to travel in recent history, in both Afghanistan and Iraq—with disastrous results and the death of over 8,321 U.S. and coalition soldiers at date of posting.
Oh, and let's not forget the 210,000 civilians who are estimated to have been killed too, seriously destabilizing the region yet further and breeding yet more hatred for the U.S. and the west in general.
"We have a President that doesn't know what he is doing," Trump opined, going on to share his genius solution to ending terrorism.
"I would knock the hell out of 'em...I would knock the hell out of ISIS. I would hit them so hard, like they've never been hit before" he said, downgrading his previous "bomb the shit" rhetoric to a more PG-friendly "bomb the hell."
Donald Trump Butt Plug Is Everything… Just…. Everything
Awesome! Shock and awe Donald! Shock and awe! Shock and awe tactics in a super complicated and multi-faceted civil war situation, where even the smartest of the smart appear to have no fucking clue what the fuck to do, without stirring up the already deadly and explosive hornets nest yet further.
So, how's that tactic been working out for us in the Middle East so far? But, let's not dwell on silly things like facts—let's move on to the inevitable thousands upon thousands of civilian casualties and deaths associated with "bombing the shit" out of a country.
Donald Trump Is Truly The Most Amazing Troll Of Our Times
Well, Trump claimed that he would "try his best" to avoid them, before offering, "And the other thing with the terrorists — you have to take out their families."
Rendering even the Fox news mouthpieces temporarily silent.
"When you get these terrorists, you have to take out their families!" Trump continued, clearly on a roll. "They care about their lives, don't kid yourselves. They say they don't care about their lives. But you have to take out their families."
Donald Trump Hair Mystery—Combover, Toupee, Transplant, Follicle Faux Pas?
Cue Elisabeth Hasselbeck jumping in to promptly change the subject to the tried and tested Trump hate speech ground of immigration.
OK, fine Trump—If you so clearly believe that war and killing innocent people is the solution… how about you offer up one of your own children to the cause?
And, we're not talking about them passively waiting out the war in some officers' quarters… If you really believe in this "war" then how about you offer up one of your own kids to go fight on the front lines, to actually sacrifice their life for your "beliefs".
Trump Dumps On John McCain's War Record—"He's Not A Hero!"
Well let's face it, that's highly unlikely from a man that dodged the draft back in the Vietnam war days, because of "bone spurs" in his feet.
You're going to talk the talk? Then at least walk the walk Trump.
On a side note—is Trump even capable of understanding that he's advocating the murder of countless innocent elderly people, women and children? That these are real, human, people? People that cry, and bleed, and hurt, and feel, just like all of us?