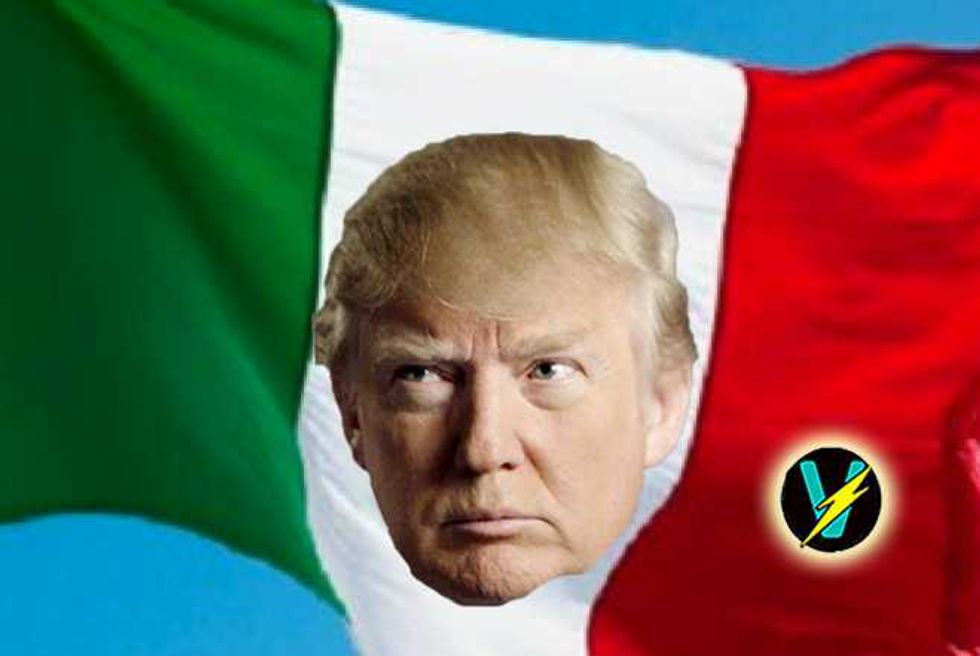 Donald Trump has vowed that he will win the Hispanic vote, because, according to Donald Trump, The Hispanics love him.
You get that? They don't just like him… no… they LOVE him…..
You hear that, Hispanics? You LOVE Donald Trump.
Donald Trump Hair Mystery—Combover, Toupee, Transplant, Follicle Faux Pas?
How does Donald Trump know this? Well, as is always the case with Donald Trump, who the fuck knows… it's just the usual bluster, hot air, drivel and utter bullshit that he comes up with—presented in an authoritarian and angry manner, to help ensure those less mentally capable amongst us don't question him.
Because, as anyone who watches Fox News knows, if somebody says something firmly and angrily enough, it must be true.
Ah! Politics, Donald Trump American Dream style!
The Donald made his Hispanic vote winning vow earlier today during a somewhat heated interview with NBC Morning Joe hosts, Mika Brzezinski and Mark Halperin.
"I employ thousands of Hispanics, and I tell you, I will win that vote, because I will take jobs back from China, and back from all these other countries that have been absolutely killing us, with economic development and jobs, and trade agreements," Trump claimed.
NBC Fires Donald Trump's Racist Hate Speech Spewing Leathery Orange Ass
"We don't make good trade agreements…we lose with everybody, we don't have any good agreements…we will have the best agreements that this country has ever had. I'll create jobs and i'll get the Hispanic vote. I have so many thousands that work for me, and thousands that have over the years, and the Hispanics love me…so I will win the Hispanic vote and you will be surprised to hear that, because I talk about illegal immigration, which I'm opposed to…but I will win the Hispanic vote because I will create jobs."
Snore. Sure thing Donald.
Trump then continued to bang on with his totally unsubstantiated claims that Mexico is sending all its rapists and murderers over the border to the U.S.—insisting he knows this as fact, because….. GENIUS! He's heard it from five different sources…. FIVE no less! Well, it MUST be true then!
However, Trump refused to divulge these stellar top level sources, choosing instead to continue with his scare mongering and utter drivel as usual.
"Illegal immigrants are causing tremendous problems coming in," Trump said. "I want legal immigrants, illegal immigrants are causing tremendous problems, Mika.  There's crime, it's a crime wave, it's a disaster. Do I believe many people — I mean, look, as far as I'm concerned, I hire, I have hundreds and hundreds of Mexicans working for me.
Presidential Heir Apparent—Funniest Donald Trump Hair Memes
"I love Mexican people, I love their spirit. The problem we're having with Mexico is that their government officials and negotiators are far smarter than ours, like from a different planet, and they are negotiating deals, trade deals, the border, everything else.  We are getting the short end of the stick in every single instance and we are having a big problem. Mexico is sending a lot of their people over that they don't want, and that includes people that should be in Mexican prisons, and you know it and I know it and nobody wants to talk about it."
Hmmm…. you know who DOES want to talk about it? The border guards…. with Trump apparently, and with tears in their eyes while doing so no less!
"If you speak to the border guards, who I've spoke to many of, if you speak to border guards, and these guys are terrific,  they're almost crying, they've almost got tears in their eyes when they explain that they're not allowed to do their job," Trump claimed.
So, those five sources….. perhaps they're these chatty and tearful border guards? Perhaps, but who knows, as, when pushed by Halperin for disclosure, Trump refused to divulge his obviously completely made up bullshit "sources"…..
"I'll reveal my sources when you reveal your sources, Mark," Trump said. "I have a lot of information on it and so do — so does everyone else, and you probably do, too, and for some reason they don't want to put out this information.
"Mexico—if you remember, many years ago when Fidel Castro opened its prisons and sent the people over and everybody knew it, we never sent them back, we—we took these—all of these prisoners. Mexico, in a far more sophisticated way, is doing something very similar.
"They're sending tremendously—you look at the man that killed Kate. You look at Jamiel—Jamiel Shaw, you look at so many thousands of instances where illegals are coming in and it's a crime wave. And frankly, Mexico doesn't care from the standpoint that they don't want to house these people for a long period of time in their prisons.
"They say, 'Let the United States take care of them.  Let the United States put them in their jails.  Why should we pay for it?'  And believe me, it's happening and it's happening big league and this country doesn't know."
Well, praise the good Lord for Donald 'Truth Teller' Trump and his five sources—otherwise, we would all be totally in the dark!
No wonder all you Hispanics LOVE him so much!