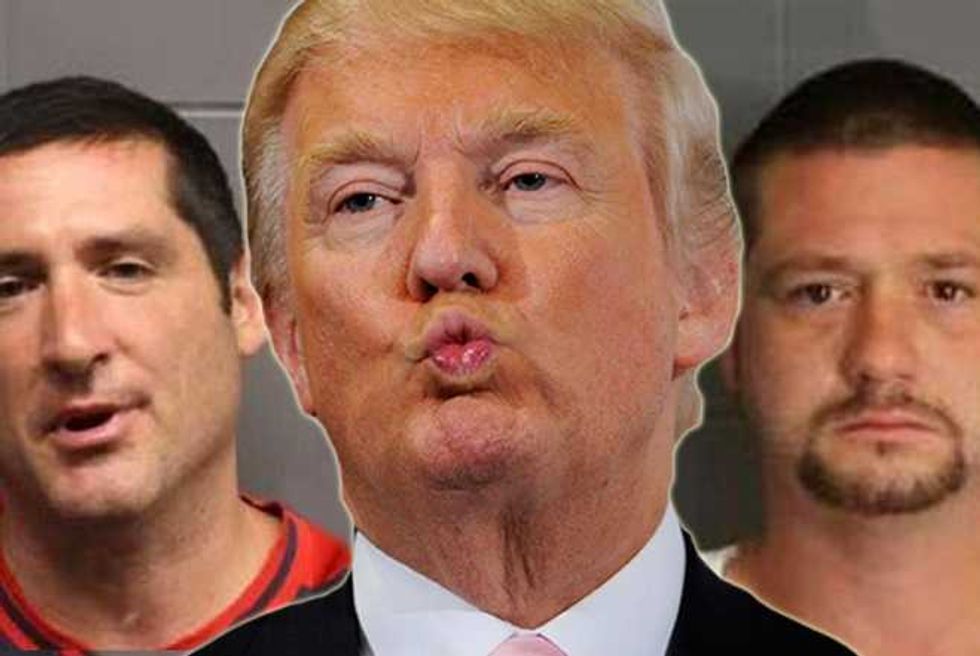 Donald Trump knows how to make this country "be great again"…. it involves "passion" and pissing over and beating up defenseless homeless people.
The Donald shared his words of wisdom at a news conference last night—after being asked about the two Boston brothers who senselessly attacked a sleeping Hispanic man, in the name of Trump.
Donald Trump Hair Mystery—Combover, Toupee, Transplant, Follicle Faux Pas?
According to the Boston Globe, Scott and Steve Leader happened across their unnamed victim whilst he was asleep on the street.
The brothers, who both have "extensive criminal records" kicked off their sterling display of xenophobic patriotism by pissing all over the man's face before going on to punch him in the head and face, then beating him with a metal pole.
Donald Trump Butt Plug Is Everything… Just…. Everything
"Donald Trump was right, all these illegals need to be deported," Scott Leader allegedly told the arresting officer.
Amen to that our brother-in-arms! But not before urinating all over them and then beating them senseless.
Some, lesser patriots, would be utterly sickened and horrified by such an act—but, not Mr. 'Merica Trump! He is more visionary, and he sees the great future of the U.S. of A.
Donald Trump Is Truly The Most Amazing Troll Of Our Times
After admitting it was the first he had heard of the attack, Trump declared, "It would be a shame" if such a violent violation happened in his good name, before couching his disdain with an excuse for the thug bros behavior.
"I will say that people who are following me are very passionate," he explained. "They love this country and they want this country to be great again. They are passionate."
Yes, passionate, vile, violent bigoted bullies who are now both facing a felony…. oh, the injustice!