Donald Trump Daughter Catwalk Debut
Donald Trump's 22 year-old daughter Tiffany Trump has been rocking runways at New York Fashion Week, on a long weekend away from the University of Pennsylvania, where she is currently a senior.
T-Trump, who is the pouty product of the marriage between Donald Trump and Marla Maples, catwalked alongside fellow socialite Kyra Kennedy, the 20 year-old daughter of Robert F Kennedy Jr, at the Just Drew show.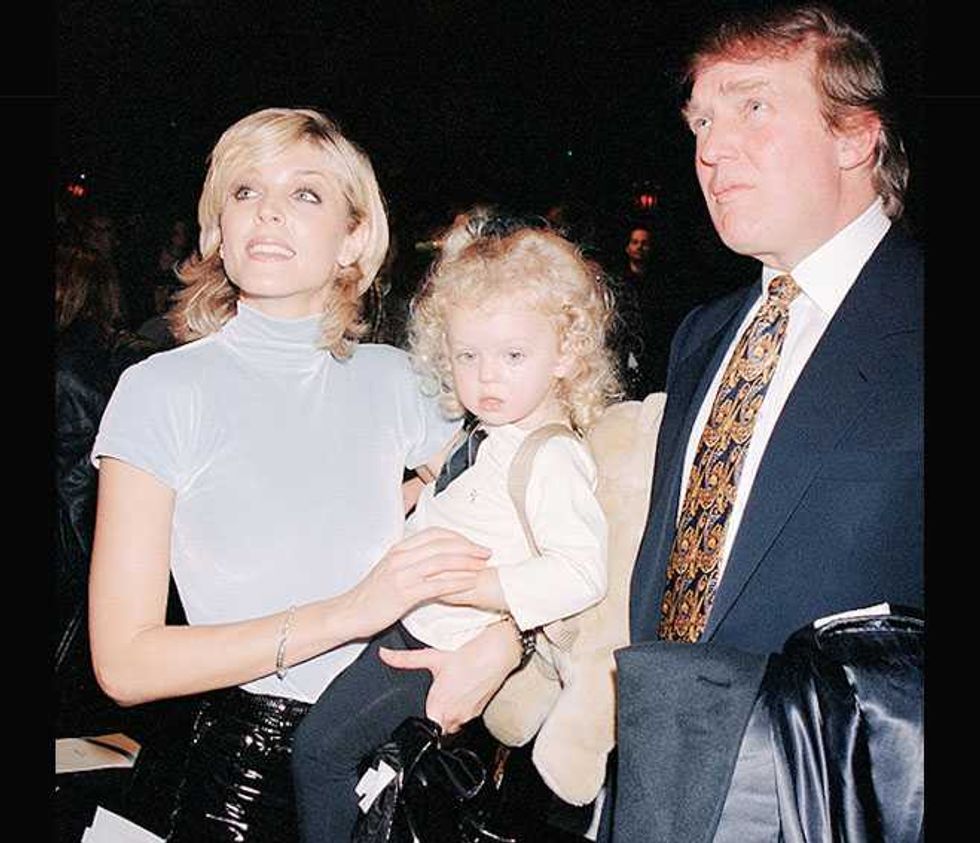 Tiffany with her pop Donald and mom Marla Maples who was wife #2 for The Donald
Donald Trump Daughter Catwalk Debut
Tiff cut a statuesque figure, in a shiny blue tuxedo dress, black tights and chunky black booties and her blackened eyes were a throwback to the 'heroin chic' era of the mid 90's,
After the show she proudly shared a video of her catwalking debut on Instagram whereas her 52-year-old former Beauty Pageant Girl mother shared a selfie with Lance Bass from the front row.
'Watching my girl @TiffanyATrump & friends walk for #justdrew,' Mrs. Trump # 2 wrote.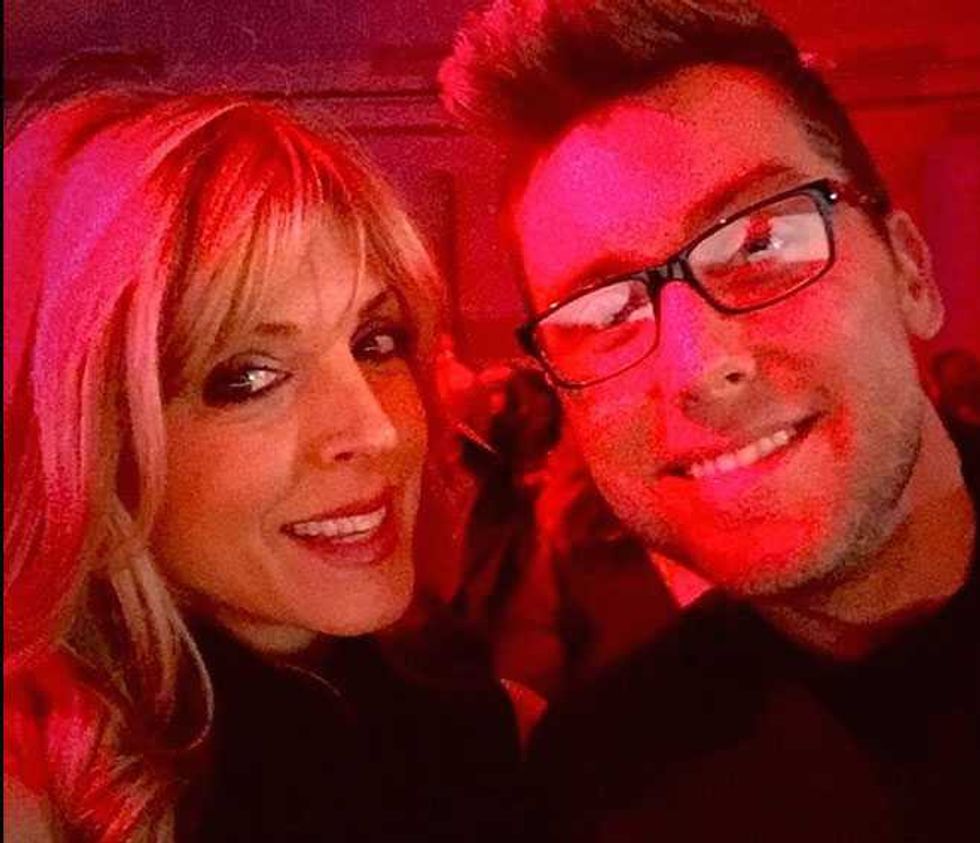 Donald Trump Daughter Catwalk Debut
It seemed like mom was the only family member supporting her big moment—pregnant big sister Ivanka, who spent some time on the runway back in the day,  was in New Jersey with her husband Jared Kushner and their kids, Arabella and Joseph. Dad Donald was of course on the campaign trail in South Carolina to try to consolidate his win in the New Hampshire primary.
The man behind Just Drew is 22-year-old Andrew Warren, Tiffany's childhood friend who is the grandson of fashion mogul David Warren.  In an interview with DuJour,  Andrew humbly said that he sees his line—which he launched in 2013—growing into something like Givenchy.
Tiffany and Andrew are part of a privileged pack and tear up the town with the likes of Abigail Breslin, Gaia Matisse who is painter Henri Matisse's great-great-granddaughter , and many of the other real Rich Kids of Instagram.  According to The Cut,  Andrew charmingly calls himself the 'Kris Jenner' of the uber exclusive clique.
As well as modeling, Tiffany also has designs on being a pop star, however New York based make up artist Caitlin Ross tells Popdust exclusively that the fashion industry would welcome her with open arms.
"Tiffany has a great look for editorial, high fashion modeling. She's not a conventional beauty but she has a very powerful look. She reminds me of a young Llly Cole."
Donald Trump Daughter Catwalk Debut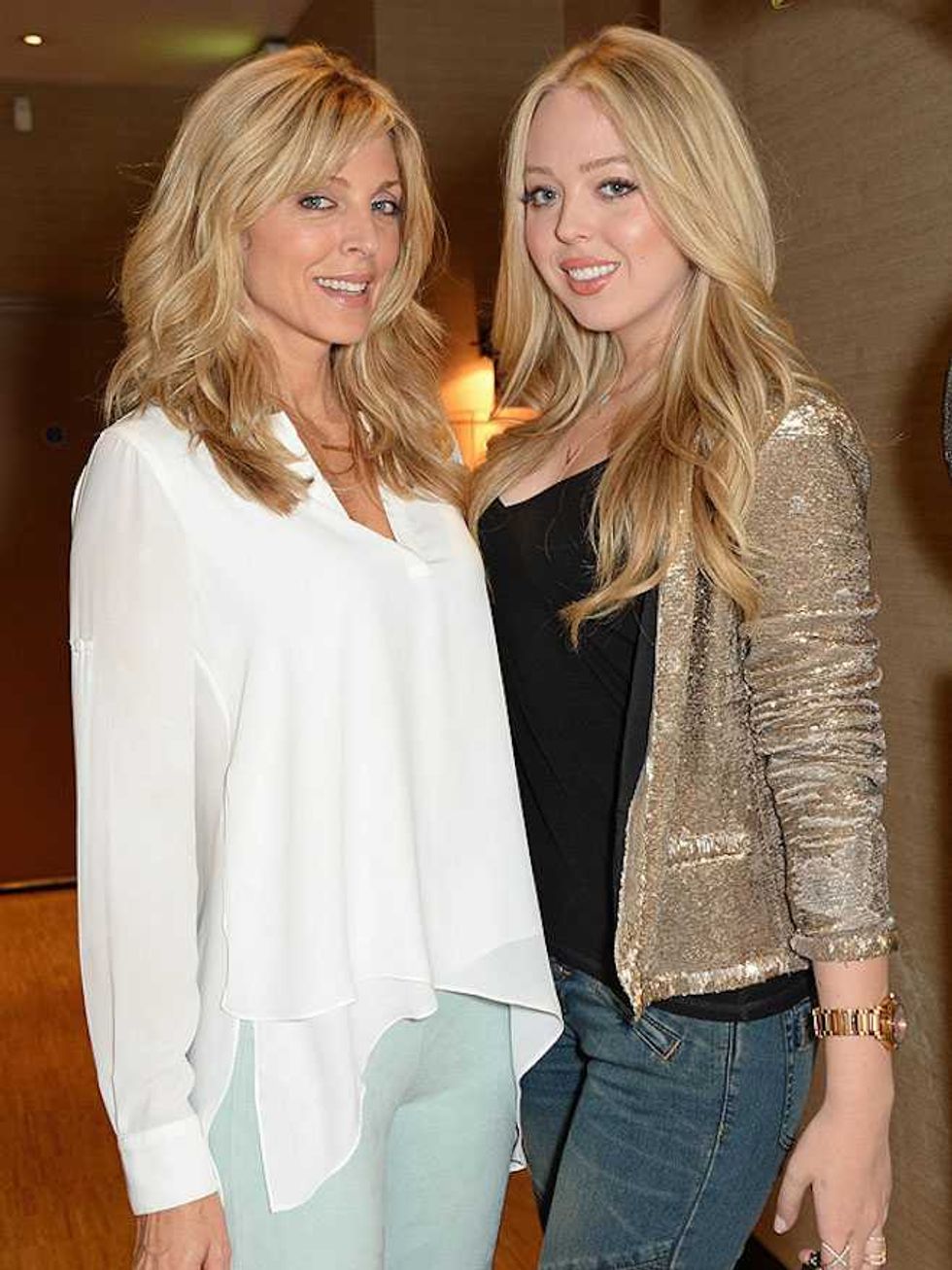 Tiffany and mom Marla