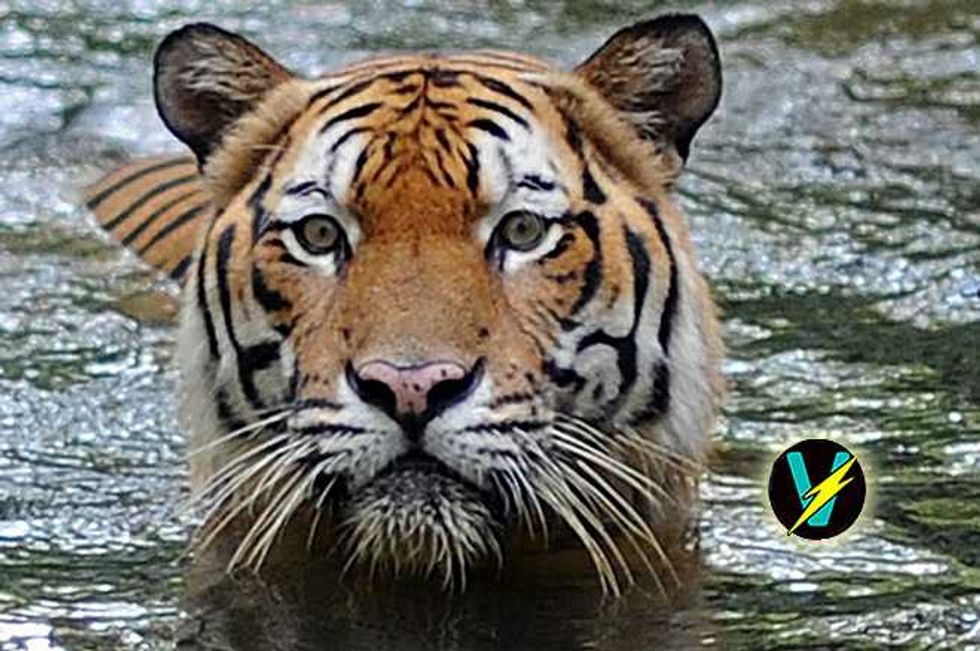 No matter how many times it ends in tears, people will insist on breaking into zoos to pet tigers.
This time, a woman broke into the Henry Doorly Zoo in Omaha early on Sunday to pet Mai, a three-legged Malayan tiger who did not feel a mutual attraction and bit her.
NY Bans Tiger Selfies—Because Taking Tiger Selfies Is Actually A Trend Apparently
The woman, identified as Jacqueline Eide, 33, suffered severe trauma to her hand. Staff at the Creighton University Medical Center called the police in response to her 'aggressive behavior.' Ms. Eide appeared to be drunk or under the influence of drugs, and was cited for criminal trespassing.
Mai the tiger is a celebrity at the zoo, known for her 'personable demeanor' and ability to navigate around her habitat despite her missing leg. Mai's front left leg was amputated after she was rescued as a cub from a poachers' trap. She was rehabilitated at a zoo in Southern Malaysia before being transferred to Omaha in 2003.
Pablo Escobar's Hippos Wreaking Havoc In Colombian Countryside
Eide may have been tempted by a profile by the Omaha Zoo Foundation on eighteen year old Mai, who is described as unusually trusting around humans and always looking for attention.
Dennis Pate, the zoo's executive director, said in the zoo's statement that security guards keep watch around the clock. It isn't clear how the woman was able to gain access to the tiger cage, but perhaps the guards were confident enough in Mai's trusting temperament to go have a beer or play a few rounds of poker with some of the other friendly zoo animals. Who can say?
In any case, we now have a sadder but wiser trespasser but what about Mai?
Meet Estella—The Adorable Paralyzed Guinea Pig With A Custom Wheelchair
Fans of the zoo expressed their concern on Facebook that Mai would be punished, but zoo officials have allayed such fears with a reassuring statement:
Thank you everyone for your concerns about Mai, our Malayan tiger. Mai will remain on display as normal and go about life as usual. No action will be taken against her.
Yay!
So, if you're hobbling around your cage and a drunk lady sticks her hand in, go ahead and bite it. You are doing a service for the tigers who come after you, because some day the news will get out that people need to keep their hands to themselves!
Yep, Pop Stars Posing With Exotic Animals Really Is A Thing Apparently 
Meet Mai in the video below.