Arts
Are You Cumming to this Fundraiser? Because Alan Cumming Is!
Courtesy of Club Cumming
"DoubleDeckerProductions exists to advance the cause of human understanding by creating theatrical productions at the highest level of artistic excellence and making them affordable for the broadest community."
So says the mission statement on DDP's website. But whereas anyone can promise these lofty goals, this company, lead by Broadway actress Jenny Sterlin (Macbeth, Design for Living, HBO's Divorce), has delivered on them time and again.
Their illustrious past includes readings of Haitian playwright Bernard Sterlin, productions of plays by Jimmy Kerr, successful entries at Origin Theatre's 1st Irish Theatre Festival (winning Audience Favorite in 2016 for Dorothy of Nowhere), and much, much more. With this track record it's not surprising that their board consists of Tessa Thompson (Dear White People, Thor: Ragnarok), Judith Ivey (Tony and Drama Desk Award winner), Richard Martin, Susan Rothschild (NYC Department of Cultural Affairs), and stage and screen legend Alan Cumming (Macbeth, X-Men 2, GoldenEye).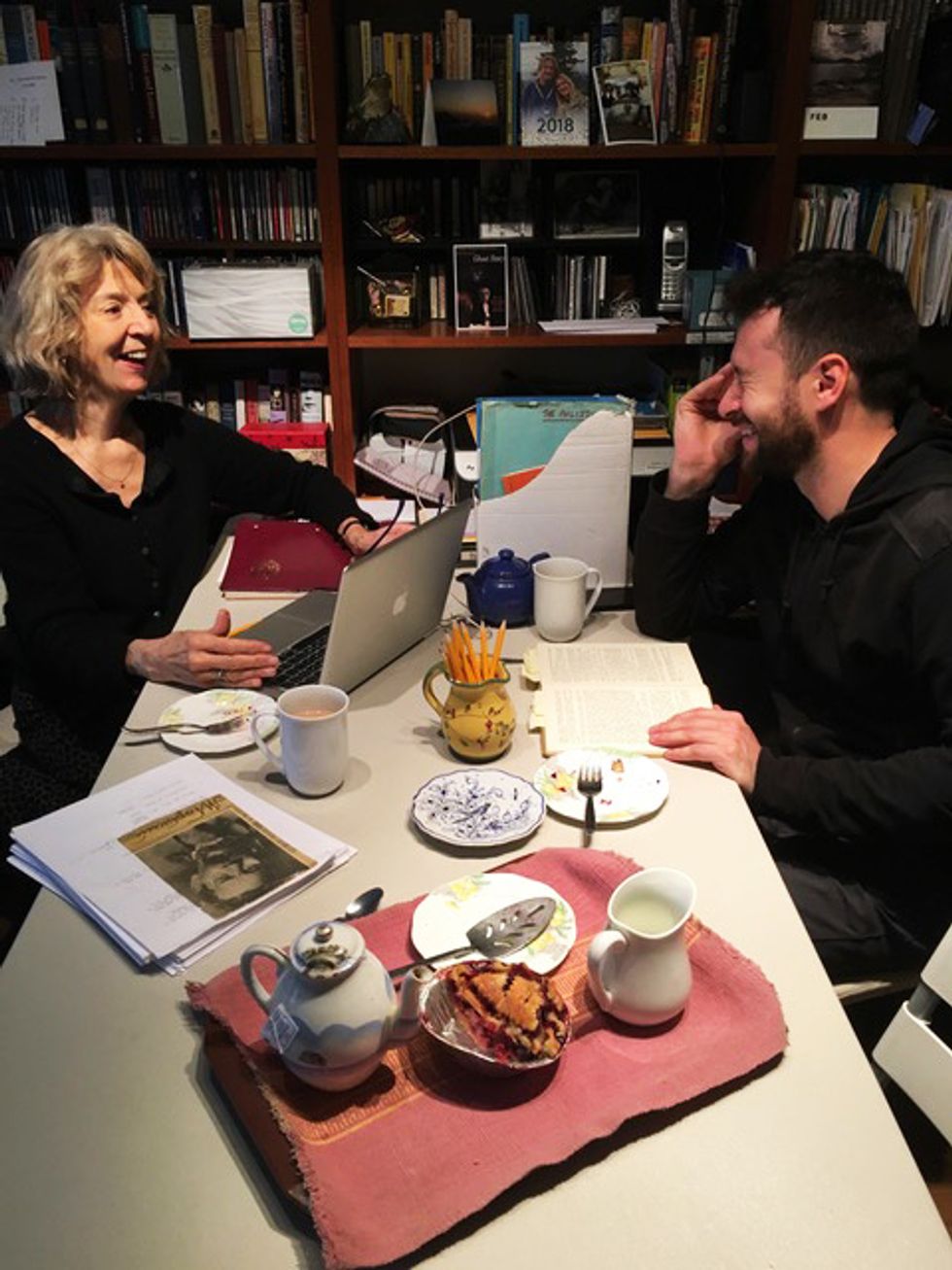 Jenny Sterlin and Leo Grinberg at work
In fact, Cumming is playing a big role in DoubleDecker's next fundraiser. Not only will his nightspot, Club Cumming be hosting the event, but the actor himself is scheduled to make an appearance. The event, titled Knee's Up, will be a variety show performed by an amazing array of singers and actors. All proceeds go towards financing DoubleDecker's September production of Maxim Gorky's Meshahnye at Theatre for the New City.

This is not DDP's first event to promote the upcoming Russian classic. A few weeks previously they hosted a gathering at the historic George Baker Mansion. The evening featured infused vodka, wine, speeches about the play, and, most significantly, a performance of the play's first scene. Audiences greeted it with rapturous approval, and lined up in droves to contribute. With the success of this first outing under their belt, Club Cumming Knee's Up is set to push things to the next level.
Many would likely ask the question as to why a performance of a pre-revolutionary Russian play is relevant in this day and age. Why pick this play to perform? DoubleDeckerProductions fearless leader, Jenny Sterlin, has an answer. "The words, the characters intrigued me," she explains, "It is a weaving of the generations, and class structure, and family life in Russia, with the future seeping in disturbing the status quo." These sentiments seem timely and timeless all at once. In describing the development of this version she went on to say "I saw a production [of it] by the RSC at the Pit in the Barbican in London in 1985 and was enthralled. It was the translation by Dusty Hughes called Philistines," she continues, "Having [since] read other translations… I was curious to know exactly what Maxim Gorky had written."
In order to arrive at her vision for the play she needed a translator. "I enlisted the help of Leo Grinberg, a young Russian actor who was willing to do a literal translation… we sifted through the script creating draft after draft to establish Gorky's original meaning," she says. "The whole process to us seemed somewhat like detective work and was utterly engrossing." The resultant product, 116 years in the making, has now been put in the hands of actors, and is set to begin wowing audiences September 13th.
However, before feet can hit the stage, the books must be balanced, hence the fundraisers. That said, with the likes of Cumming slated to appear, as well as a slew of other talented performers, it seems likely that DoubleDeckerProductions will be well on track to bring their authentic take on Gorky to the general public as scheduled. Neither event is to be missed.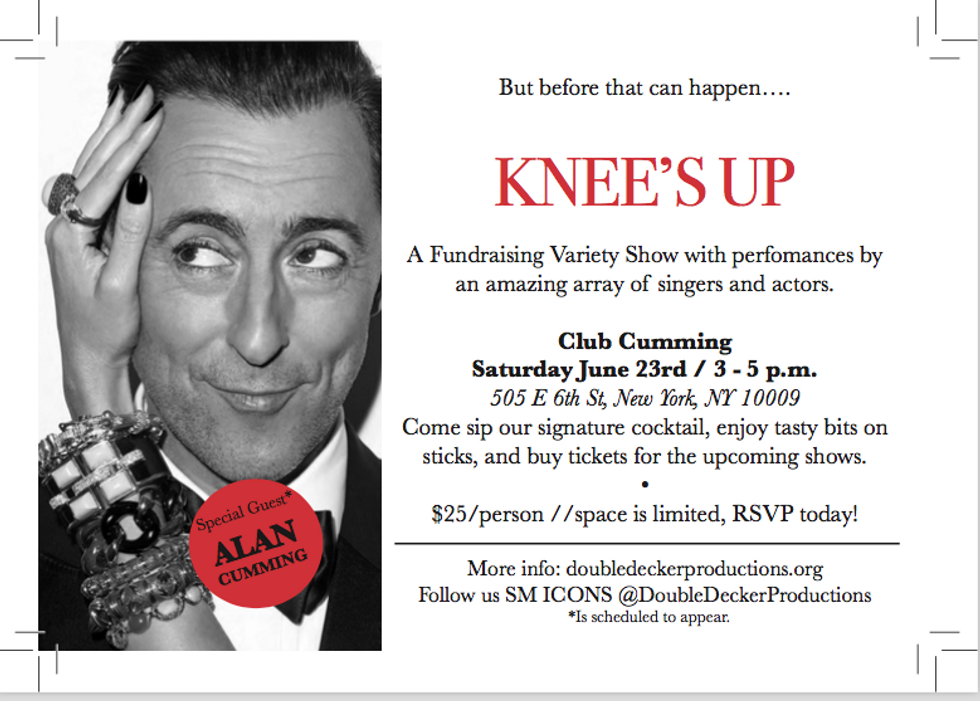 Knee's Up with Alan Cumming
---
Thomas Burns Scully is a Popdust contributor, and also an award-winning actor, playwright, and musician. In his spare time he writes and designs escape rooms. You can follow him on Facebook, Twitter, and Instagram.
---
POP⚡DUST | Read More…

'Wonder Woman', 'Beauty and the Beast' and outrage film marketing
Eddie Izzard: transgender, hilarious, and heartbreaking
'Pop Punk High', a pop punk musical comedy? Um... yes please!
---