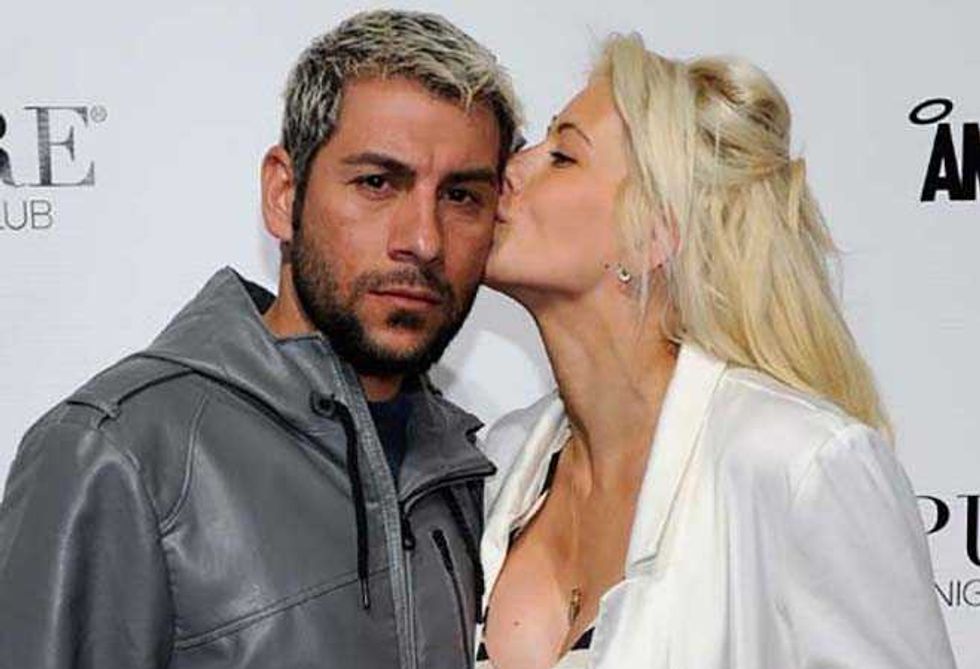 If ever you're looking for a new candidate to nominate for douche of the day, Nik Richie is usually a pretty safe bet.
Case in point his recent "marriage salvage" party—that he was so busy getting down and debauched in Sin City just prior to, he almost missed attending—and Popdust has the exclusive.
Richie has been going through a well documented rough patch with his long suffering, drop dead gorgeous wife, Shayne Lamas—they even subjected themselves to a season on VH1's Couples Therapy—so TheDirty.com founder wanted to use the occasion of their third wedding anniversary to try and get things firmly back on track.
However, in typical Richie fashion he almost blew it—sky high.
The 34-year-old splashed out a cool $250,000 on an extravagant "marriage salvage" party at the upscale Mr C restaurant in Beverly Hills, attended by 150 of the couple's closest friends and family—no expense was spared in Richie's bid to prove his love for Lamas, the mother of his adorable daughter Press.
However, a guest at the party tells Popdust that the swanky soiree was almost the catalyst for divorce rather than ever lasting marital bliss.
"The party kicked off around 8 pm," the insider says. "And was set to run until midnight. Nik made a big thing of telling all the guests not to be late as this was a really big deal and he was pulling out all the stops to make Shayne feel like she was the center of his world and his top priority in life.
"Nik's non-stop partying has been a huge bone of contention and Shayne is always complaining that she feels neglected—so Nik was adamant that this party was going to prove to her how much he loves and values her."
Sounds good right? So what could possibly go wrong? How about Richie not turning up at the party until 11.30 pm?!!
"Nik had been at some event in Vegas the night before the party and I guess he was having so much fun doing whatever the hell it is he's paid extortionate amounts of money to do that flying back to LA to attend this huge party he was throwing for his wife just wasn't a priority in the grand scheme of things.
"Guess the free tequila must have run out at some point though as party boy finally managed to get his ass on a plane and turn up at the party….. half an hour before it ended!
"To say Shayne was pissed would be a massive understatement—I mean how humiliating for her. The saddest part though was that nobody was surprised… it's text book Nik Richie behavior. I really hope Shayne comes to her senses and dumps his sorry ass."
Ouch!
Could it really have been THAT bad? You can find out for yourself as the whole thing was caught on camera—Nik's "marriage salvage" party features in the upcoming finale of David Tutera Unveiled airing October 26 on WE TV.