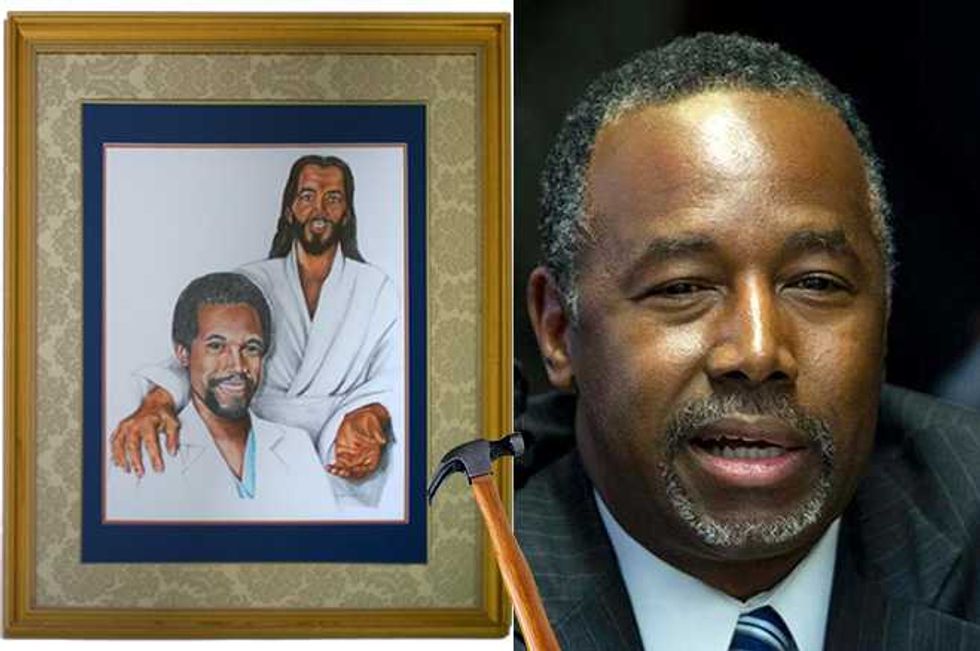 ben carson crazy hammer story
'Brilliant Neurosurgeon' is how Dr. Ben Carson is usually described, but he would like us to also add 'hammer-wielding' when we go to the voting booth next November.
The soft-spoken retired pediatric neurosurgeon is fond of repeating a childhood story from his official biography in which he went after his mother with a hammer.
Along with a story of nearly stabbing a schoolmate to death, the incident is meant to serve as the key to his Redemption Story.
Redemption Stories are important to Carson's religious base; they humanize the candidate while at the same time endowing him with a Godlike grace. When God stepped in to change Dr. Ben's violent ways, viola, a star was born.
You don't have to see pictures of Dr. Ben's house to know he is crazy, but it helps. Huge portraits of Dr. Ben gaze down from nearly every wall and surface. One where he poses with Jesus Himself is probably most telling. The spacious house is a shrine to Dr. Ben, perfectly suited to his own greatness.
But let's focus on that hammer.
When some news services decided to interview Dr. Carson's childhood friends and neighbors, none among them had heard of the hammer (or the stabbing.)
They only recalled a nice quiet studious lad, nothing like the wild quasi-thug described in Carson's biography and subsequent movie adaptation.
Upon hearing that his story was being questioned, Dr. Ben went nuts. Make that more nuts.
He raised his voice to an anxious falsetto and accused the media of a witch-hunt.
How dare they go after him like this! Why hadn't they 'vetted' Barack Obama in the same way?
Oh, Dr. Ben, you forgot about the birth certificate, Rev. Wright, Bill Ayers, college pot-smoking, Marxist father? Where were you, Dr. Ben?
Perhaps he was thinking about the pyramids but that's a different story. This is about the hammer.
So!
Dr. Ben's team found an old interview from 1997 where his mother corroborates the hammer story. On the one hand, she's his mother, so it's natural for her to support him. On the other, why not give her the benefit of the doubt?
Here's why: In 1988, Dr. Ben's mother Sonya was interviewed by The Detroit Free Press for their Sunday magazine, before his book or any other version of his story had been published.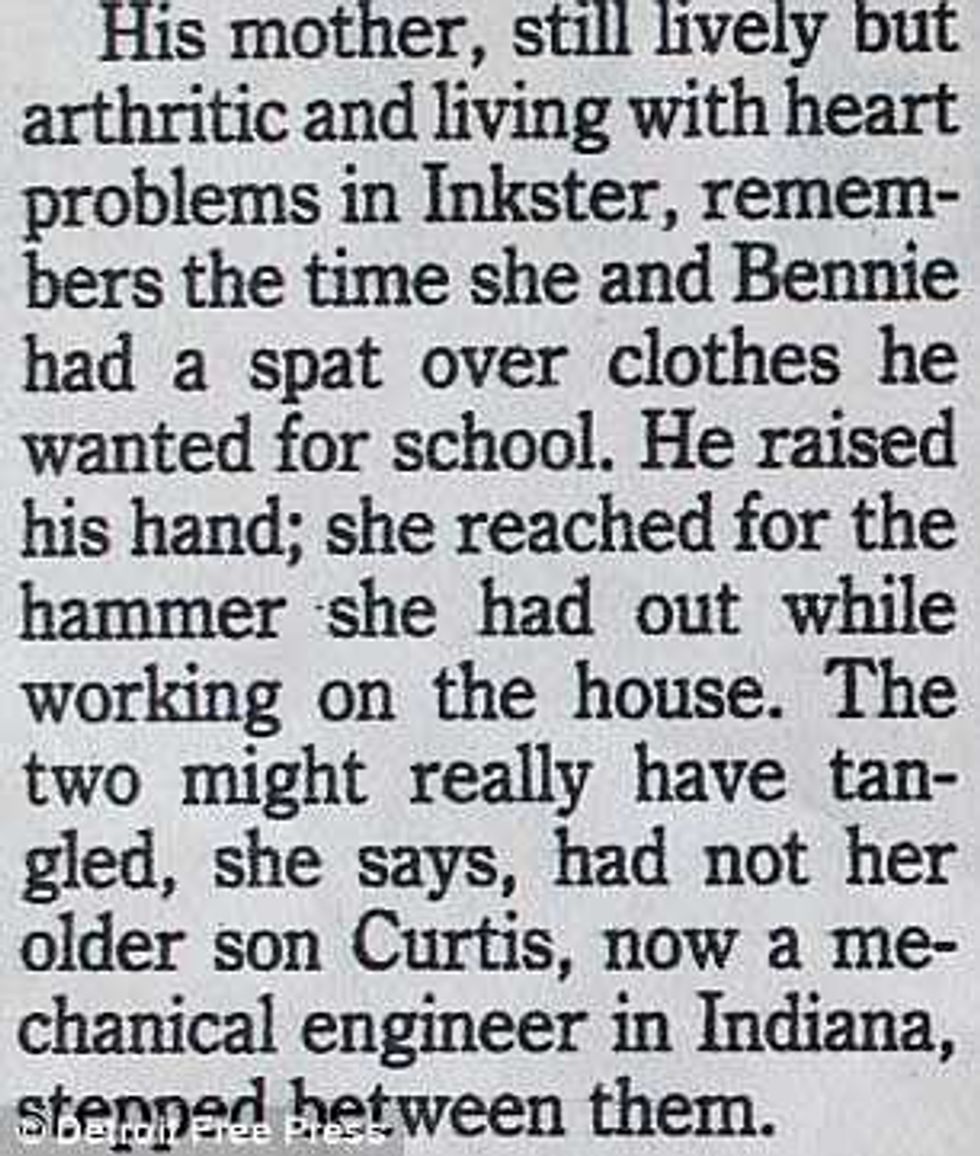 In her own early account, his mother raised the hammer on Ben.
You know, I'm ready to accept that there was a hammer. But I think Dr. Ben created a story that would glorify his gentle manner, turning it into a triumph of character instead of an inborn temperament.
Now he's not just a working class African American who achieved a dazzling height in his career, but a former thug as well!
Dr. Ben was likewise very agitated when his story about a scholarship to West Point turned out to be false, and when he was asked about his connection to a fraudulent vitamin company. Insisting that he had no relationship with the company when he is featured in commercials stating that the supplements cured his prostate cancer, Dr. Ben appears to confuse fact with fiction.
Why can't Dr. Ben just go back to his paid speeches and inspirational books? Why does he feel qualified to be the President? Is he really even that smart?
Here is a neurosurgeon who weighs in on the last question for DailyKos
As a neurologist in practice for 20 years and one who has worked closely with many neurosurgeons I can assure you, Dr. Ben Carson is not smart. Not even close. He is a painfully ignorant person. This is an easy point to defend. We are all familiar with the litany of uninformed, intellectually shabby statements he has made over the last few months; a list that I won't waste electrons repeating. 'Smart' is a multifaceted cognitive feature composed of excellent analytical skills, possession of an extensive knowledge base that is easily and frequently augmented, possession of a good memory, and being readily curious about the world and willing, even eager, to reject previously accepted notions in the face of new data. Being smart includes having the ability to analyze new data for validity and, thinking creatively, draw new insights from existing common knowledge.
Neurosurgeons are not automatically smart because they are a neurosurgeon. To get through training and have any sort of practice they must be disciplined, have immense ego strength, a reasonably good memory, and have mental and physical stamina. However, like many other doctors, they are not always smart. Neurosurgeons, like other surgeons, can be outstanding technicians but that is different than being intellectually brilliant. A truly brilliant internal medicine specialist once told me that 'you can train anyone to perform a procedure.'
And here is the most important take-away, I think:
The feature shared by neurosurgeons far out of proportion to other doctors is a large ego. All doctors can be accused of having big egos but more than other specialists, neurosurgeons ( [and] Ben Carson is exhibit 1 in this regard) have pathologically large egos. You know, the kind of ego that requires not one large self-portrait prominently displayed in an ostentatious mansion but a second of Mr. Ego sitting with Jesus; at the right hand of Jesus.
Amen.
---
READ MORE....
This Ben Carson Rap Ad Is Some Of The Craziest Shit You'll Ever Hear

The 20 Stupidest Things Musicians Have Said About Politics

Saudi Arabia To Crucify Teen Protester Because Beheading Just Isn't Enough Sometimes

Marco Rubio Really Wants A Beer With Malala Yousafzai (A Muslim Teenager)