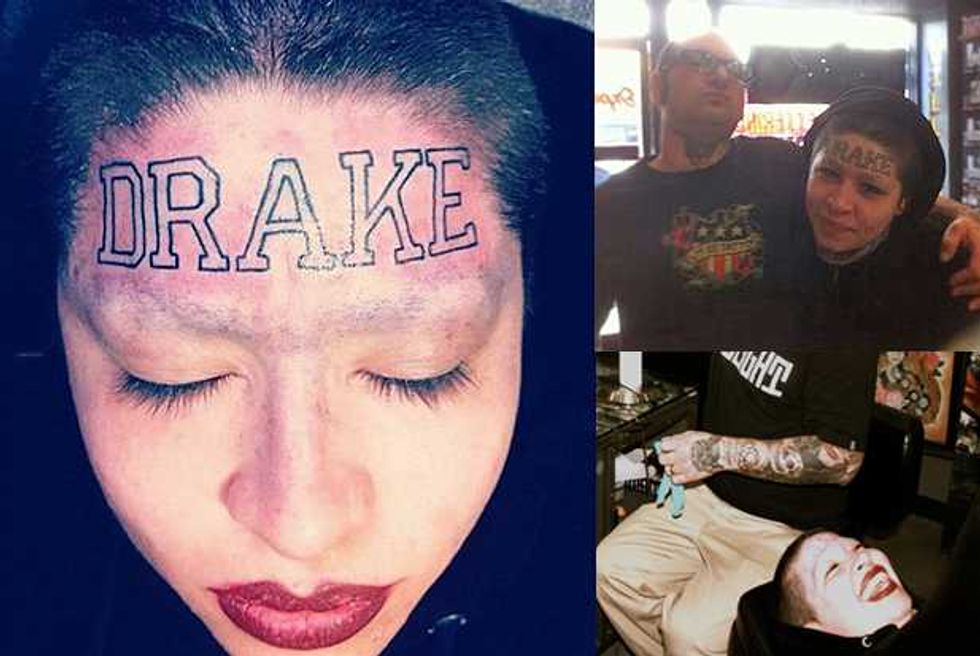 Drake on Rick Ross collaboration "Free Spirit": "Tat my fuckin' name on you, let 'em know you love the boy." This fan: "Sounds reasonable." We always knew that Drake held a particular sort of hold over most of his fans—we often find ourselves performing actions of overly-emotional wantonness while under his spell without even realizing—but luckily, we've yet to anything permanently skin-altering. More than can be said for this Drizzite, who had Aubrey's moniker inked all over her forehead at LA shop Will Rise. Artist Kevin Campbell told Perez Hilton that alcohol was not to blame for the girl's decision:
She was really psyched about it. She had the sh—y font all picked out on her iPhone ready to go and was pretty adamant about putting it on her forehead. She didn't say a word about what it meant to her. She acted as if she had planned it out for a while; though I'm not really sure how much extended coherent thought could actually go into getting such a stupid tattoo on your forehead.
So much for taking pride in your work. Nonetheless, no one will ever doubt this superfan's love for the boy again: It is truly written all over her face. That's an accomplishment of some sort, no?