We all know Drake's a bit of a basketball fan. He is, after all, the official spokesperson of the Toronto Raptors. He's also something of a Wildcat super-fan, which hasn't always been to his credit...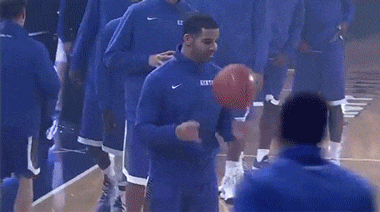 Straight out of Air Bud: World Pup.
But his connection with the Kentucky basketball program survived. In fact, it remains so strong that Drake was even a recent guest on the "Cal Cast," UK basketball Coach John Calipari's podcast. Over the course of his conversation with Coach Cal, Drake revealed details about his musical influences, goals for the future, and even gave an update on his forthcoming release, More Life.
On the topic of More Life, Drake mostly clarified the nature of the release. Referring to it as "a body of work to... bridge the gap between [his] major releases." That sure sounds a lot like a mixtape. But as Drake demonstrated with his somewhat forced labeling of If You're Reading This It's Too Late as a mixtape, More Life is likely something different in nature. What could that difference be? Judging by his initial Beats 1 radio announcement and his recent single lyrics, I'm guessing More Life will heavily feature work by his October's Very Own comrades like PartyNextDoor and Roy Wood$.
Discussing his musical influences, Drake listed Aaliyah as a major influence on his songwriting process. Referring to his once-unique stylistic combination, he said that "[Aaliyah]'s part of the reason why I decided to sing and rap."
Drake says that he plans to dive into acting after the release of More Life and the completion of his Boys Meets World Tour and "hopefully, take some great roles." This came just before Drake said he wanted to host a Johnny Carson-style late-night talk show. Do we think Drake could handle a job like Carson's? After his charming performance hosting the Espy's last year, the good folks at Popdust sure think so.