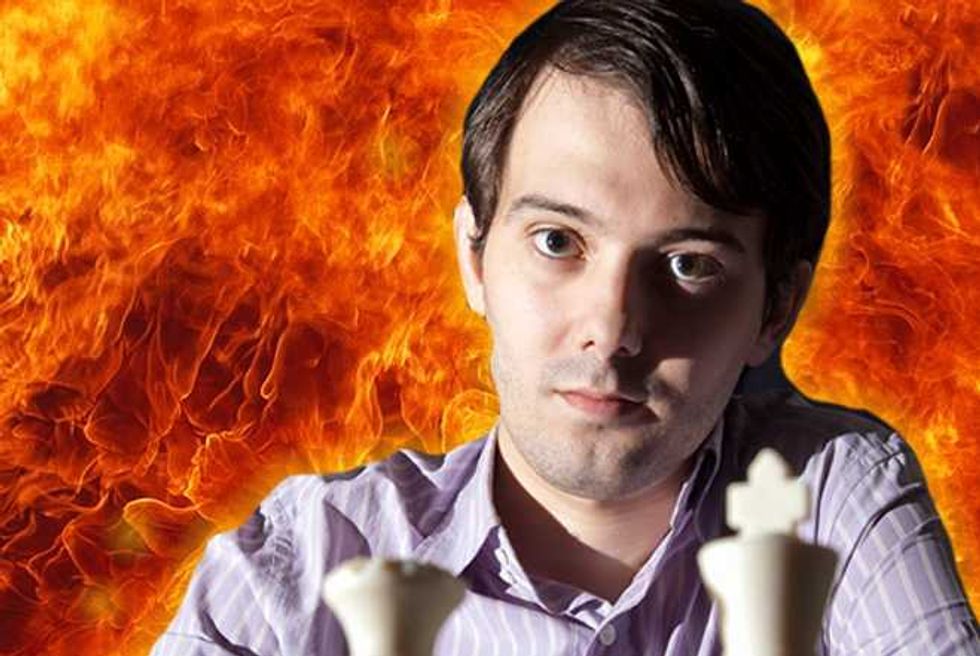 drug tycoon martin shkreli wu tang clan
Big Pharma exec, Martin Shkreli has upped the asshole ante yet further—enlisting the services of the mighty Wu-Tang Clan in his bid to be crowned the hands-down biggest douche in the world
The 32-year-old drug tycoon was revealed today as the secret buyer of the east coast Hip-Hop legends' new double album, Once Upon a Time in Shaolin.
Outrageously Expensive And Stupid Christmas Gifts For The 1%
Now, when we say Shkreli's the album's buyer, we don't, obviously, mean that he's purchased the album's rights for distribution—because, duh! What would be the 1-percenter fun in THAT?
Oh no, Shkreli dropped a cool $2 million for the right to make sure that NO-ONE but he, and who he chooses, gets to hear the album, especially none of us 99-percenter losers. Because, let's face it, it's unlikely any of us are going to be kicking around in 88-years time, which is how long Shkreli has purchased the exclusive rights for.
Nicole Kidman Is Now Shilling Insurance With Meerkat Puppets In UK Ads
Oh, and Shkreli, who grew up in Brooklyn, clearly didn't make the purchase because he's a huge Wu-Tang fan—that's evidenced by his seeming inability to name a single track other than C.R.E.A.M.
Prior to today's announcement, Shkreli had pretty much sealed the deal to be the world's biggest scumbag ever—he was aleady a shoo-in back in August after his company purchased the manufacturing rights to a cancer/HIV medication when its patent expired—and immediately hiked-up the cost of the drug by 5,000 %.
Sandra Bullock Likes 'Em Douchey!
Under Shkreli's morally bereft guidance, Turing Pharmaceuticals raised the price of Daraprim—a medication that's currently used primarily to fight infections suffered by patients with AIDS—from $13.50 to $750 per pill, hitting the 10,000 plus people a year who use the drug, where it hurts….literally.
After suffering a veritable shit storm of bad press and condemnation, Shkreli initially pretended to pay lip service to the millions of detractors outraged by his blatant and disgusting greed—telling NBC that the company would reduce the price hike to a level that allowed Turing to just make a "small profit."
Sprite Cans Will Feature Rap Lyrics, Because Money
However, did anyone actually think he would? And, let's face it, Shkreli's idea of a "small profit" is very likely seriously out of whack with that of those in the world who actually have even a shred of humanity and compassion— I mean, this guy makes Gordon Gekko look like Mahatma Gandhi.
And, sure enough, after the controversy subsided, and the armchair activists of social media had moved on to the latest outrage of the day, Shkreli was right back at it—pulling a complete 180, and canceling his pledge to reduce the price hike.
Lindsay Lohan Is Now Selling Car Insurance (We Know! Hilarious, Right?!!)
In fact, just last week, the P.O.S. hedge fund manager/CEO/devil incarnate told Forbes his only regret was not making even MORE profit off the back of sick and suffering people.
"I would have raised prices higher," Shkreli boasted. "That's my duty. My shareholders expect me to make the most profit. That's the ugly, dirty truth."
"I'm going to maximize profits. That's what people [in healthcare] are afraid to say."
Money Monday—How Much Is Jessica Alba Really Worth?
Meanwhile, the douchebag admits that he hasn't even bothered listening to his new purchase yet—as apparently, he's saving the album "for a rainy day"— but, he offers telling insight into his true musical leanings, sharing, "I could be convinced to listen to it earlier if Taylor Swift wants to hear it or something like that…"
And, the world just keeps on turning.....
For more entertainment, world, music and pop culture updates and news, follow Max Page on Twitter