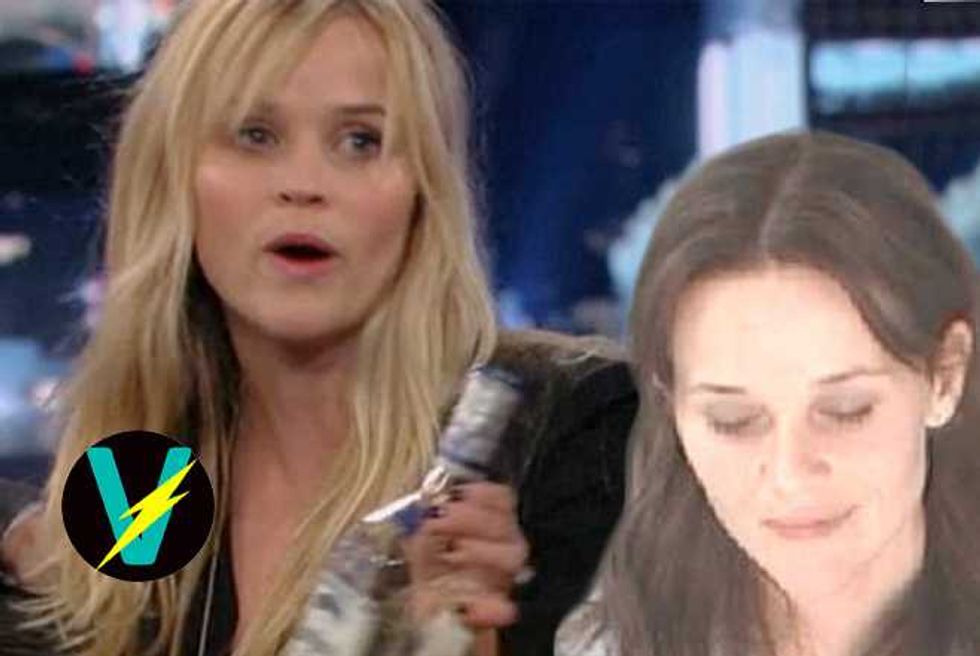 Reese Witherspoon fooled us for two decades with her holier than thou, butter wouldn't melt in her mouth bullshit but America's sweetheart is a foul-mouthed booze bag—or so it seems in a new video that has surfaced!
A drunken Reese was caught on camera in the elevator of the Met Gala earlier this week attempting to pronounce supermodel Cara Delevinge's name before giving up and substituting the mispronunciation with profanity.
"I love you Kara, I mean Cara," Reese kicks off in a creepy, little girl voice...before turning decidedly adult.
"If you force me to say your last name, I'll be fucked," she continues, before adding, "I don't know what your fucking name is."
It would have been a golden opportunity for Cara to take a page from the Witherspoon handbook of drunk and disorderly ego-mania and demand, "Don't you know who I am?"
Instead, she takes the high ground, "Delevigne" she says.
"That's super French. Delevingne," Reese says... "You know what's the most important thing in a name for a girl? Is that a man can whisper it into his pillow."
Go Reese. Me like slutty Reese.
Cara uploaded the clandestine video to her Instagram, with the caption, "The confusion @reesewitherspoon @zooeydeschanel @tennesseebunny @kateupton #HAHAHAHA #loveyouladies"
However, hours later it mysteriously vanished. No one knows where it went but we suspect Mel Gibson was involved somehow.
Last year, a drunken Reese was caught on camera indignantly informing the po-po that she is "a U.S. citizen" and that she is :allowed to stand on American ground"  after she and her husband were pulled over and arrested on DUI charges.
She then asked Trooper First Class J. Pyland, "Do you know my name?" Before informing him, "You're about to find out who I am. You're going to be on national news."
Thankfully for Witherspoon, the infinitely more humble Delevingne did not display the same A-list arrogance....